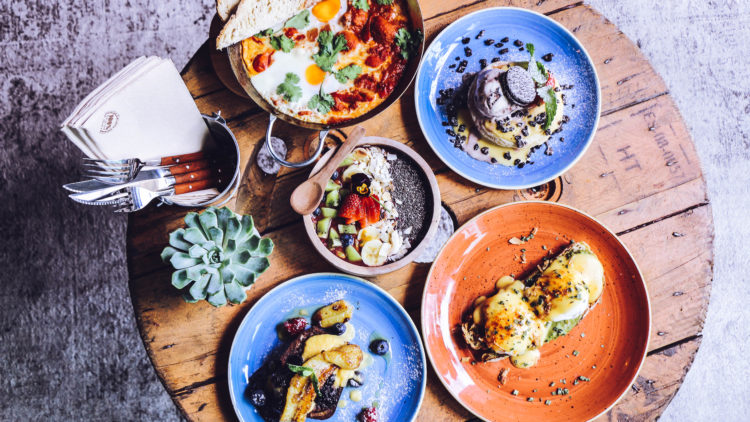 Posted on May 29, 2020
Looking for the best places for brunch in Porto? Look no further! Even though the concept of "brunch" arrived late in Portugal, it has come to stay. People fell in love with the meal that combines a late breakfast with lunch. Being a synonym of lazy days without obligations and plenty of time to enjoy food and the company of friends and family, which is why we think you definitely cannot skip brunch in Porto during your vacation (and the same applies to our Porto Food Tours). Without further ado, here's a list of some of our favorite brunch places in town.
FAVORITE PLACES FOR BRUNCH IN PORTO
1. LEA FOOD & DRINKS
Very close to Casa da Música, Lea Food & Drinks is a fantastic option for the pancake-lovers and definitely one of the amazing places for brunch in Porto. Serving some of the best pancakes in town (cooked on an iron skillet), scrambled eggs, toast, salads, and delicious bowls… also the typical hot beverages, like cappuccino or americano. You just have to choose which combination fits your morning mood best! No set menu or fixed hours. You can thank us later!
Where to find it: Avenida da Boavista 854, 4100-112 Porto
Contacts: +351 931 700 370
Opening Hours: From 10 AM until 8 PM. Closed on Monday and Tuesday
2. ROSA ET AL
Rosa et Al offer another of our favorite brunches in Porto. Located right in the middle of the arts district, there are no pre-combined menus and the egg is the king! You will choose what you want from a huge menu that includes puffy pastries, sweet dough, mini sandwiches, scones, soup, salads, porridge, tartines… and an incredible variety of recipes with eggs, from scrambled or fried to benedict, Arlington, or the classic omelet. We must warn you that choosing will take time since everything is delicious! But the preparation will take time as well since everything is made to the order, so you should enjoy your brunch slowly. The calm and relaxed atmosphere and the beautiful decor will help. Oh, and the sun-drenched garden should also entice you to this magical place for brunch in Porto!
Where to find it: Rua do Rosário, 233
Contacts: +351 223 400 730
Opening Hours: Saturdays, Sundays, and Holidays, from 12 PM to 4 PM
3. KUG
Right in the heart of the beautiful Rua das Flores, this is the perfect place to enjoy a relaxed brunch on weekends from 9:30 am to 1 pm. KUG, which stands for Kitchen & Urban Garden, has signature cuisine served informally in a sophisticated ambiance. Brunch lovers will feel right at home in KUG!
Where to find it: Rua das Flores 135, 4050-266 Porto
Contacts: +351 910 885 759
Opening Hours: 12 AM–3 PM, 7 AM–11 PM. Closed on monday
4. SWALLOW BRUNCH
Swallow is a trendy place in downtown Porto, where you can make your own Brunch, at any time of the day, with a lot of different options to choose from. Everything comes to the table looking Instagram-able… you just have to be sure you go there hungry!
Where to find it: Campo dos Mártires da Pátria 144 Porto
Contacts: +351 22 208 1689
Opening Hours: From 10 AM to 3 PM. Closed on Mondays and Tuesdays
There you have it, from the best pancakes in town to banana bread, Benedict eggs, and lots of other delicacies, the best brunches in Porto.
Perfect has 7 letters
So does Foooood. Coincidence? We think not! If you are looking for the best brunch in Porto, you shouldn't skip our Porto Food Tours for a slice of Porto that you will never forget. Reserve your spot online today!
Enjoy & Bom apetite!
Taste Porto Foodie Team
Discover Porto's food secrets and have a wonderfully personal experience on our Food & Wine tasting tours
Book now
Don't forget to share this post