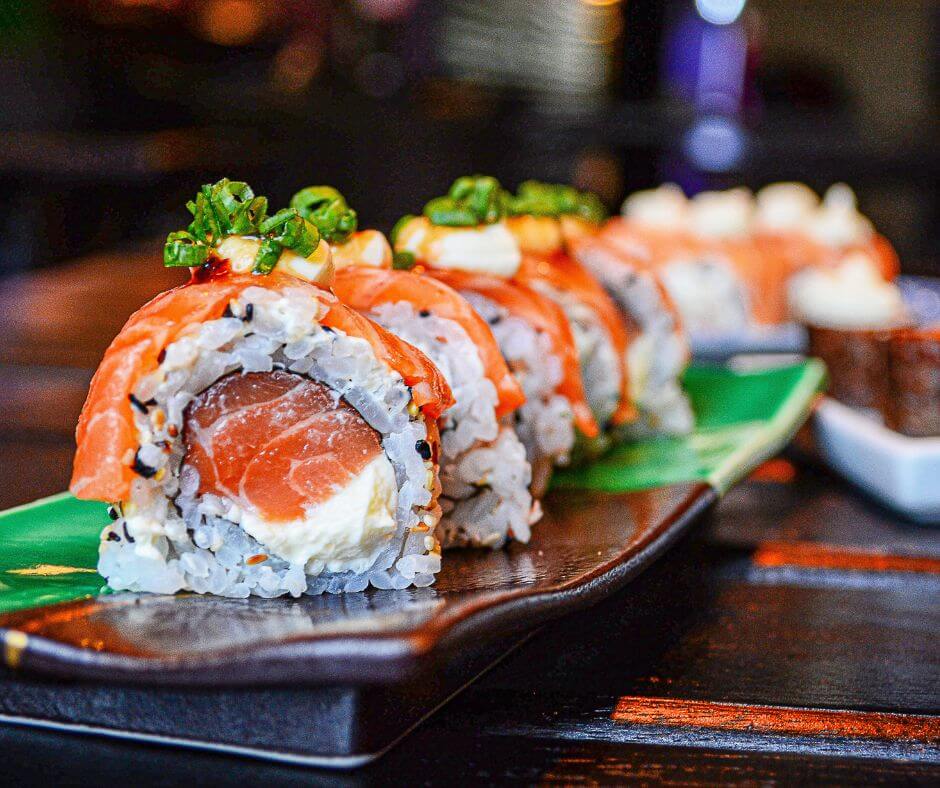 Posted on July 23, 2021
Looking for the best sushi restaurants in Porto? Stay with us!
Here at Taste Porto, we're true tripeiros, fully embracing the culture and culinary wonders of this remarkable city. We firmly believe in three things:
we live in the best city in the World;
our moms are the best cooks on the Planet;
However, different cuisines attract our attention and, every now and then, we try to get out of our "comfort food zone". After all, what we love is to eat, and to eat well! With that in mind, today we have decided to share 5 sushi restaurants in Porto that we simply love.
Sushi restaurants in Porto
In recent years, the sushi dining scene in Porto has witnessed a significant expansion, and we couldn't be more thrilled. From innovative fusion creations to authentic Japanese delicacies, these are our favorite sushi restaurants in Porto.
1. GION
Japanese cuisine is world-famous, but there is so much food to try besides sushi! Of course, you've already heard of sashimi, tempura, and nigiri. But the Japanese food culture is much richer than that.
That's why we love Gion! At this sushi restaurant, you'll find the most traditional Japanese dishes: Yakisoba, Yakiniku, Miso Shiru. Gion is as Japanese as you can get! One of the signature dishes is the Japanese pancake (Okonomiyaki), so be sure to give it a try.
Address: R. do Comércio do Porto 197, 4050-253 Porto
Working hours: From Tuesday to Saturday: 7:30-10:30 pm; Closed on Sundays and Mondays.
2. ICHIBAN
Ichiban offers a truly unforgettable dive into the Portuguese fish and is considered by many the best Japanese restaurant in Porto. It's a restaurant with a sober and minimalist decor, as you would expect in a real Japanese restaurant. If you are just a fan of fusion-style sushi, we recommend you skip Ichiban. If you are into Japanese cuisine, don't leave without trying the Katsudon and the Sushi Morisit. A real heaven on earth!
Address: Av. do Brasil 454, 4150-153 Porto
Working hours:
From Tuesday to Saturday: 12:30-2:30 pm and 7:30-9:30 pm;
Closed on Sundays and Mondays.
3. SUBENSHI
Perhaps one of the most beautiful buildings in Porto. The building has been carefully restored keeping its high ceilings and all its charm. It's decorated with hand-painted tiles representing Japanese cuisine. There's also a balcony to enjoy a meal with a garden view. Overall, a safe restaurant to take vegetarian friends or those who do not like sushi, because the alternatives are very good.
Address: Praça de Parada Leitão nº13, 4050-366 Porto
Working hours: 12:30-4:00 pm; 7:30-11:00 pm.
4. SHIKO
Shiko is a Japanese tavern with sophisticated and knowledgeable service. You won't find the traditional petiscos of Porto, but there are some delicious Japanese appetizers. There's no sushi confusion here: this is a Japanese tavern, not a fusion sushi restaurant. Overall, a must-visit for the real Japanese food lovers out there!
The lunch menus range between 10€ and 20€. Since the restaurant is quite small, be sure to make a reservation.
Address: R. do Sol 238, 4000-529, Porto
Working hours:
From Thursday to Saturday: 12:30-3:00 pm and 7:00-11:00 pm;
From Tuesday to Wednesday: 7:00-11:00 pm;
Closed on Sundays and Mondays.
5. BURI
Let's finish this list in style with Buri. Housed in the Bom Sucesso Market, a historic building from the 1950s, Buri offers a dining space to serve some Japanese favorites. In addition to the originality of its sushi menus, Buri also has some alternative dishes influenced by Mediterranean cuisine. Go there and tell us what you think!
Address: R. Caldas Xavier 145, Porto
Working hours:
Weekdays: 12:00-3:00 pm and 8:00-11:00 pm;
Weekends: 1:00-3:30 pm and 8:00-12:00 pm.
So here you have it: our favorite sushi restaurants in Porto. Enjoy!
Taste Porto Foodie Team
We're listening! Have something to say about this article?
Discover Porto's food secrets and have a wonderfully personal experience on our Food & Wine tasting tours
Book now
Don't forget to share this post