Posted on June 19, 2020
You already know the best places in town to have a picnic, but there is still one very important thing missing – if not the most important one: the menu. To help you fill your picnic basket with the best of our traditional food, we have selected five typical spots that will allow you to buy some delicious to-go-food.
O Pretinho do Japão
Address: Rua do Bonjardim, 496A Mon – Sat, from 9.30 am to 7.30 pm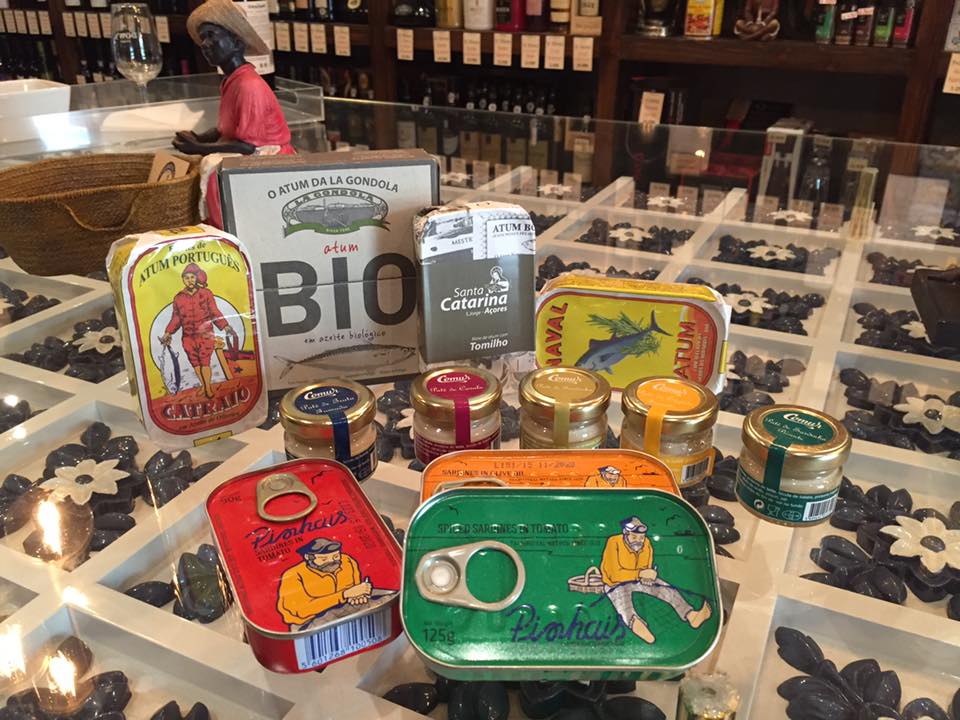 "O Pretinho do Japão" is a local, traditional mercearia, a classic Portuguese corner shop where you will find the first items that should be in your basket: canned fish or conservas. In Portugal you can find all kinds of canned fish and most of them of high quality. In this case, we can assure you that "Pretinho" has an excellent selection of local brands. Most of their canned items come from fish factories just next door, in Matosinhos. For something traditional, graph a can of sardines in olive oil – best enjoyed on some delicious bread. That said, they can get a bit messy with all the olive oil, but a nice, picnic-friendly alternative is a sardine pate. Not to keen on sardines? Don't worry, you can also find cans of tuna, codfish or octopus.
In case you're a fan of dried fruits or if you are bold enough to prepare a light codfish recipe on your own for this picnic, then this is also the place to get both.
We beg of you, please don't leave the store without trying the fresh ground coffee, best enjoyed in the beautiful secret garden in the back. Even though we believe you will easily fall in love, don't lose track of time and head to the next place to get some typical sweets!
Confeitaria Moura
Address: Rua de Rodrigues Sampaio, 115 Mon-Sun, from 8 am to 7.45 pm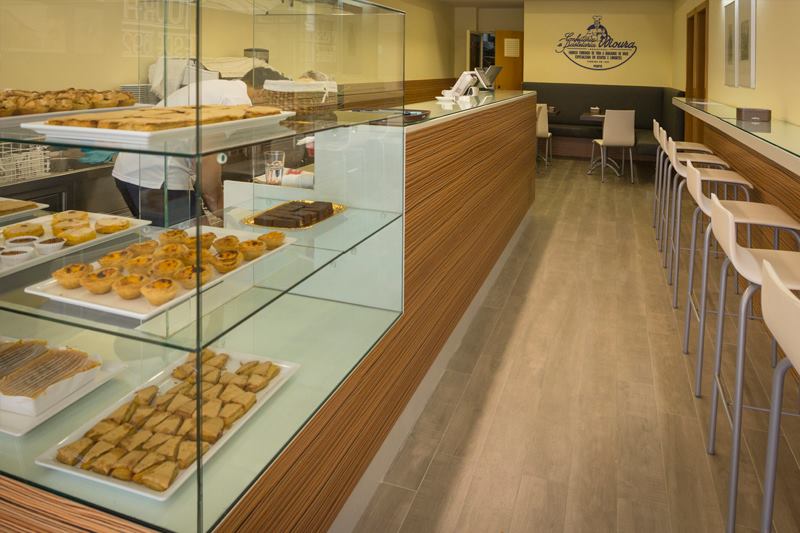 Just down the street of "Pretinho do Japão", you will easily find "Confeitaria Moura". This is a business family with more than 120 years of heritage. Started in Santo Tirso, in the surrounding area of Porto, this new space in downtown Porto was just recently opened.
Here you will find many typical and conventual – different from conventional, this connotes originating from convents- sweets, but one of them is the true star of the show: the jesuíta! This little pastry is the source of much of the family's success, thus this ancient recipe is a big secret and it is only known by a small group of family members that work in the pastry shop.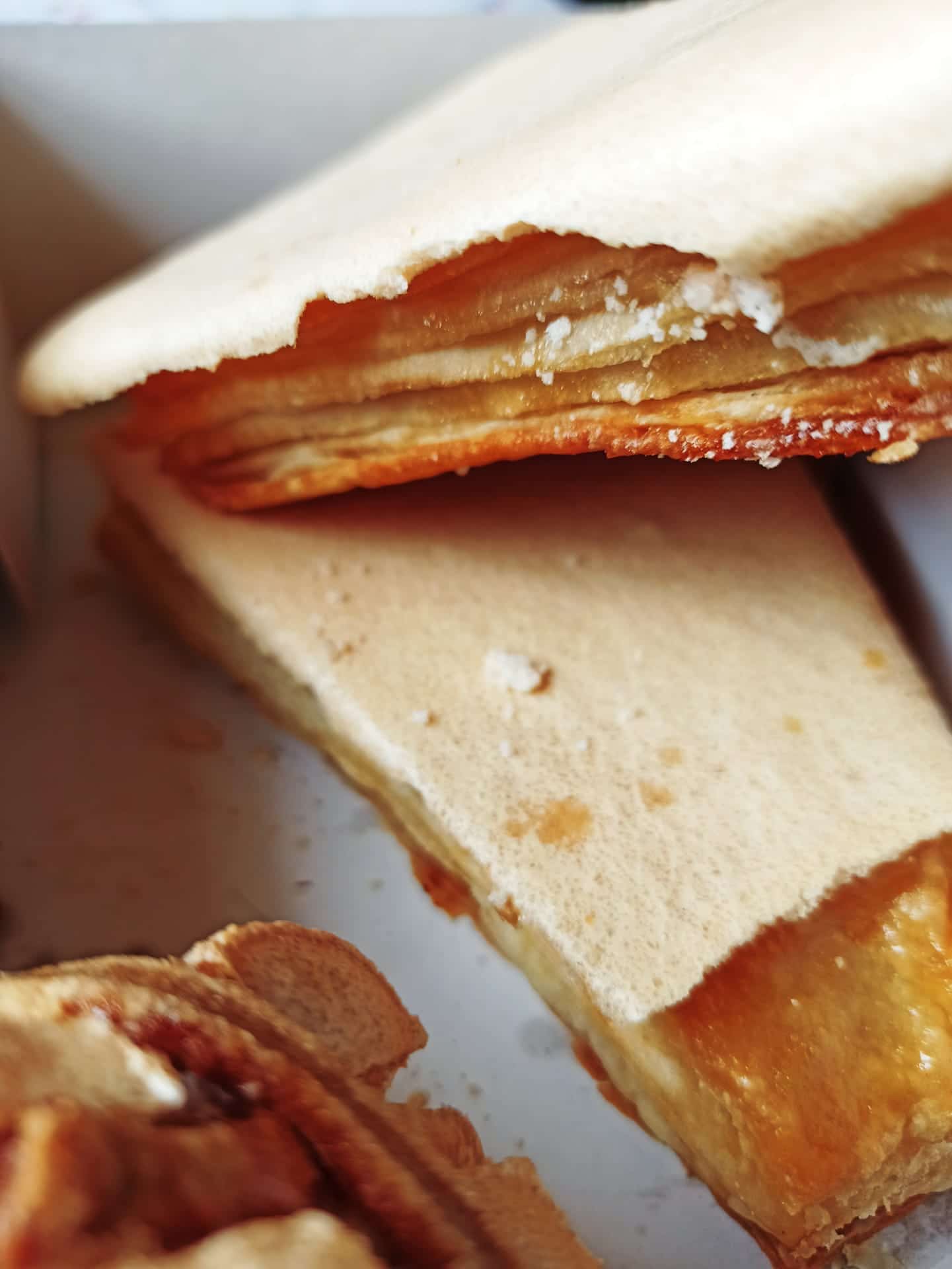 Similar to jesuíta, but with a different shape and a pop of lemon flavor is the limonete, another specialty of the house that you shouldn't leave behind. All of the pastries are prepared and baked every single morning to be as fresh as possible.
Bolhão Market – Downtown Tour
Address: Rua Formosa, 214 Mon-Fri, from 7 am to 5 pm; Sat, from 7 am to 1 pm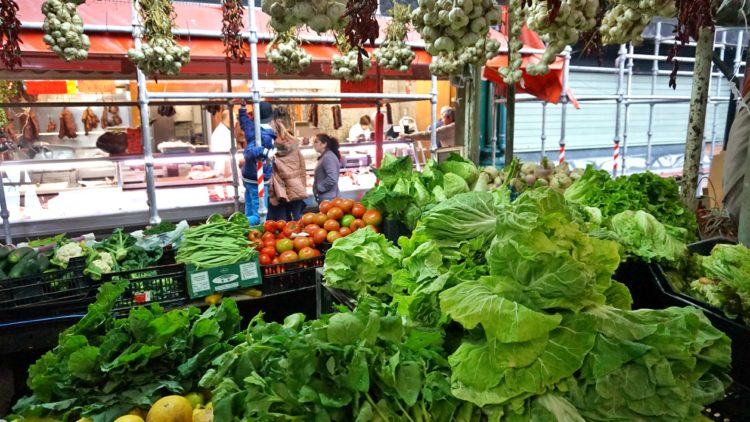 After some sweets, nothing better than adding some healthy items to the basket. At Mercado do Bolhão you will find all kinds of fresh fruit and vegetables coming from farms around Porto. Don't forget the tomatoes for an amazing light Portuguese-style salad: tomatoes, olive oil, a pinch of salt, and some onions.
At "Salsicharia Leandro", the butcher of the market, you should also buy some ready-to-eat cured meats. We recommend the presunto, smoked ham, and the amazing paio, a smoked pork loin.
Near the butcher, on the ground floor of the market, you will find the olive oil you need (in mini bottles) to complete your salad – or any dish you want, really. It comes directly from the Douro Valley and you can find it at "Bolhão Wine House", a family business owned by Hugo and one of the highlights of our Downtown Porto Food Tour.
Mercearia do Bolhão
Address: Rua Formosa, 30 Mon-Sat, from 9 am to 1 pm and 2 pm to 7.30 pm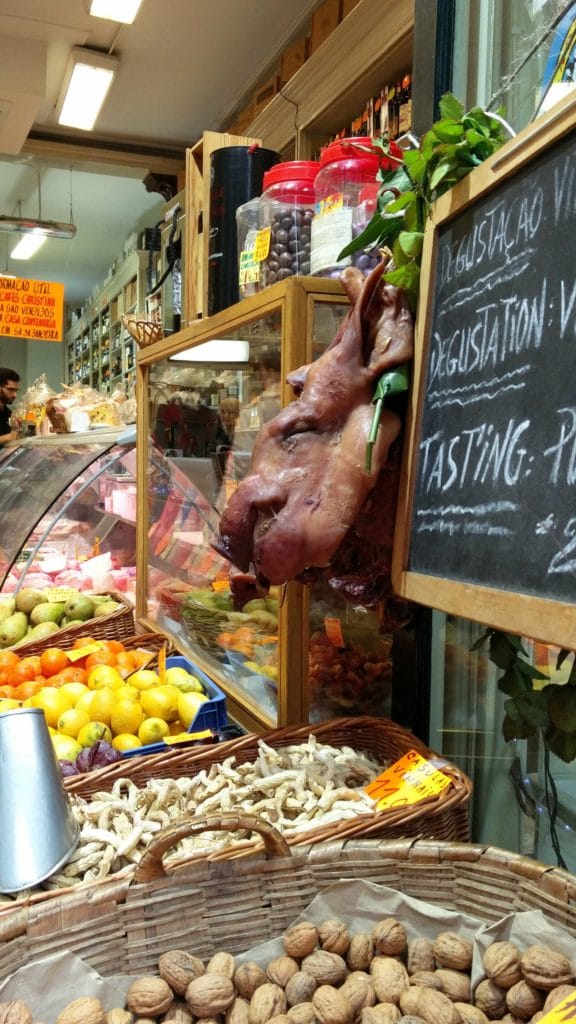 Crossing the street from Mercado do Bolhão, you will find the perfect place to grab some cheeses and bread in order to complete your basket: Mercearia do Bolhão. This place is also an amazing typical mercearia, as the name self-explains, and it is known by the fresh bread that they sell every day. We also recommend it for the jams and the cheese – to make sure your bread isn't lonely.
When it comes to bread, we would definitely recommend you to try folar, sweet dough with pieces of bacon inside. Yup, that's it. Curious to know more? Join us on our Vintage Food Tour and discover the history behind this much-loved bread.
And what about wine?
The food is taken care of – even though we, as locals, would probably still visit "Padaria Ribeiro" (Praça Guilherme Gomes Fernandes, 21) to buy some more pastries – but there is still one very important item missing: the wine.
In this matter, there is no mistake: "Touriga" is the place. Located at Rua da Fábrica (Mon-Sat, from 10 am to 8 pm), it is a wine shop with a great selection of wines and the awesome David as owner. We promise you he will help you find the perfect wine for every occasion at a very good price.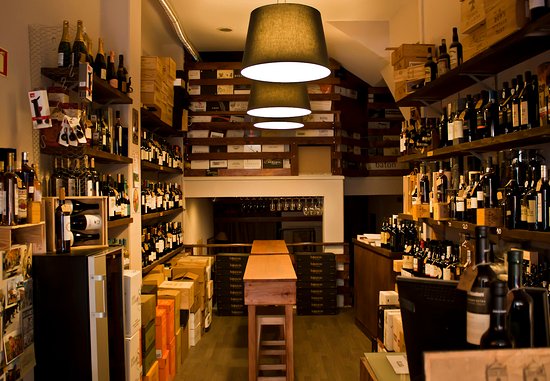 With a full and traditional picnic basket, you are now ready to find the perfect spot to spend an amazing afternoon enjoying the great weather of Porto. Take a look at our top 6 picnic spots in the city and choose the one that fits you best… or maybe you will just have to try them all! 🙂

Yours truly,
Taste Porto Foodie Team
Discover Porto's food secrets and have a wonderfully personal experience on our Food & Wine tasting tours
Book now
Don't forget to share this post