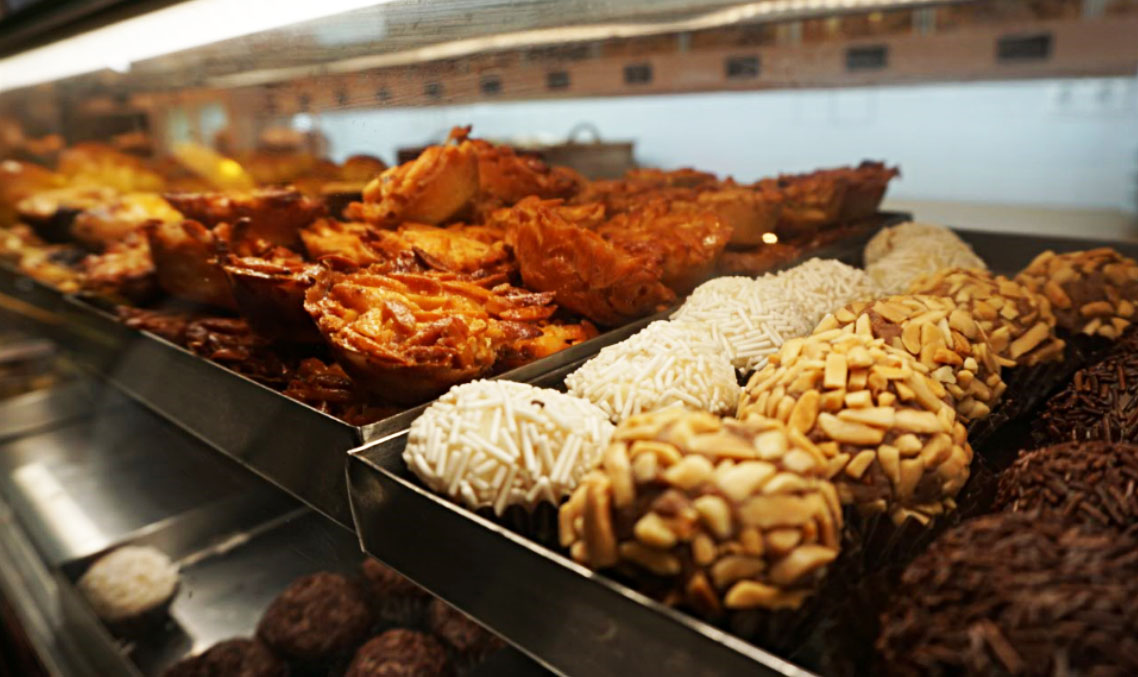 Posted on June 17, 2020
Portugal is a sweet country and by this, I mean we have a lot of sweet pastries! We also have the sweetest people – of course! – but today we're going to take you through some of the most common sweet Portuguese pastries you will encounter on a visit to Portugal.

Last week, we published the Ultimate Guide to Savory Portuguese Pastry, but today we will guide you through the world of sweet Portuguese pastry! There are two things that will happen to you after a visit to Portugal. The first one is the burning desire to return for another visit and the second one, a few extra pounds! All due to the delicious Portuguese gastronomy and sweet pastries. Take note of these words, you will remember them when you leave. As you explore the streets of Porto or any other Portuguese city, you will quickly notice, that there are many cafés and pastry shops/pastelarias. These are an important part of our lifestyle, and fill the need for coffee breaks, breakfast, mid-afternoon snack, or an after-dinner coffee. This is where we go to, not only for a great cup of coffee, but to also eat delicious sweet or savory pastries, among other snacks but most of all, to gather and catch up with our friends.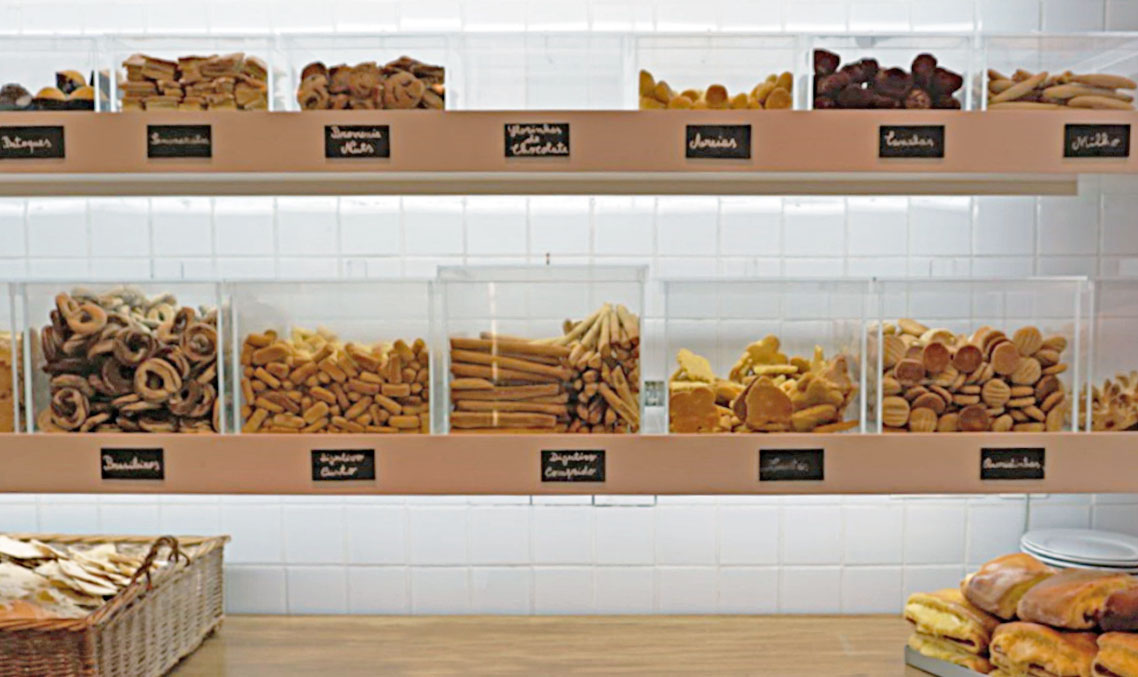 A word of advice: visiting a country is all about getting to know and experience the culture. With that in mind, embrace the Portuguese way of life and take a break from all of your exploring. Sit, relax, treat yourself to a nice cup of coffee, and one of the sweet pastries I am about to explain. Ordering anything in these pastry shops is easy, they are all on display, so you just have to point at what you want, but figuring out what each contains can be a more difficult task. That's where we come in. We couldn't get every sweet Portuguese pastry in one article, so we gathered the most common ones you will find. Oh, and we bought miniatures – which look exactly the same as the full-size versions – because we "had" to eat them afterward and we don't want to get fat(er)!
Sweet Portuguese Pastry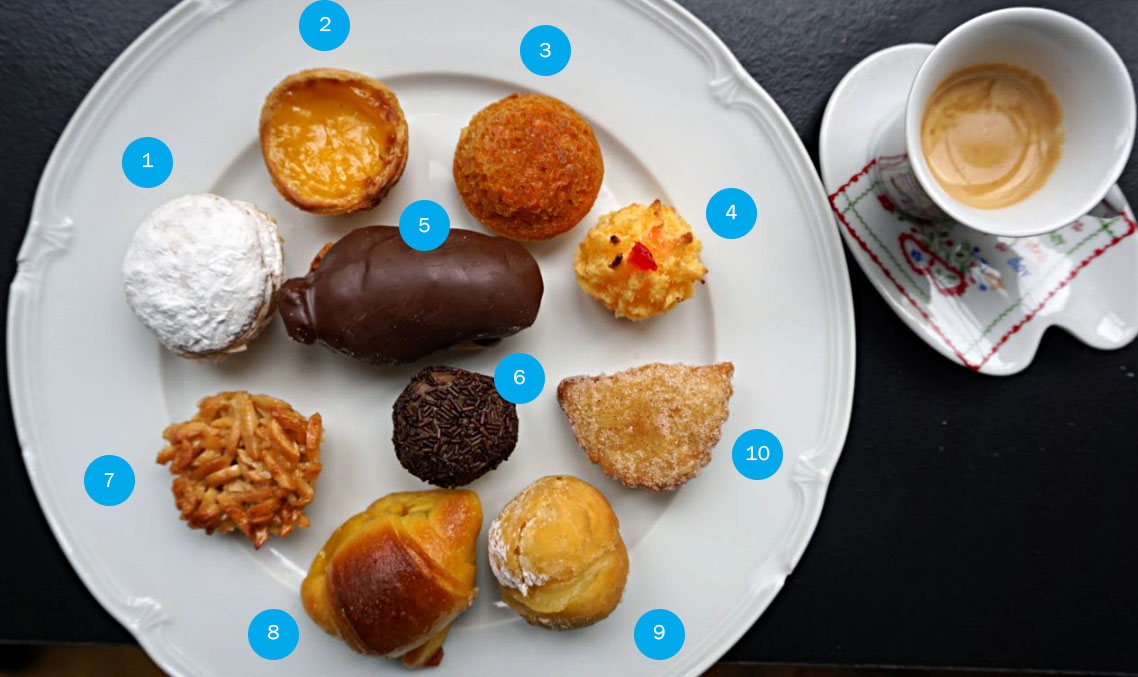 Let me start by telling you that we have a word we use for these sweet pastries, bolo, which literally means cake. Each pastry has its own name of course, but the word bolo is used in a broader sense.
1. Pastel de Feijão / Bean Tart: this typical sweet Portuguese pastry is made of a white bean puree contained within a flaky, baked crust. It is commonly presented with powdered sugar sprinkled on top. It is as simple as it is delicious. It was created in Torres Vedras in the late 1800s.
2. Pastel de Nata / Custard Tart: It is named Pastel de Belém due to its origin in the Belém district of Lisbon but it can only be called by that name if it is produced in the Fábrica dos Pastéis de Belém where it was created back in the 18th Century. Since this one was made fresh in Porto we call it a pastel de nata. This is probably the most widely know and popular Portuguese pastry. It's made of delicious custard baked inside of a thin multi-layer, flaky crust and should be eaten with powdered cinnamon sprinkled on top. You'll find it hard to eat just one. Trust me!
3. Queque de Cenoura / Carrot Cake: carrot cakes, as well as orange and lemon cakes, are very common in Portugal. This version resembles a muffin and contains carrots, of course, sugar, eggs, olive oil, and flour.
4. Pastel de Côco / Coconut Tart: these tarts can be spotted right away on the window, they have a distinctive pyramid shape and are usually topped with a candied cherry. They contain shredded coconut, sugar, and eggs.
5. Eclair: the widely known French pastry was adopted into the Portuguese cuisine a long time ago. It is made with light pastry dough – choux dough – filled with egg custard inside and covered with chocolate on top. You won't find the same number of flavor variations as widely as in French, except in a few specialized shops such as Leitaria da Quinta do Paço.
6. Brigadeiro: the famous Brazilian pastry has also acquired its place in the offer of Portuguese pastry shops. The brigadeiro is made with condensed milk, butter, cocoa powder and is coated with chocolate sprinkles.
7. Tarte de Amêndoa / Almond Tart: back to the Portuguese pastries, this tart is also known as the Portuguese caramelized almond tart. There is a legend that tells us how the almond trees came to grow in Portugal. It is said that an Arab prince, concerned that his wife, who was from a northern country, could become sad from missing the snow, ordered the planting of these trees so its blossoming could create the illusion of fields covered with snow. We don't know if this legend is true but we do know it's a very sweet story, just like this delicious almond tart. It contains butter, flour, eggs, milk, and naturally, almonds and there is no almond tart that can rival this one!
8. Croissant: well, this is probably the most famous pastry in the world and it was also adopted and adapted to our culture. The Portuguese croissant is similar in shape to the French one, but that is where the similarities end. The dough was completely reinvented and instead of something like and airy, expect something with a heavier, doughy consistency, closer to a brioche. You can eat the classic version or experiment with the versions containing fillings of custard or chocolate. We eat them for breakfast or a mid-afternoon snack and we even make it into a sandwich, with cheese and ham inside. Yes, we do treat ourselves very well when it comes to food.
9. Bola de Berlim / Berlin Ball: this is one of the most popular pastries in the country and also among visitors. It is filled with an egg yolk based cream and its outside is fried and covered with sugar. A bit like a mini-doughnut though lighter. You can find it everywhere, but during summer you can often find street vendors selling it right on the beach.
10. Clarinhas: this is one of the many

conventual – meaning coming from a convent – sweets in Portugal. These kinds of sweets date back to the 15th century, a

period when sugar came into the gastronomic tradition of the convents. Sugar and eggs, as you now know after reading about the previous sweets, are the stars of these pastries. Clarinhas contain these ingredients, of course, but it is filled inside with chila, a jam made from a type of squash. We promise it won't let you down!
Like I said before, if you have the opportunity, take a few minutes to go inside and sit at one of our traditional pastry shops. Sit, ask for your coffee and pastry and watch as Portugal happens before your very eyes. These sweet Portuguese pastries are available in regular and small sizes, so if you want to discover your favorite one first, go for the miniatures and then treat yourself to the full-size version. Enjoy!

Taste Porto Foodie Team
Was this helpful?
Join our expert local guide and discover a side of Porto that most travelers rarely see on our Taste Porto Food Tours. Let's explore Porto together!
Discover Porto's food secrets and have a wonderfully personal experience on our Food & Wine tasting tours
Book now
Don't forget to share this post