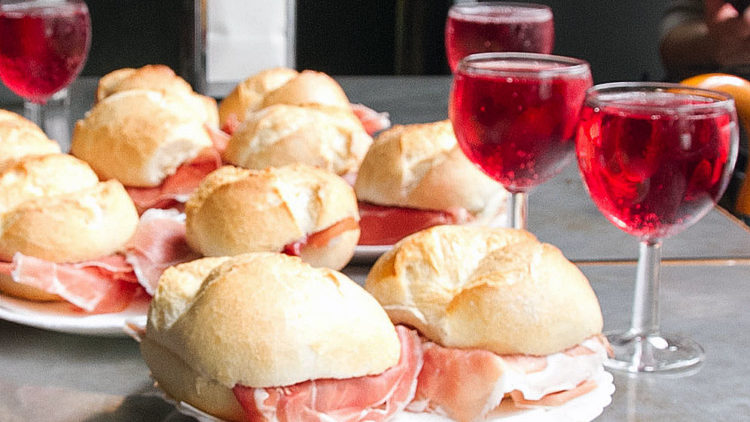 Posted on May 29, 2020
Sandwiches are an integral part of the cultural heritage of our city, with Francesinha being the most famous sandwich – the Queen of Sandwiches – but the list goes on forever. Join our Downtown & Bolhão Market Food Tour to find out the best sandwiches in Porto (and where to find them).
Where are the Best Sandwiches in Porto?
If you are a general food lover, Porto just might be the perfect city for you. If you love sandwiches in particular, then Porto is definitely a paradise! Here's our TOP 5 Porto sandwiches:
1. SLOW-ROASTED PORK SANDWICH (TERYLENE)
This isn't a mere sandwich, this is a sandwich you experience with all your senses. First, you hear the wood-burning stove slowly cooking the meat. In fact, it is cooked for 24 hours before being served! Then, you see this beautiful and delicious-looking rustic bread embracing the roasted pork with a slice of smoked ham. Almost immediately, your nose tells you that it smells as good as it looks and this is when you start mouth-watering. You pick it up, feel the weight and realize that it carries a substantial amount of meat inside. And then, after taking the first bite, your palate confirms everything your other senses were already telling you: you have found a piece of heaven.

This double-layer sandwich proves that all the best things in life take time and care and you can taste this Porto sandwich on our Downtown & Bolhão Market Food Tour. And what is terylene, you might ask. Well, it's a thin and fragile polyester fabric that shreds easily just like the tender pork loin used in the sandwich. We will tell you more about the history of this legendary sandwich and the family that has been making it for over 80 years on our Porto Walking Tour, starting at 4 PM every day.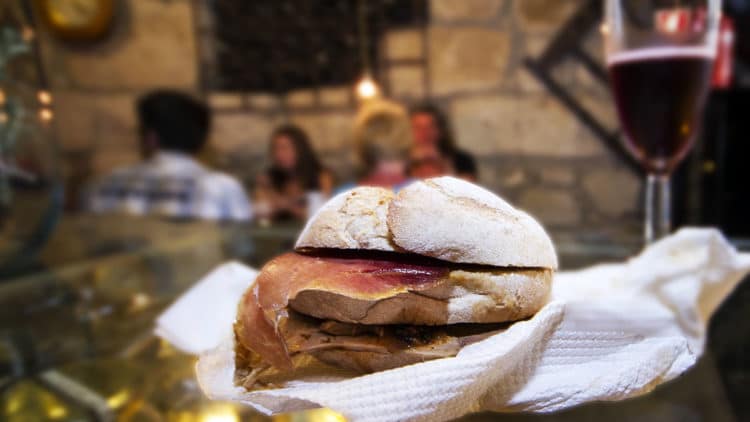 2. FRANCESINHA
Francesinha is probably the most famous sandwich in Portugal and an iconic Porto dish. It has become so famous that now you can even find it in restaurants all over the world. Francesinha is called by many "Heart Attack on a Plate". Why? It packs wet-cured ham, linguiça (a Portuguese sausage), steak or roast beef, inside two slices of thick bread and everything is covered with melted cheese and a special tomato and beer sauce. It can be served with a fried egg on top and french fries so that none of that delicious sauce goes to waste. A truly belly-busting sandwich packing around 1300 calories. Do you have what it takes to down a whole Francesinha? Find out the best places where you can eat the best Francesinhas in Porto.
3. BIFANA
Bifana is also one of the most enjoyed sandwiches in the country. It is simple: pork steak seasoned with garlic and spices, then placed inside a bread roll. It is as basic as it is delicious. Bifana, just like other sandwiches mentioned here, can taste different depending on the place you go to. Each place has its own unique way of preparing it, especially the seasoning of the sauce in which the meat is cooked in.

In the North of the country, most places usually make it with little pieces of steak that are cooked in a big pot with seasoned sauce, and it's usually a bit spicy. The bread is a simple white bread roll, that ends up being moistened with steak sauce. In the South, though, it's a bit different. The steak is no longer cut in small pieces and it's simply seasoned with garlic mostly and not spicy at all. And there's also no sauce. They suggest you eat it simply or with mustard. Also, the bread is lightly toasted. We, of course, refer to how we do things in the North. Find out where to eat the best bifana in Porto!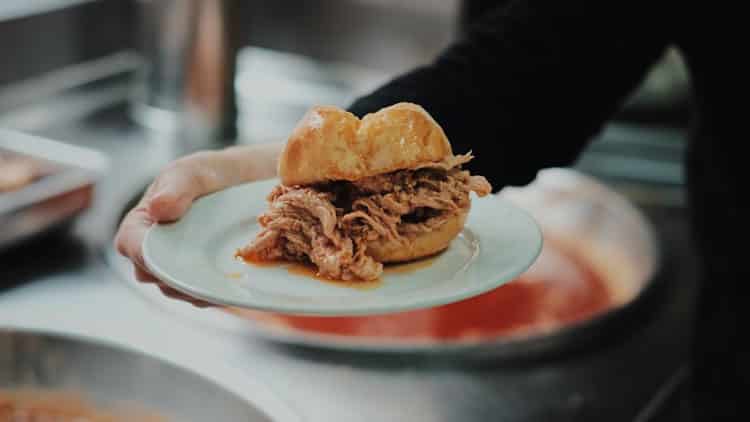 4. P/O – PRESUNTO E OVO
Another simply delicious simple sandwich made with freshly sliced smoked ham, aged for 24 months, and a fried egg inside a bread roll. You can find it pretty much all over the country but it's more commonly found in the north. One of our favorite ham and fried egg sandwiches can be found in our Vintage & Port Wine Food Tour (wash it down with a refreshing glass of rose wine, Espadal.) Join our Vintage & Port Wine Food Tour for a unique look at why this classic sandwich, and many other traditional dishes, is making a comeback.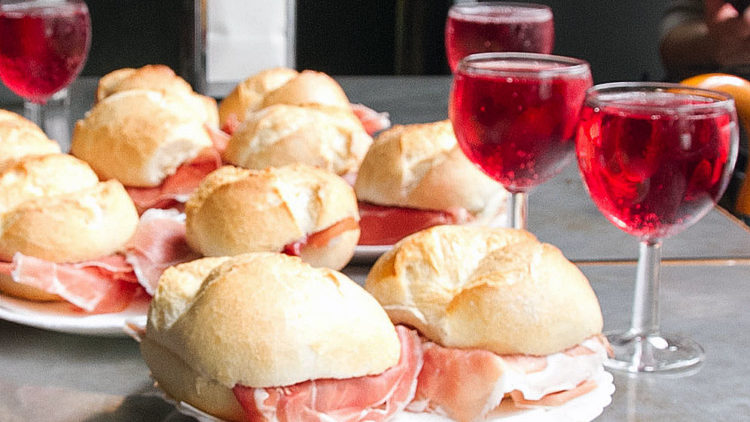 5. PERNIL COM QUEIJO
When you visit Porto, just after the francesinha, locals will recommend you go to Casa Guedes and ask for this also very famous and one of the best sandwiches in Porto, pernil com queijo/roasted pork shoulder with cheese. It consists of roasted pork shoulder/pernil covered with the also famously stinky, but delicious, and creamy Portuguese Serra da Estrela cheese served on rustic bread. As you take the first bite, you'll feel it swirling in your mouth, breaking apart, and combining again in a mix of flavors that are so delightful. That is the moment, when, as a sandwich lover, you'll remember this article and think to yourself: "they were right, this city is sandwich heaven". You're welcome!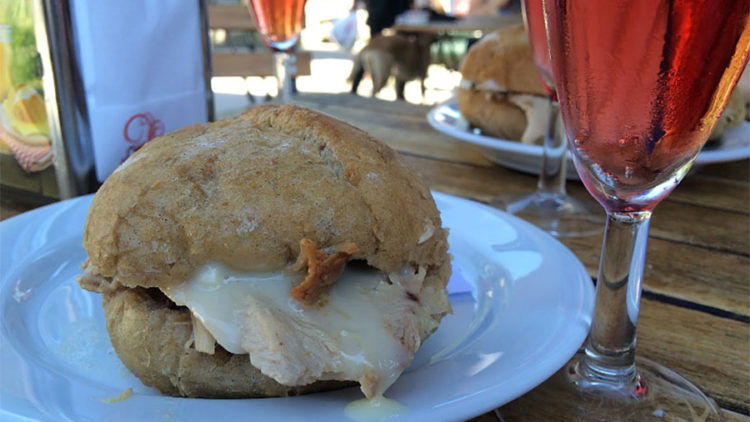 There you have it, the best sandwiches in Porto. Now you know the way to paradise and there's a food feast waiting to welcome you.
Did you know that…
A lot of people don't include "Francesinha" on this list? "If you can't eat it with your hands, then it's not a sandwich", they say. It's quite difficult to eat a Francesinha without a fork and a knife, that's for sure. We've tried and don't recommend it! But what do you think: should Francesinha be included on this list or have a category of its own? Let us know your opinion in the comments section of this Instagram post.
Enjoy & Bom appetite!
Taste Porto Foodie Team
Discover Porto's food secrets and have a wonderfully personal experience on our Food & Wine tasting tours
Book now
Don't forget to share this post