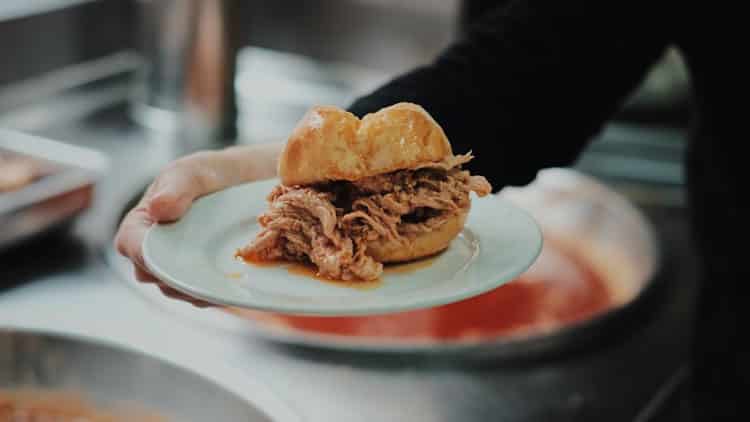 Posted on June 1, 2020
Very often on our delicious Food Tours we tell our guests that they cannot leave Porto without trying bifanas. And almost always they reply "What's that?" Hence, we have decided to share with you everything that a bifana is.
As in any other cuisine…
We too like to snack, and so various dishes were created to fulfill this important part of one's life. In Portugal, especially in the Porto region, you will find a lot of sandwiches whose role it is to provide a quick meal, sometimes with only a bowl of soup to complement. I know for a lot of people a sandwich would be enough, but we like to have more filling meals.
After you have discovered which are the Best Sandwiches in Porto. You will know that one of the main sandwiches in the country, enjoyed from north to south, is the bifana. Simply put, it's a steak sandwich. A pork steak, to be more specific, seasoned with garlic and spices, then put inside a bread roll. Seems basic enough, doesn't it?
Yet, everywhere you will try one it will taste different.
And this is the beauty of it! How is it possible that a piece of steak can fit so perfectly in a bread roll and present you with a mix of flavors that will make your taste buds spin?!
Not all Bifanas are created equal
In the North of the country, it is usually made with little pieces of steak that have been spiced and seasoned in a big pot with sauce, and it's usually a bit spicy. The bread is a simple white bread roll, that ends up being moistened with the steak sauce. Check out this video, of bifanas simmering at Conga, to get what I'm saying.
As you go further south, though, the steak is no longer cut and is instead beat with a mallet, it is mostly garlicky and not spicy at all – instead, they suggest you eat it simple or with mustard. Also, the bread is lightly toasted. And, sadly, there is less sauce as well.
But which Bifana is the original?
It is said that the original one comes from the town of Vendas Novas in Alentejo, in the south of the country. If you are ever there, try the ones at Café Boavista. The bread is toasted and crunchy, and the hot steak with mustard makes it an out-of-body experience.
You know every place will say THEY have the original, but let's not waste time discussing which one is "the original". Instead, let's say "Who cares which one is the original! I just want the best one!"
Think about it, if they were all equal you couldn't go on a bifana spree. And on that note…
Here are our favorite places to try Bifana in Porto
1. Conga – Casa das Bifanas
Known as THE place to try bifanas, Conga was established in 1976 in Porto, and although the place was spruced up a bit not long ago it still carries the traditional ambiance of before. They have a magic cauldron where the bifanas are made (the one in the video above), where they cook all day with the juices from the meat and the seasonings. And that sauce! Can you imagine the flavor? Just try it and feel free to thank us later. We recommend you go local and enjoy yours standing at the bar so you can enjoy the best vantage point from which to watch the bifana action.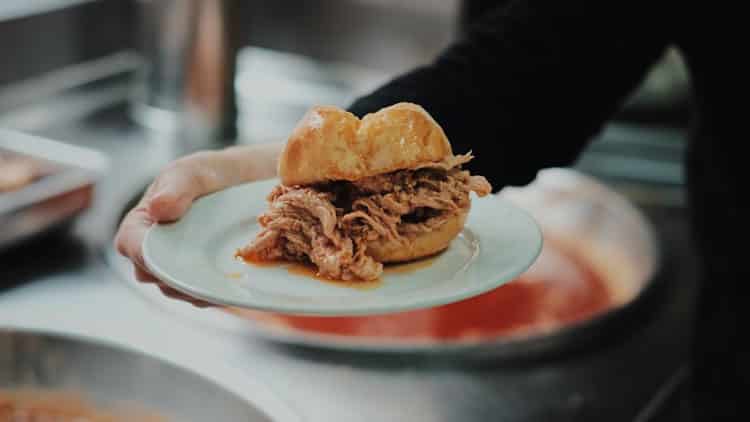 2. Taxca (A Badalhoca)
A well-known petiscos place in the city, Taxca has acquired a large entourage mainly through its no-fuss yummy and fast-ish food. Dishes range from 2€ to 4€ and it is easy to return frequently. The bifana is one of the dishes it serves, hot and with a subtle hint of spice. Well, sometimes not quite subtle. So you never really know what's coming out of the bifana pan, other than sauce dripping meat chunks that lay perfectly in that simple bread roll. Sometimes the meat pieces try to fall on your plate. Don't let them.
3. Rei das Bifanas
Away from the city center is the king of bifanas – Rei das Bifanas. Or at least that is what they call themselves. Close to the football stadium, this is one of those traditional places that has a more or less a steady clientele. You shouldn't go there expecting a fancy place, but instead a delicious and traditional bifana. And when that beautiful bifana sauce starts to drip down your hands there is no need to worry about scolding glares when you go to lick it off, that sort of behavior is entirely understood and definitely accepted.
4. Snack-bar Poveiros
Another very traditional type of restaurant in Porto, the Poveiros Snack-bar provides their customers with a welcoming service. Their bifana is not as strongly flavored as others we have tried, but it is a fine example of one, nonetheless. Additionally, they have a homemade chocolate mousse that I can attest pairs very nicely as a dessert.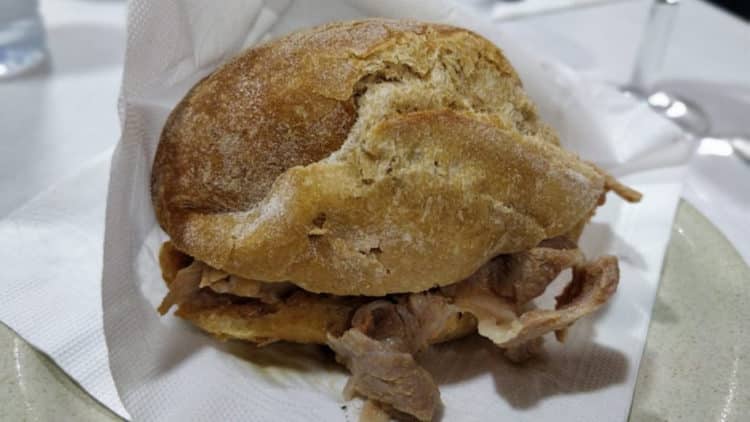 With what drink to pair your bifana?
One last thing, it is near sacrilege to pair your bifana with anything other than a beer and preferably the local craft beer or the traditional SuperBock. If you are admonished for ordering water, don't say we didn't warn you. Found another great bifana while in Porto? Let us know!
Bom apetite!
Taste Porto Foodie Team
Discover Porto's food secrets and have a wonderfully personal experience on our Food & Wine tasting tours
Book now
Don't forget to share this post