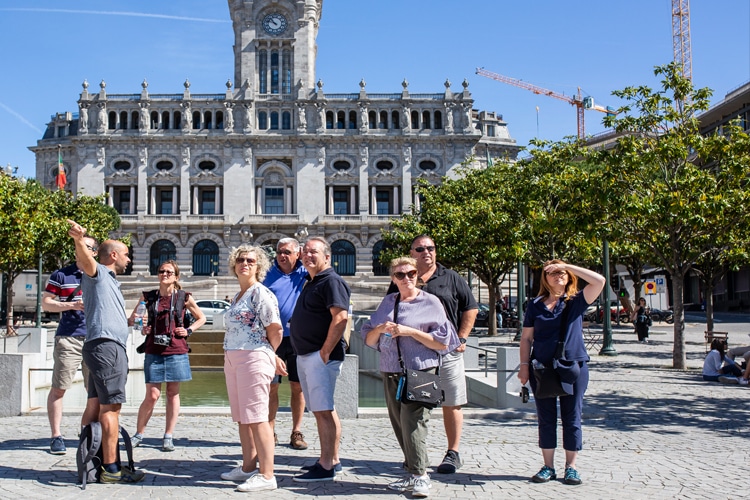 Posted on May 25, 2020
Porto, located in the beautiful country of Portugal, has gained quite a reputation for being one of the best places to retire abroad, and for good reason. With its captivating blend of rich history, stunning landscapes, welcoming locals, and a high quality of life, Porto offers retirees an idyllic setting to enjoy their golden years. Join our Porto Neighborhoods Orientation Tours and enhance your understanding of why Porto is consistently regarded as one of the best places to retire abroad.
Why is Porto often ranked as one of the best places to retire abroad?
"Ok, I've just found the answer to the question: Where should I retire? Now I'm ready to pack up and rent an apartment in Porto!" That's what some of our amazing guests say after some glasses of wine on our Downtown & Bolhão Market Food Tour and that fills our hearts with joy. We've been receiving some comments on our Instagram and Facebook regarding retiring in Porto, so we've decided to put together a list of reasons that explain why Porto is often ranked as one of the best places to retire abroad.
1. Porto's favorable climate
Porto has a pleasant climate year-round. The summers are comfortable, dry, and mostly clear and the winters are not so cold in comparison to other European cities. Over the course of the year, the temperature typically varies from 7ºC to 30ºC.
2. Stunning views
There are several types of landscapes separated by a few kilometers: mountains, beaches, and Douro Valley. Whether you are looking for surfing beaches or ancient ruins, fine museums, or hiking paths, you will find it all nearby.
3. The welcoming nature of the Portuguese people
Portuguese people are kind and gracious and they will go out of their way just to make you feel welcome. When you add to that the excellent food and wine, it is a winning combination. More about that on our exclusive free guide to eating in Porto.
4. Porto Public Transport
In Porto, there's no need to own a car. Porto is such a walkable city and the old town is best experienced on foot. There are an extensive bus network and a tramway – the first on the Iberian Peninsula – using vintage cars. The metro will take you everywhere you want to go – from the city center to the golden sands of the Atlantic Ocean. Also, it's very easy to visit great nearby destinations. One or two hours by train is enough to get to some of the most beautiful cities in the north (and center, actually) of the country. We've put together a list of the 5 best day trips from Porto. Moreover, the international airport that serves the area of Porto has non-stop passenger flights scheduled to 94 destinations in 24 countries. Pretty great, huh?
5. Recreational opportunities
Besides history and culture, Porto loves to party. Winter brings Carnival. In the last days of Spring, there's Primavera Sound Festival at Parque da Cidade. In midsummer, there's the Festival of Saint John. Portuguese never say no to a party!
6. More time to live
In Porto, you will have more time to spend doing what you love. Statistically, we spend more time outside than most of the countries in Eastern Europe. Blame it on the weather or on the culture. But it's true that in Porto you'll feel you have more time to grab a cup of coffee with a friend, go for dinner at one of the amazing old-schools restaurants, and then get a drink at one of the cool bars. The next day there's time to go for a walk and enjoy the Atlantic view on the beach.
7. Shop 'til You Drop
Love shopping? Well, Rua Santa Catarina is the main shopping street in Porto. Here you'll find trendy stores, fine jewelers, and souvenir shops that offer a satisfying variety for every taste. Part of the street is closed off to traffic, so you can stroll freely.
8. Porto's rich cultural heritage
It doesn't take long walking around the city before you start noticing all the wonderful architecture in Porto. For instance, it's absolutely mindblowing what's happening at S. Bento train station. As soon as you walk inside that place be prepared: your breath will be taken away. If you're a fan of architecture, you'll also enjoy a visit to Guarany Cafe and Majestic Cafe (the crown jewels of Porto). Going inside these places will make you feel like you are walking back in time and, as soon as you grab a cup of coffee, the surroundings will make the coffee taste even better.
We take no responsibility if, after this, you rent an apartment
We've been told that retiring in a city like Porto creates a sense of perpetual vacation. What are your thoughts on this? Let us know in the comments section of this Instagram Post.
Yours truly,
Your Foodie Friends in Porto
Discover Porto's food secrets and have a wonderfully personal experience on our Food & Wine tasting tours
Book now
Don't forget to share this post