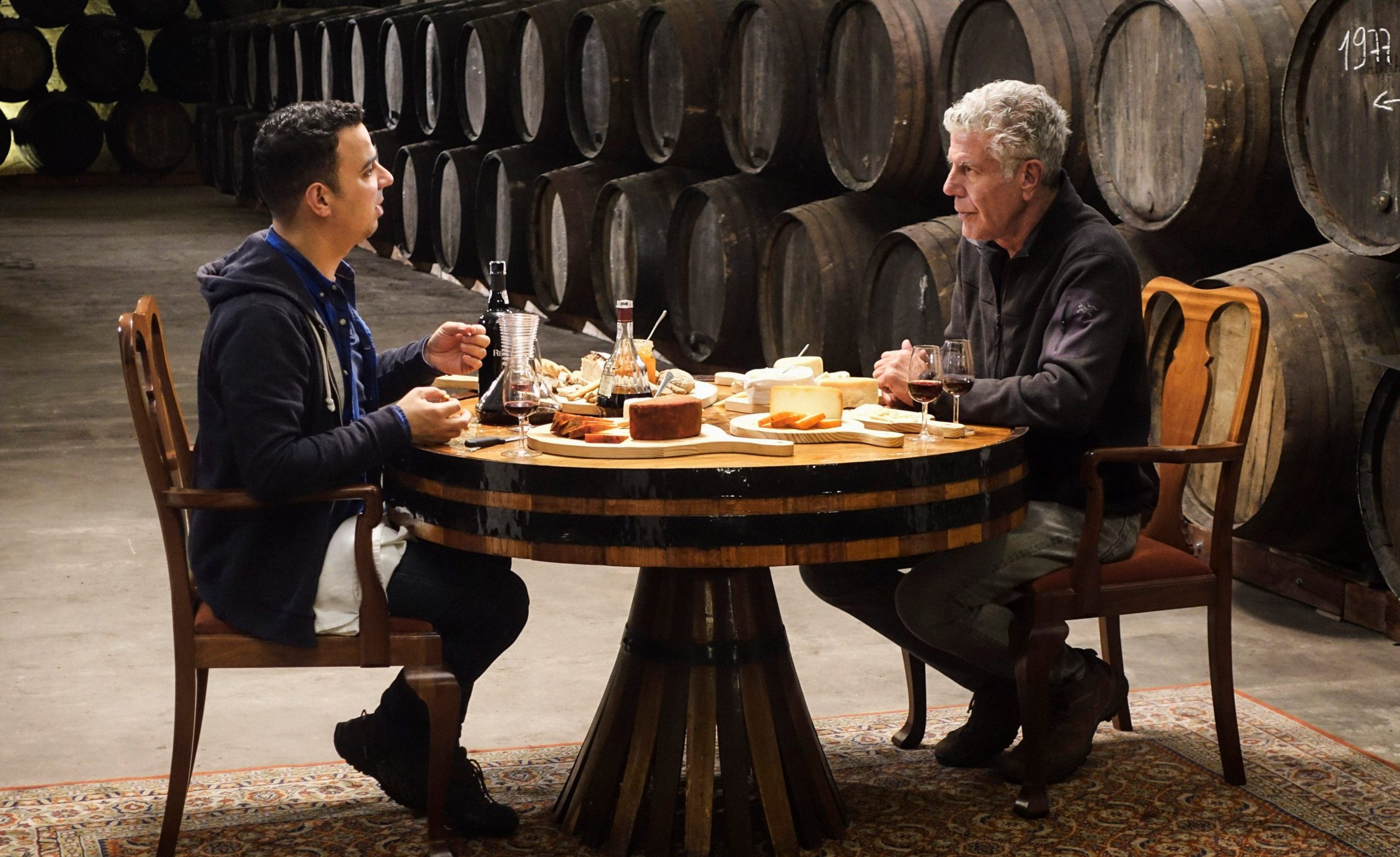 Posted on May 28, 2020
One foodie at a time – Meet André, a certified tour guide and Taste Porto co-founder
On our food tours, we give you the exclusive opportunity to learn about Porto and its food from our expert local guides. All truly passionate storytellers, who can easily infect you with their love of Porto and leave you craving for more visits. "Who are they?" you may be wondering. Discover who is helping us to create the most authentic and personal food tour experiences in Porto with our "Q&A with Taste Porto Tour Guides" series.
"I was born and raised in Porto and I'm a proud lover of Porto's food and football team", says André. "I see each tour as an opportunity to show people all the beauty of my city, and I do it so through a combination of facts, memories, and personal, everyday experiences." By the end of André's tour, you'll want to pack up and rent an apartment in Porto. We played a Q&A round with André, and these are the answers we got for you. Enjoy!
Let's start by teaching our readers something they don't already know about Porto. Can you share with us two little known facts about the city?
Well, that's a nice way to start. Did you know you can visit, in Porto, the oldest lighthouse in Portugal? The lighthouse São Miguel o Anjo, located in Foz, was built in 1527, during the golden days of Portugal's nautical expansion and it was designed by an Italian architect, Francesco de Cremona. And not far from the lighthouse you can visit "Parque da Cidade", an urban park with 83ha of land, a couple of lakes and it even has an oceanfront. One can spend a day between the park and the beach.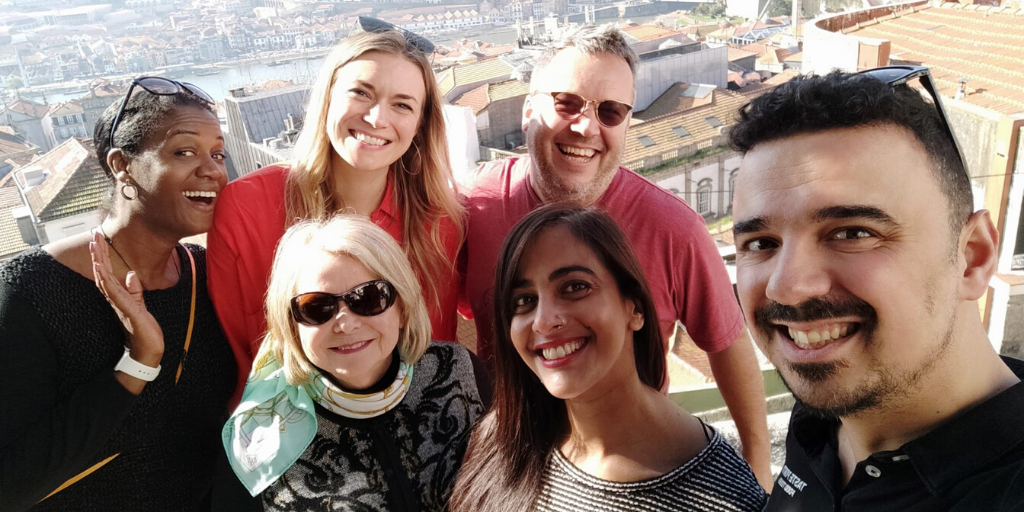 Portuguese people are famous for being great hosts. Is there an explication for this?
I don't think there's a plain explanation of why we are such good hosts. But I do know that we love to welcome and share the best of what we have with our guests. Growing up, my Mum and Dad used to host dinner parties at home, inviting their closest friends every so often, and in those dinners, Mum and Dad made sure they would bring to the table the very best of what we had at home. And I do it exactly the same way!
I've just arrived at Porto. What drink should I order first?
Well, why not a nice and cold craft beer to start relaxing? Porto's craft beer scene is quite recent but it is quite vibrant and there are amazingly good craft beer brands based in Porto. Head to bars like "Catraio" or "Armazém da Cerveja" to sample beers made by Vandoma, Burguesa, OPO 74 or go and visit "Colossus" brewery and sample some of their latest creations at their taproom.
This is my first night in town. What is the one dish that I will regret not eating if I don't eat it here?
Well… there are so many delicious options. But, I'll go for one of my favorites: Tripas à Moda do Porto! A white bean stew, with all kinds of cured pork sausages, smoked and cured pork hear and knee, carrots, cabbage and, the best of it all, cow tripe!!!! Oh, and a side dish of white rice… It's my favorite comfort food. Sitting down at the counter of a traditional Porto restaurant, just like "O Rápido", with a friend of yours, sharing this meal, which you have to eat slowly to fully enjoy it since it's so rich and flavorful, gives you time to enjoy friendship. Slow food at it's best: makes you slow your pace and seize life.
What do you always avoid ordering on a menu?
Desserts… I avoid ordering sweet desserts. I don't have sweet tooth in me, so desserts don't really interest me… I'd rather get some cheese and Port wine to go as my dessert option or just a "cimbalino" (I'm a coffee addict).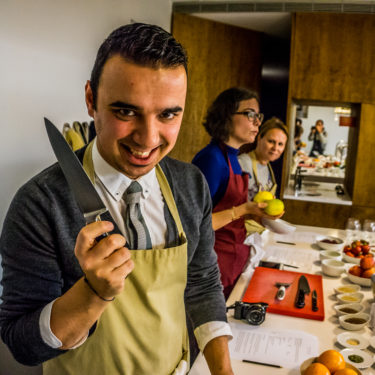 If you had to eat one Portuguese meal for the rest of your life, what would it be?
Now, that's a hard one… So I'll use the word meal to its full extent. I'd start it with an appetizer, like a cured meat selection made of a few slices of "presunto", "salpicão" and "paio" with a glass of white sparkling wine from Bairrada ("Casa de Saima" would be my pick). After this, having my taste buds up and running, I'd go for a bowl of fish soup, with lots of "piri piri" in it, followed by grilled fish (sea-bass and turbot are my favorites) with sautéed vegetables, paired with a glass of white wine from "Vinho Verde", like "Granito Cru". To end it, I'd go for some cheese, "Serra da estrela" or "Azeitão" with some pumpkin jam a glass of Tawny Port ("Quinta Seara de Ordens 10 year") to go with it, topped off with a "cimbalino". This could be my meal for the rest of my life.
Now imagine that you are cooking side by side with a person from the other side of the world. Can you describe every step of the process of making your favorite Portuguese meal?
Step #1: Ok, first things first: pour two glasses of white wine to start our palates and to ignite creativity;
Step #2: preheat the oven to 200ºC/390ºF;
Step #3: get a couple of small sea basses (around 500gr each) and stuff them with rosemary, thyme, garlic, and lemon. Sprinkle the fishes with salt and olive oil and put them in the oven. It will take about 40min to be ready;
Step #4: drink some more wine! Maybe add some slices of cured ham, "presunto", so you don't get tipsy;
Step #5: get some small white potatoes, dice them in halves, and par-boil them. Drain, dry and keep them aside for a bit;
Step #6: pour a pinch of olive oil on a frying pan. When it's hot, get the potatoes there, adding some oregano, thyme and powdered curcuma. When the potatoes start to get crispy, add garlic, thinly diced red and green peppers and some dry chili peppers (I like spicy food).
Step#7: Squeeze a bit of lemon on top of both potatoes and fish.
Step #8: Get your glass of wine and let's toast to life! Now we can eat. Bom apetite!
If you could choose any two Portuguese famous people (dead or alive) to have dinner with, who would they be and why?
Damn… That's a nice one. Well, I would love to sit down for dinner with Infante D. Henrique or Prince Henry, the Navigator, the mastermind behind Portugal's maritime adventure, that started in the 15th century. Just having the possibility of understanding all of the challenges he had to face, the reasons, how he did it, feeling his vision and his passion. Can you imagine the number of stories that guy must have had to tell… A bottle vintage Port, cheese, good bread and we would talk for hours…That would be great! The other Portuguese I would love to have dinner with would be D. Antónia Ferreira, known as "Ferreirinha". She was the heart, soul, and brain that lead "Douro" wine region during the filoxera plague. She managed to take over and manage her family's estates in the valley, making unique and exquisite wines and took good care of whoever worked with her. She definitely managed her business with a fantastic emotional intelligence. I would love to cook for her my sea bass recipe, but I would ask her to choose the wine. Maybe she would select something special to keep our speech hydrated.
What is the most expensive wine you have ever drunk?
Well, there was this bottle of Vintage Port wine from 1900 that I think was the most expensive wine I have ever tasted. I don't even know the price tag on it, but I can imagine it to be expensive by its age and on how special it was to the palate.
And what's your favorite bottle of around 10€?
Txiii, now that's impossible. There are so many options, I'll have to do a list of five that I like:
Casa de Saima – white sparkling wine from "Bairrada";
Muxagat Tinta Barroca – red wine from "Douro";
Maçanita – red wine from "Douro";
Muros Antigos, Alvarinho – white wine from "Vinho Verde";
Quinta da Bica – white wine from "Dão".
Just to name a few, because this list would go on…
If you were to fuse two cuisines and make some classic dishes, what would you choose?
Hum… maybe Portuguese cuisine with Indian cuisine. I would love to get our pork and fish traditions with the wide array of spices and textures one can find in Indian cuisine. And I do love my food to be spicy.
Got another question for André? Drop us an e-mail [email protected]
A toast to future travels!
Taste Porto Foodie Team
Discover Porto's food secrets and have a wonderfully personal experience on our Food & Wine tasting tours
Book now
Don't forget to share this post