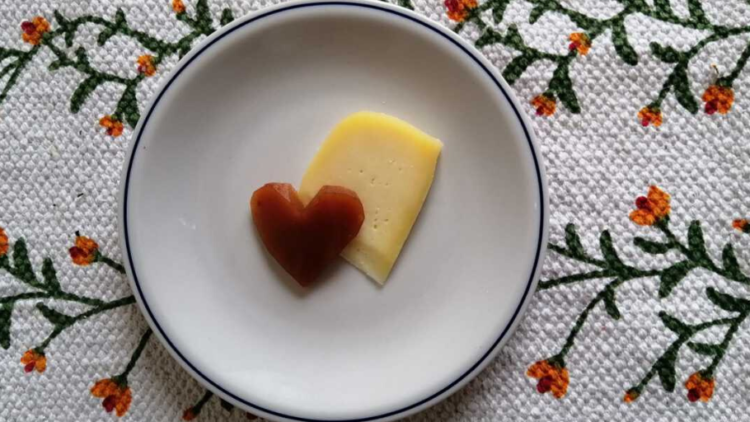 Posted on March 5, 2021
Food and drink pairings in Porto? We know a few!
We use food to show love. That's it. On our Porto Food Tours, you'll often meet and be welcomed by local families in their small, authentic restaurants, cafes and bars and immediately swept into the taste of life in Porto. Nothing captures the essence of a culture like the tastes, smells, food and wine of the local cuisine.
A big way we show love through food is by observing the "nice love affairs" in our gastronomy and then sharing those flavors with every foodie we come across with. We love sharing some of our favorite food and drink pairings with our guests.
With that in mind, today we're sharing our Top 7 Love affairs in Portuguese gastronomy.
1. Romeu & Julieta
Let's start with "Romeu & Julieta". No list of romances would be complete without the story of "Romeu & Julieta". Forget the love story that went wrong! In Portugal, "Romeu & Julieta" ​is marmalade with cheese​, a mixture of sweet and sour, and possibly one of the best love stories of all time. But the list of love affairs in Portuguese gastronomy is quite extensive and, besides "Romeu & Julieta", it includes… continue scrolling to find out.
2. Cimbalino & Portuguese Custard Tart
In town, we call a regular espresso cimbalino, named after the most well-known coffee machines in Porto, which are the Italian brand "La Cimbali". What food goes well with coffee? When it comes to coffee pairing, there are plenty of traditional options that go well with it, the Portuguese Custard Tart being the most famous. But if you want to dive deep into Portuguese gastronomy, you'll have to:
Try the least known flavors, such as the limonete. Limonete is a conventual sweet with a pop of lemon flavor. In our opinion, limonete was practically made for coffee.
Be bold and order a typical café com cheirinho (coffee with a scent, meaning coffee with a drop of brandy or aguardente in it).
3. Port wine and almond-based desserts
Before coming on a food tour with us, some travelers go out to dinner and, as soon as they arrive at the restaurant, they order a Port Wine.
PRO TIP: Port is often drunk after a meal, either paired with dessert or as a delicious digestif on its own after lunch or dinner.
That being said, you won't be surprised if we tell you that port wine marries up very well with almond-based desserts. And the same applies to chocolate. Pairing port wine and chocolate is as natural as bacon and eggs. Give it a try! Also, did you know that our Vintage Food Tour includes a mini Masterclass in Port Wine?
View this post on Instagram
4. The very famous "Bifana" and a glass of the oh-so-typical espadal
It is near sacrilege to pair your bifana with anything other than a glass of espadal or a pint of beer. A mix of flavors that will make your taste buds spin.
View this post on Instagram
5. Sponge cake with "Queijo da Serra"
Our guests keep asking us: "What breakfast looks like in Portugal?". They seem to think that we eat Portuguese Custard Tarts non-stop, which is not true. But we can say that this is what breakfast looks like in Portugal the days after Christmas: sponge cake ("Pão-de-Ló") with a very creamy cheese ("Queijo da Serra"). Yuminess!
View this post on Instagram
6. Abade Priscos Pudding & Singeverga Liqueur
Let's just say that some of our guests refer to this super strong liqueur as "Monks Poison".
As for the Abade Priscos Pudding, it was invented in the XIX century by Manuel Rabelo, the talented abbot of Priscos, located 45km Northeast of Porto. It is said that this decadent sweet pudding was so highly appreciated that the abbot would serve it on sumptuous banquets for the royal family, noble families, and other aristocrats. Myth or reality, this ancient recipe was passed on from generation to generation to become a typical dish widely appreciated. Oh, one little thing to spike your curiosity… lard is one of its core ingredients! Got curious? Here's the Abade Priscos pudding recipe.
View this post on Instagram
7. Super bock and the world-famous Francesinha
We once asked our tour guide Ricardo "what's the most exquisite pairing of food and drink in Porto?". This was his answer: "The most exquisite pairing that I know in Porto, well it is not so exquisite, but I think it works really well: Francesinha and a Super Bock. You need a bubbly drink to clean your palate while you're having all these ingredients that Francesinha has. And that would be my perfect pairing." Continue reading our Q&A round with a Porto Foodie.
View this post on Instagram
This list could go on forever (pretty much like our love for food!).
We're listening!
Which food and drink pairing would you add to this list? Share it with us on Facebook, Instagram, or Twitter.

Warm foodie regards,
Taste Porto Team

Discover Porto's food secrets and have a wonderfully personal experience on our Food & Wine tasting tours
Book now
Don't forget to share this post