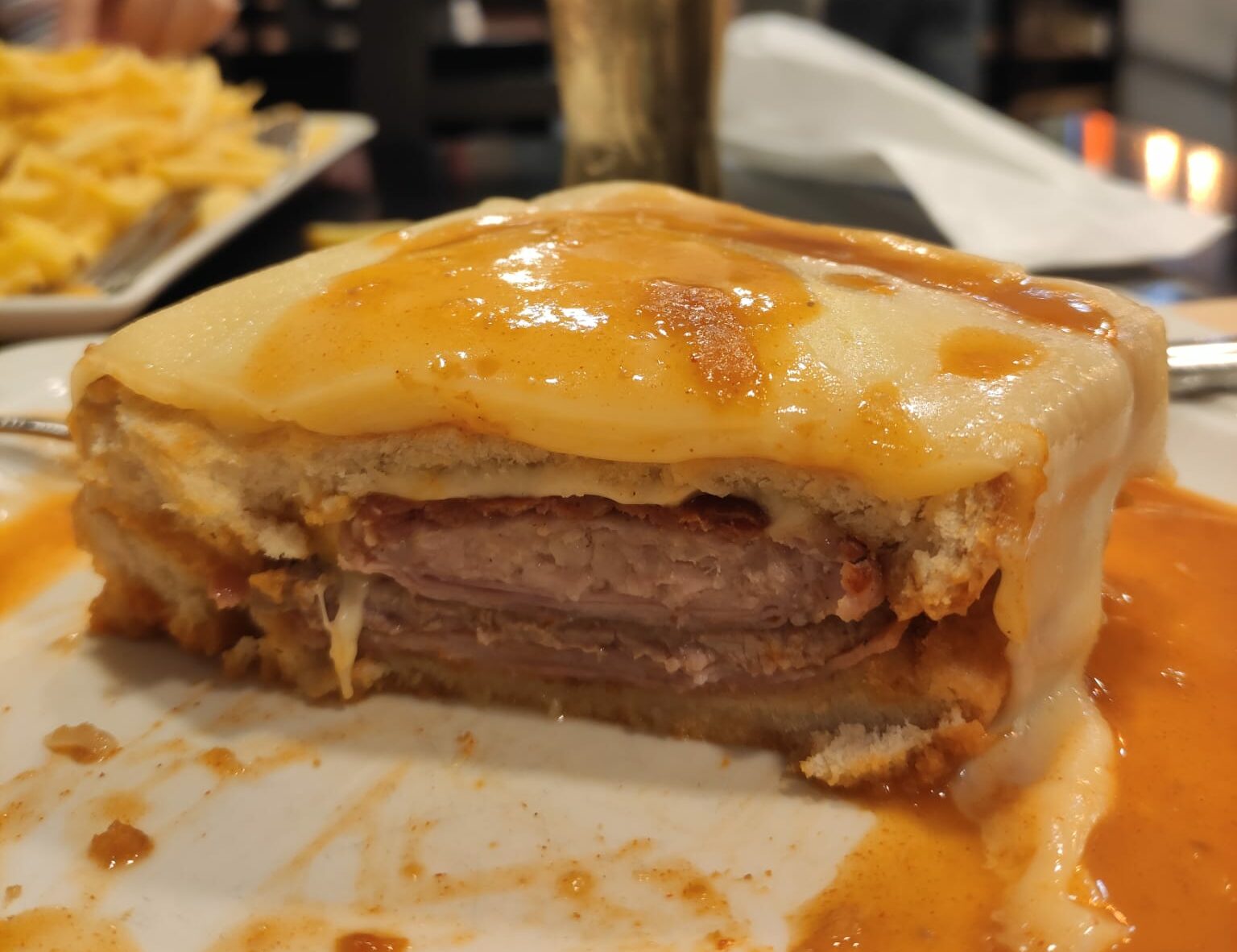 Posted on May 29, 2020
Looking for the best francesinha in Porto? A visit to our city is never complete without tasting one of its most iconic dishes, the king of sandwiches, the belly-busting francesinha. As with most food items in Porto, it is difficult to select just one as the best francesinha in the city, which is why we took the streets of Porto and tasted a lot of francesinhas in order to help your search along. It's a hard job, we know, but someone had to do it! Keep reading as we reveal where you can eat the best Francesinha in Porto and invite you to explore the other lesser-known foods on a Porto Food Tour with us.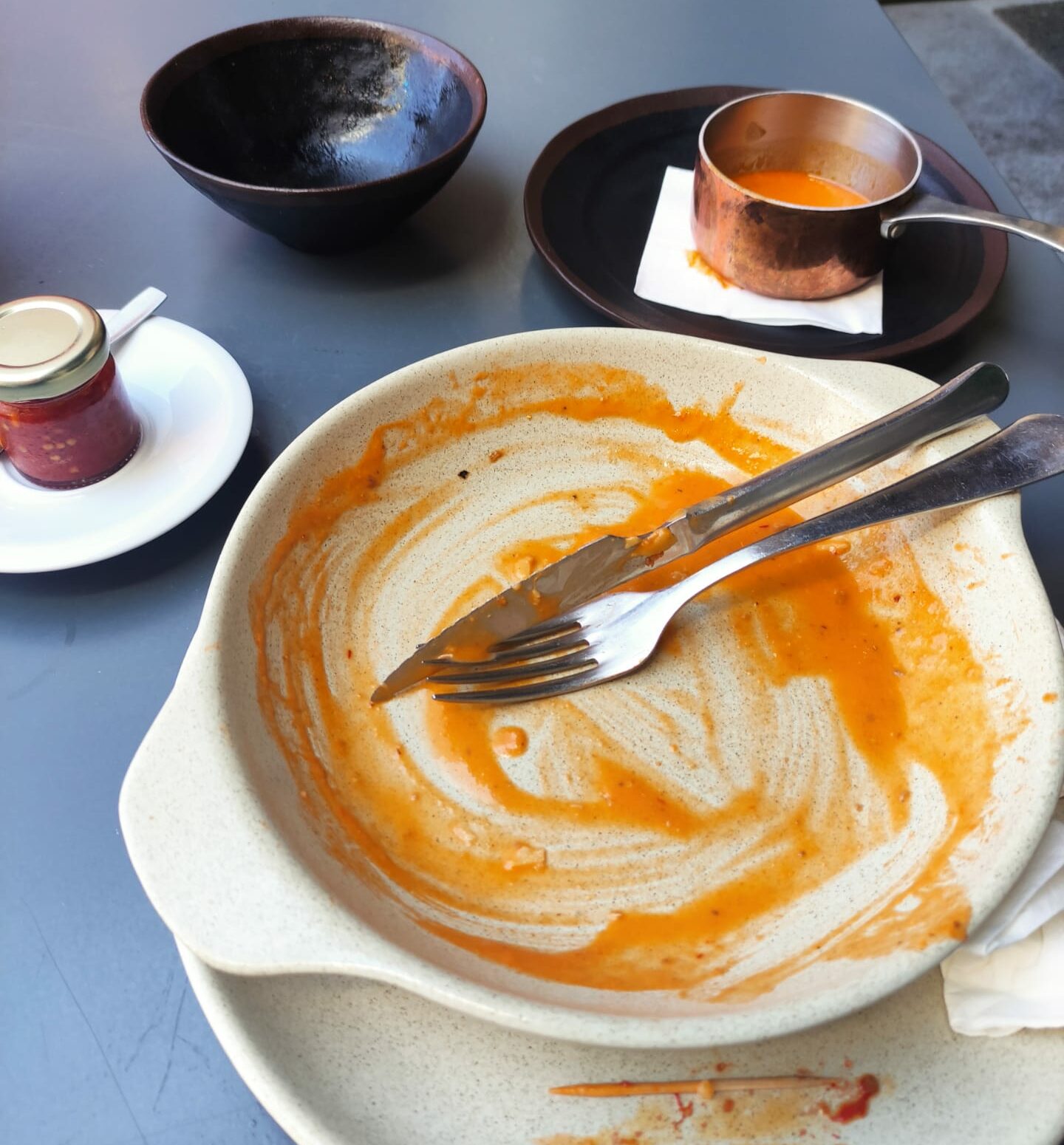 HOW FRANCESINHA WAS INVENTED?
Before getting to the top 5 Francesinhas in Porto, let us introduce you a little bit to this Porto's legendary dish. Francesinha means "little French woman" or simply "Frenchie" in Portuguese. You may ask why the most iconic sandwich in our city is named after another country and we would have to say: Good question! Though, we admit, it isn't something we think about too much.
Nevertheless, here is your history lesson: this dish was created by Portuguese emigrants to France. They encountered the french snack, the croque monsieur, and decided to take it to a whole new level, making it bigger, better, and generally more delicious! Et voilà: this is how Francesinha was born!
Usually, a francesinha is made with bread (the thicker the better), wet-cured ham, linguiça (a portuguese sausage), steak or roast beef, everything covered with melted cheese, and a special tomato and beer sauce. Most times it's served with a fried egg on top and french fries that you can dip in the sauce. Some places like to innovate by adding an extra ingredient, but what really makes the difference in the francesinha universe is… the sauce. That said, in order to find your perfect match, patience, and persistence, along with a pair of sweatpants are needed to undertake this food challenge.
WHICH ARE OUR TOP 5 FRANCESINHAS IN PORTO?
In order to help your search along, we took to the streets of Porto and tasted a lot of francesinhas so that you don't have to – you are welcome! As with most food items in Porto, it is difficult to select just one as the best francesinha in the city. That's why we give you the top 5 francesinhas in Porto that will definitely satisfy the pickiest of palates.
1. FRANCESINHA O GOLFINHO
O Golfinho restaurant is located in Porto's downtown. You'll find a narrow but relatively long corridor-like room with tables to the left and a balcony stretching along with the whole room on the right-hand side. It's a place that really breathes Porto's authenticity! If you want fancy, go elsewhere. This spot is as local and original as it gets in our city. Therefore, it's the perfect spot to enjoy a great francesinha with your friends in a very friendly atmosphere.
Where to find it: Rua de Sá de Noronha, 137. Porto-Portugal.
Opening hours: Monday to Saturday: 12:00 AM – 3:00 PM | 7:30 PM – 10:30 PM
2. FRANCESINHA SANTIAGO F
Santiago f is a family business that has become one of the most famous places for francesinha in Porto. If you walk by you will probably find a long line of people waiting. Don't be concerned, just take your place next to the locals and wait your turn. Fear not: the line moves quickly. As with most restaurants specializing in francesinhas, the secret is in the sauce. Maybe this is where you'll find your favorite francesinha in Porto!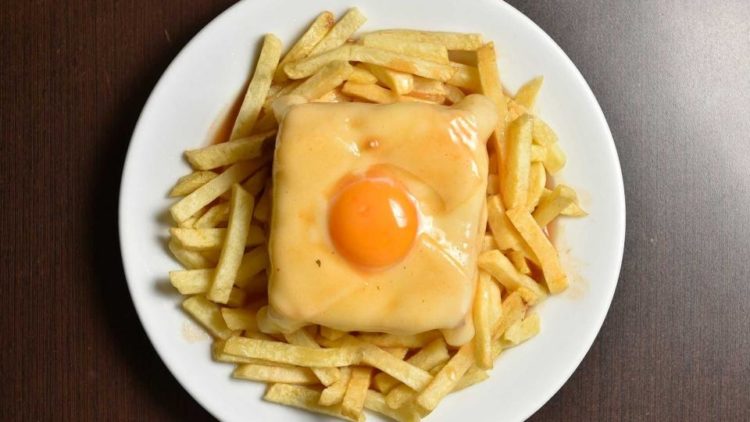 Where to find it: Rua Passos Manuel, 198. Porto-Portugal.
Opening hours: Monday to Saturday: 12:00 AM – 10:45 PM
3. FRANCESINHA LADO B
Also located in Porto's downtown, right in front of the Coliseum, Lado B (B Side) is a restaurant of modern architecture with music to match its decor. Here you can enjoy one of the best francesinhas in Porto. You see, Lado B's main goal, since its beginning, has been to promote it as an identity and cultural element of the city. We truly believe they have achieved it. Their francesinha has a nice twist because they use roasted beef instead of a steak.

They also have available good vegan and vegetarian versions, which are considered war crimes, but these are the times we live in. Jokes aside, are any vegetarians out there? We know that Traditional Portuguese gastronomy can be a little difficult to navigate when it comes to the so-called special dietary requirements. With that in mind, we've designed our Downtown & Bolhão Market Food Tour in a way that allows us to accommodate travelers that are vegetarians or pescatarians. Come Taste Porto with us!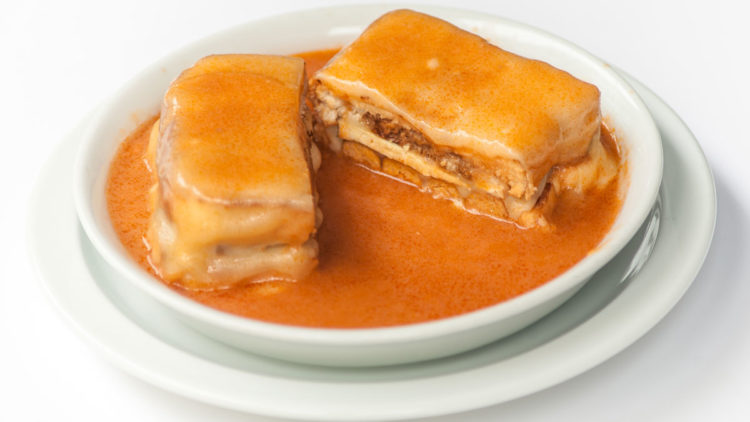 Where to find it: Rua Passos Manuel, 190/192. Porto-Portugal
Opening hours: Monday to Saturday: 12 AM – 11:45 PM
4. FRANCESINHA BUFETE FASE
Bufete Fase, like many restaurants in Porto, is also a family business. Everything is prepared on the same day, and every ingredient here is fresh, a process that has granted them several awards. Here you will find francesinha with a smoother sauce – most sauces can be a bit heavy due to the beer and spices. This sauce is a fit for everyone, including children and those with more sensitive palates. Look at thaaaaat!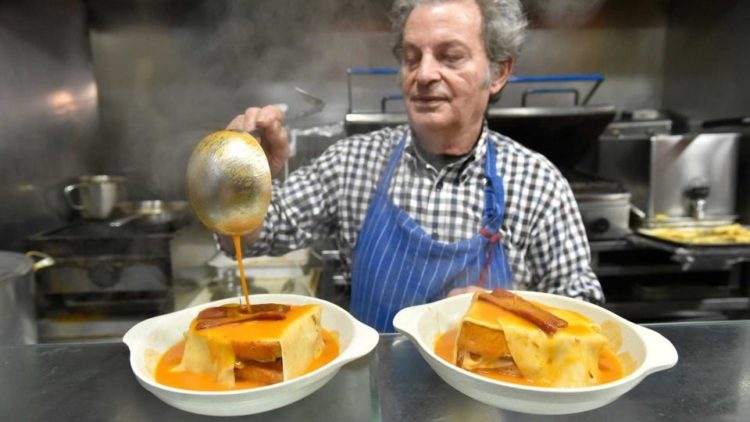 Where to find it: Rua Santa Catarina , 1147. Porto-Portugal
Opening hours: Monday to Friday: 12 AM – 4 PM
5. FRANCESINHA O AFONSO
Somewhat hidden in Porto, O Afonso is a unique restaurant that stands out from the other suggestions, mainly due to a particularity. When you arrive, you will immediately be surprised by its window where a small "sanctuary" dedicated to the famous F1 pilot, Ayrton Senna, is placed. The inside is almost a mini-museum, or some say tribute, to this legendary Formula 1 driver. There are F1 car replicas, photos, and even replicas of Ayrton Senna himself! Dinner at O Afonso is almost a themed dinner. To many, this is the best francesinha in town, but then again, it all depends on who you are!
Here's a very fond memory of our foodie adventures while hosting Anthony Bourdain in Porto and showcasing the rich history and culture of our city.
Where to find it: Rua da Torrinha, 219. Porto-Portugal.
Opening hours: Tuesday to Sunday: 12:00 AM – 3:00 PM | 7:00 PM – 10:30 PM
There you have it, our top 5 francesinhas in Porto. If you are planning on visiting Porto, now you know where you can taste some of the best francesinhas in town, and most of all, where to enjoy a truly authentic experience and mingle with the locals.
TASTE BUDS CRAVING MORE PORTUGUESE FLAVORS, FRANCESINHA LOVER?
After you have tried the city's signature dish francesinha, are you ready to discover and taste other lesser-known local traditional dishes and wines in Porto? You might think of joining our Porto Food Tour where we won't taste Francesinha but other foods you won't easily find on your own. Guided by our passionate local host, you will experience the Porto that tourists rarely see, taste important elements of our cuisine, and learn about the history, architecture, and culture while walking the streets of our beloved city.
Enjoy & Bom apetite!
Taste Porto Foodie Team
PS: some locals don't include "Francesinha" on their "Sandwich List". If you can't eat it with your hands, then it's not a sandwich, they say. We have a variety of unique sandwiches in Portugal, here are some of our favorite Sandwiches in Porto.
Discover Porto's food secrets and have a wonderfully personal experience on our Food & Wine tasting tours
Book now
Don't forget to share this post