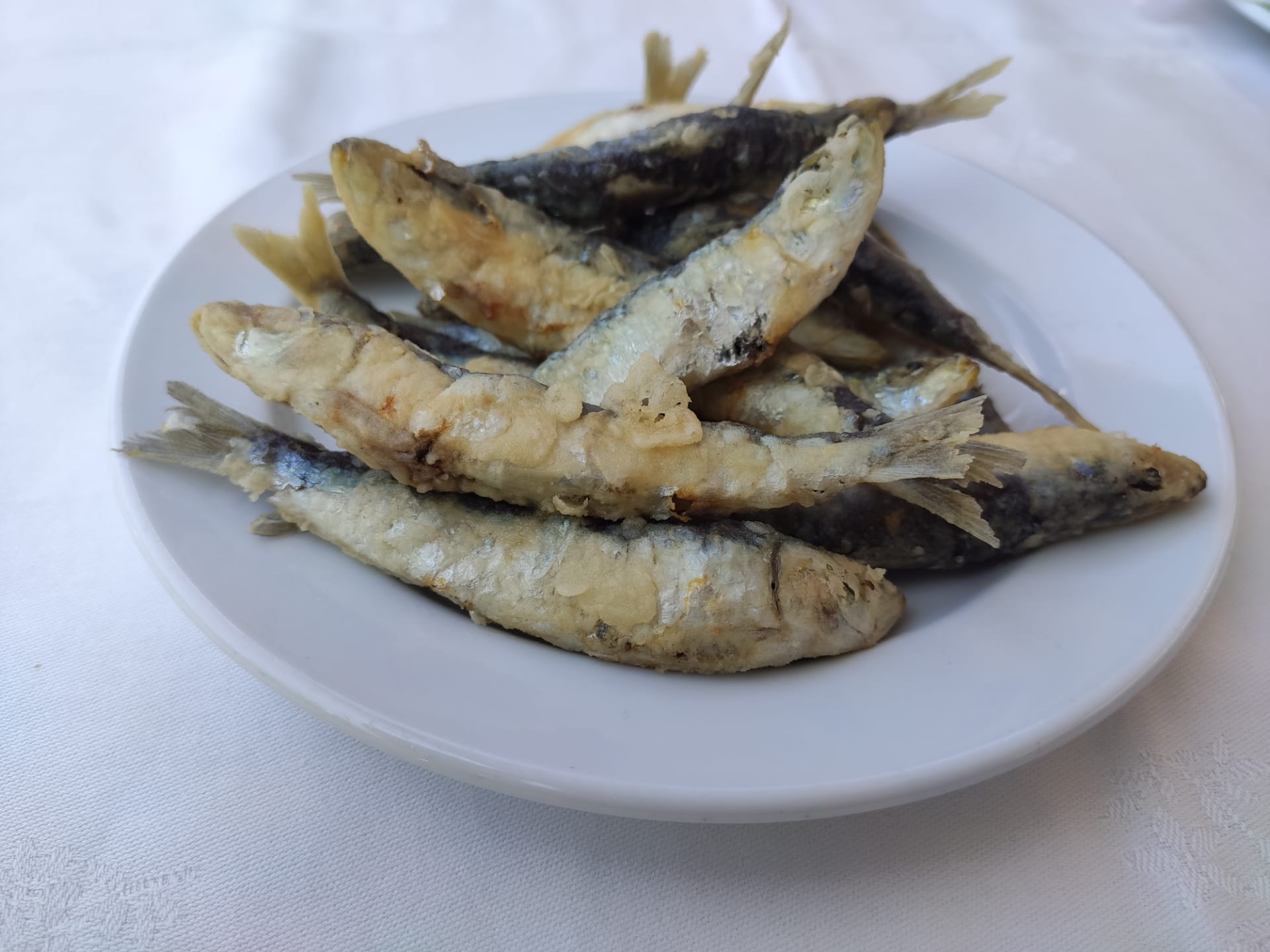 Posted on August 26, 2022
At Taste Porto, we firmly believe that food is the ultimate cultural expression. By joining one of our Porto Food Tours and getting to know the ingredients and the hands that actually make the food, you can learn about Portugal's economy, weather patterns, traditions & popular beliefs… Portuguese expressions is another thing you can learn about on a Porto Food Tour with us.
Portuguese Expressions for Food Lovers
For non-native speakers, and especially those who do not speak Romance languages, Portuguese can sound truly alien. It is common for visitors to tell us that we sound Russian or Polish – and there's actually an explanation for that. But, we assure you, our language is derived from Latin, just like most of our Southern European brethren.

Within language, we also find cultural humor. Although we are often described as melancholic people (this characteristic being very associated with fado), we promise you we are funny and full of life. Granted, a lot can be lost in translation but we will try our best and attempt here to give you a few examples of food-related expressions that never cease to make us chuckle, in order to better prepare you for your upcoming food tour with us.

Disclaimer: in Northern Portugal, we curse a lot. We do not mean it as insults, but merely as punctuation – it's just how we roll. The following list of portuguese expressions does contain some spicier terms. You can also check out our How To Sound Like A Local Guide, for Porto-specific slang.
Compendium of Portuguese Expressions that Foodies will love
1. ESTÁ DAQUI!
Translation: it's from here!
Meaning: This exclamation is what you should say when something is truly delicious. It must be accompanied by a specific hand gesture or it won't make any sense: you must grab your earlobe and wiggle it while saying Está daqui! And the more you accentuate that final -qui sound, the more delicious the food is. Any waiter serving you will be delighted and thankful to see you do this.
2. ESTOU FEITO AO BIFE.
Translation: I'm done like the steak.
Meaning: we do not subscribe to over-cooking meat. Moreover, this is an irreversible crime, for once you've over-cooked it, you cannot undo it. If you are going to indulge in that protein, it should be medium-rare, as the Culinary Gods intended. Therefore, we fully understand the intention behind this expression: if you're done like the steak, it means you're f*****!
3. AQUELES DOIS SÃO FARINHA DO MESMO SACO.
Translation: those two are flour from the same bag.
Meaning: this portuguese expression comes directly from Latin – homines sunt ejusdem farinae. In English, the equivalent to this could be "two peas in a pod" but with a twist, because, in Portuguese, this expression is seldomly used in a positive way. So, let's rephrase that: "two bad peas in a crappy pod that are up to no good." That's more like it.
4. PUXAR A BRASA À MINHA SARDINHA.
Translation: to stir the fire under my sardine.
Meaning: before your head starts wandering, this has nothing to do with being sultry. It means to fight for your interests, to make things go your way. If you don't know this about us yet, you'll now realize that so much of our lives revolve around sardines. And this seeps into our popular portuguese expressions as well.
5. DE PEQUENINO SE TORCE O PEPINO.
Loose translation: you must twist the cucumber ever since you're little.
Meaning: again, get your head out of the gutter! ! This has nothing to do with THAT. It means that if you want to be good at something, you need to start young. Did you know that, in order for cucumbers to grow straight, you actually need to prune and shape them into form? THAT's the origin of this expression.
6. SOPINHA DE MASSA.
Translation: pasta soup.
Meaning: this is how we describe someone with a lisp. Because -S sounds are so prevalent in our language, this was bound to be an issue, so it's understandable that a popular expression was born to describe this problem in a colloquial form. It is not derogatory in any way. In fact, it's always said with a tone of tenderness.
7. ESGALHAR O PESSEGUEIRO.
Translation: to stroke the peach tree.
Meaning: we're just going to let this one sit here and see if you can figure it out on your own.
8. ARROTAR POSTAS DE PESCADA.
Translation: to burp hake fillets.
Meaning: this is used to describe anyone who seems to speak very assertively without actually knowing what they're talking about. This is why this is a very common expression to apply when talking about politicians.
9. ESTOU C'OS AZEITES!
Translation: I'm with the olive oils!
Meaning: this is one way to express when something or someone is bothering us, when we're annoyed to the core, grumpy and in a bad mood. Basically, when we're pissed.
10. ISTO ESTÁ AO PREÇO DA UVA-MIJONA.
Translation: this is priced as the piss-grape.
Meaning: the piss-grape is what we call the lowest quality of grape – it's usually quite watery and unpleasantly flavoured. Classy, right? We'll use this expression to say that something is extremely cheap and that that is not necessarily a good sign – something's afoot!
11. OU SIM OU SOPAS.
Translation: or yes, or soups.
Meaning: this expression gives you no choice and it's meant to convince you to make a decision, to take action. Preferably, what the other person wants you to do.
12. ESTAR NA MARMELADA.
Translation: to be in the quince jam.
Meaning: we'll go as far as to say there is not a soul in this world that doesn't like to be in the quince jam. It's gooey and sweet and comfy… it's the Portuguese version for canoodling!
13. DE PARTIR O CÔCO A RIR.
Translation: to break the coconut laughing.
Meaning: when something is really funny, it's coconut-breaking funny, and we'll crack our coconuts (heads) laughing. The word for coconut entered our lexicon when the Portuguese "discovered" that fruit in the faraway lands that they set out to conquer in Southeast Asia, and then introduced it in Brazil, in the XVI century. It almost immediately became a synonym for head because of its shape and size.
14. ESTE É O MEU PRATO FORTE.
Translation: this is my strong dish.
Meaning: in English, it's common to use an Italian word to express this idea. This is my forte, when someone wants to point out their strong suit, their best quality, what they are really good at. In Portugal, we're good at food, period.
15. ANDEI A LAUREAR A PEVIDE.
Translation: I've been strolling the pip.
Meaning: this would be the answer to the question "what have you been up to lately?", in case you've been wandering around not doing much. People will use it to describe a good time on holiday, for example, but also to let someone know that they haven't been very productive at work this week. It depends on context.
16. AQUELE ESTÁ-SE A ARMAR EM CARAPAU DE CORRIDA.
Translation: that one's acting like a racing mackerel.
Meaning: this is a good insult for someone who brags, who thinks of themselves as a lot more clever than they are. It's the definition of an ass but without resorting to curse words. Why the mackerel and why is it racing? We don't know but it makes perfect sense to us.
17. CALHOU-ME A FAVA.
Translation: I got the fava bean.
Meaning: you are unlucky. The portuguese expression comes from the Christmas tradition to eat bolo rei, a typical fruit cake in which it was customary to hide a fava bean in the dough (one per cake). Whoever got the fava bean, had to pay for next year's cake. It's actually a very clever way to help out with finances over Christmas, but ever since we've had the Food and Economy Safety Authority (ASAE), we're no longer allowed to do that… what a bunch of racing mackerels!
18. FICAR EM ÁGUAS DE BACALHAU.
Translation: to remain in the cod's water.
Meaning: when something remains unresolved. In Portugal, we eat salted, dried cod, which needs to be soaked for several days before consumption. This expression alludes to that period when the final goal hasn't been reached yet. And the final goal in life is always COD!
19. SEU AZEITEIRO!
Translation: you olive oil maker!
Meaning: another iconic insult from the North. This one is reserved for those who lack taste, who are greasy and even make us cringe a bit. If it's a guy, he wears too much hair gel. If it's a girl, she wears too much makeup. They both try too hard, know little and have very questionable taste in music!
20. DÁ CÁ UM BACALHAU!
Translation: give us a cod!
Meaning: to ask for a handshake in an enthusiastic way, usually when someone is delighted to see you or they emphatically agree with what you're saying. It's also common to hear an older man say this to a kid (boy or girl), to teach them the importance of a good, strong handshake. It's the Portuguese equivalent to "put it there!"
21. ESTÁS A PRECISAR DUM CHÁZINHO-DE-MARMELEIRO.
Translation: you're in need of a bit of quince tree tea.
Meaning: it's probably best that no one ever tells you this because it means they think you're in need to be smacked into reason. This expression alludes to the great quality of the quince tree wood to make canes, and its "corrective" properties.
22. TRAZER OS PODRES AO DE CIMA.
Translation: to bring the rotten to the top.
Meaning: to make someone's dark secrets public. This refers to old techniques of purification where, for example, you simply bring something to the boil and let it simmer. If there's something that you want to get rid of, it will always rise to the top.
23. QUE GRANDE TRIPEIRO!
Translation: what a great tripe eater!
Meaning: this is what we all wish our gravestones to read. It means you are a great citizen of Porto.
24. APANHADO COM AS MÃOS NA MASSA.
Translation: caught with the hands in the dough.
Meaning: it's the Portuguese equivalent to being caught red-handed.
25. QUE NABO!
Translation: what a turnip!
Meaning: this is also an insult but it's a mild one – it means silly or dumb, but not entirely an idiot. It's commonly used in self-deprecation when we find ourselves doing something a bit foolish, precisely because it gets the point across but it's not too aggressive. And we really should be kind(er) to ourselves.
26. ELA É UM OSSO DURO DE ROER!
Translation: she's a hard bone to gnaw on!
Meaning: she's a tough cookie! It can be a compliment, in the sense that she's a strong person; or it can be an insult, meaning she's complicated and/or stubborn.
27. COMEMOS QUE NEM ABADES!
Translation: we ate like abbots!
Meaning: to eat a lot and in good quality. This obviously relates to past times when, in this inherently Catholic country, high clergymen were extremely privileged and indulged in the best that life had to offer – being that food, wealth or lust. The same version exists with "kings" instead of "abbots" but the latter is actually more popular – we wonder why?!
28. ESTÁVAMOS QUE NEM SARDINHAS EM LATA.
Translation: we were like canned sardines.
Meaning: this is how we'll describe a ride on a bus from downtown Porto, at 6.30 pm, on a damp, miserable February Monday. It's accurate AF! However, we actually do love canned fish with some bread and wine – as long as it's on our plates.
29. COMI GATO POR LEBRE.
Translation: I ate cat for hare.
Meaning: this is never good when it happens, and it happens to us all, unfortunately – it means you've been duped, misled, deceived. Poor cat! And poor you!
30. ESTÁ O CALDO ENTORNADO!
Translation: the broth has been spilt!
Meaning: get ready to rumble because the situation just got messy. To simply put it, it's the Portuguese version of the shit has hit the fan, but isn't it nicer?
31. FIZ DAS TRIPAS CORAÇÃO.
Translation: I made a heart out of tripe.
Meaning: this is a very typical expression of Porto in particular, being that we are known as tripeiros, or the tripe eaters. It means to take your weaknesses and turn them into strength; to be brave beyond what's expected; to try your absolute hardest in the face of adversity. We feel this expression defines us and there are legends we love surrounding this expression. Join our Taste Porto Food Tours and we'll tell you all about it!
32. ESTE PARECE QUE VAI A CALCAR OVOS!
Translation: this one looks like he's stepping on eggs!
Meaning: this is a typical expression to use in traffic when someone ahead of you is annoyingly slow. You can make your point across by honking and gesturing too, because we're THAT kind of people.
33. SUBIU-ME A MOSTARDA AO NARIZ.
Translation: the mustard went up my nose.
Meaning: to become really angry and explode. I mean, wouldn't you? If mustard went up your nose? This one's really self-explanatory.
34. QUE LAPA!
Translation: what a limpet!
Meaning: another great insult! This one is specifically for those people who will just not get off your back, who are clingy and don't let that one subject go, grrrrrrrrrr! We all know one of those at least, right? By the way, grilled limpets with garlic, butter and piri-piri are an absolute delight. They are very typical in Madeira and the Azores.
35. ELE TEM UM GRANDE TACHO!
Translation: he has a big pot.
Meaning: in this specific context, a pot means a well-paying job, but the way you got it is questionable. In this sense, this expression is an accusation of either getting a job due to influence, paying to get it or maintaining it thanks to some sort of status, and not doing much for it.
36. TER A PAPINHA TODA FEITA.
Translation: to have all the baby food done.
Meaning: when someone makes it easy on you or does everything for you. It's usually said in a condescending fashion, with a sprinkle of jealousy.
37. SER UM BOM GARFO.
Translation: to be a good fork.
Meaning: someone who really enjoys food and is not squeamish, that will try everything. At Taste Porto, we're the whole set of cutlery.
38. TIRAR NABOS DA PÚCARA.
Translation: to take turnips out of the bowl.
Meaning: it's important to know how to do this if you want to be a spy, or if you just want to navigate life. It's to get information out of someone in a covert way.
39. SEM ESPINHAS.
Translation: without fish bones.
Meaning: it's the Portuguese equivalent of "piece of cake!" It comes from the fact that we commonly eat fish with plenty of bones, and we've been used to that ever since we were small children. But if, for some reason, the fish is boneless? Well, life has just become a lot easier, hasn't it? We'll also say É canja!, which means it's chicken soup – a famously easy-to-eat meal.
40. ISSO NÃO É PÊRA DOCE.
Translation: that's no sweet pear.
Meaning: on the other hand, when things are indeed difficult, we complain that they are not like a sweet pear.
41. PASSAR PELAS BRASAS.
Translation: to pass through the embers.
Meaning: who doesn't love to pass through the embers? It means to take a nap.
42. QUERIAS? BATATAS COM ENGUIAS!
Translation: you wanted it? Potatoes with eels!
Meaning: well, that doesn't make sense at all. It's just an elaborate way to say "that ain't happening"!
43. SOUBE-ME A PATO!
Translation: it tasted like duck!
Meaning: when something tastes or feels good, we tend to compare it to duck, which is usually a more expensive and not-so-frequent meal. It can also imply that whatever it was that tasted/felt good, was also for free – which is just gravy, right?
44. SÃO MUITOS ANOS A VIRAR FRANGOS!
Translation: I've been turning chickens for many years!
Meaning: it's the Portuguese equivalent of "this is not my first rodeo". The importance of barbecue chicken in our everyday lives is big and, when visiting Porto with us, we'll gladly give you some pointers as to where you should go for that famous Portuguese Piri-Piri Chicken.
45. DE COMER E CHORAR POR MAIS.
Translation: to eat and cry for more.
Meaning: when something is so good, so delicious, that you'll beg, crying for more.
46. SER PAU PARA TODA A COLHER.
Translation: to be wood for every spoon.
Meaning: to be talented in many ways, to know how to do many different things. The origin of this expression is related to how important a wooden spoon is in any kitchen.
47. NO TEMPO DAS VACAS GORDAS/MAGRAS.
Translation: in the time of the fat/skinny cows.
Meaning: this is an expression with origins in the Bible, when the Pharaoh dreams of seven thin cows and Joseph interprets that as seven lean crop years, after seven full ones. In Portugal, a more recent fat cow period was the 90's. It's been downhill since…
48. TER A FACA E O QUEIJO NA MÃO.
Translation: to have the knife and the cheese in your hand.
Meaning: to hold all the cards and have everything you need to solve the situation, in your benefit. Indeed, we can all agree that any tricky situation improves if cheese is available.
49. AINDA TENS QUE COMER MUITA SOPA.
Translation: you still have to eat a lot of soup.
Meaning: this is usually said to someone who is young and/or inexperienced, and it's usually said in a very condescending way, so it's extremely annoying to hear.
50. QUE FALTA DE CHÁ!
Translation: what a lack of tea!
Meaning: being that tea has always been associated with the upper classes, to have a lack of it means to have no manners. It's the Portuguese equivalent of "how rude!".
Portuguese Expressions
Now that you know some of the common everyday expressions we use in Portugal, you should consider joining one of our Porto Food Tours and exploring our gastronomy as well.

Yours truly,
Taste Porto Foodie Team
Discover Porto's food secrets and have a wonderfully personal experience on our Food & Wine tasting tours
Book now
Don't forget to share this post