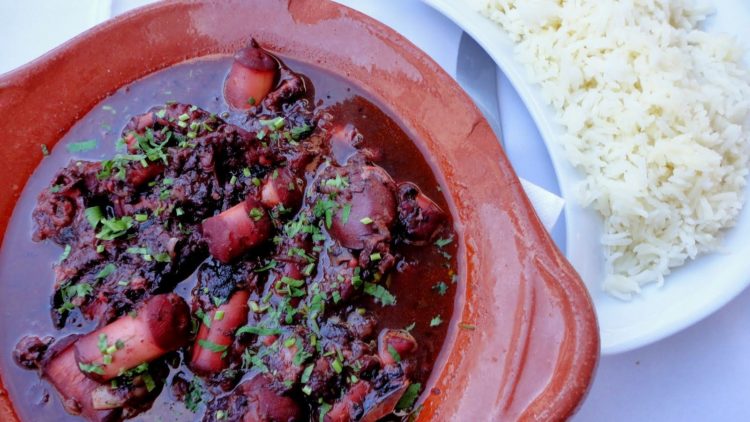 Posted on June 3, 2020
Though we generally associate octopus with summertime – fresh octopus on the grill is my favorite – it also works beautifully in this stew recipe that we hope you will enjoy!
Ingredients:
1.5 kg (3.3 pounds) of octopus
1.5 decilitres (2/3cup) of olive oil
1 large onion
4 tomatoes
3.5 decilitres (1.5 cups) of white wine
1 spring of parsley
1 clove of garlic
7 decilitres (3 cups) of water
This is a good recipe for a bad day. Wonder why? Start by defrosting the octopus and washing it thoroughly with cold water. Next, wrap it up in a clean kitchen towel and beat it.
Yes. Beat the hell out of it!
Steps:
Grab a rolling pin or a creative substitute and beat it. How's your bad day going now? Once thoroughly beaten, or tenderized as some would call it, cut the tentacles and body into small bite-sized pieces. Now place the pieces in boiling water and cook for 10 minutes before draining.
Next chop up the onion into small pieces and sauté over medium heat at the bottom of a large pot with olive oil for only a few minutes until the onions are translucent. Add the octopus and tomatoes and a pinch of salt. Cook for 10 minutes before pouring in the wine, parsley, garlic and water. Bring to a boil and then reduce the heat to a simmer, covering the pot. Cook until the octopus is tender, about 20 to 25 minutes.
You can also add in cooked rice to make this an even more filling stew. Or serve with baked potatoes with an olive oil drizzle and some coriander.
Enjoy it and let us know how it went!
Taste Porto Foodie Team
Discover Porto's food secrets and have a wonderfully personal experience on our Food & Wine tasting tours
Book now
Don't forget to share this post