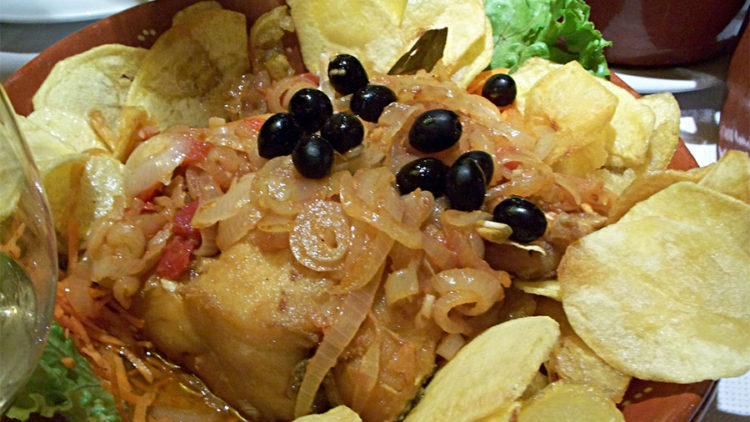 Posted on June 3, 2020
How bacalhau à Gomes de Sá was invented?
Some traditional dishes get the name of their creators. This is the case of this type of bacalhau à Gomes de Sá. José Luís Gomes de Sá Júnior was born in Porto in 1851 and here he died in 1926. He dealt with selling bacalhau on the street "Muro dos Bacalhoeiros", on the "ribeira" (riverside) of Porto. It is said that after having created this recipe, he sold it to his friend João, who was the cook of Lisbonense restaurant, located in Travessa dos Congregados right next to Porto's main avenue.
This as a result is a very typical dish of us "tripeiros" and it is usually paired with "vinho verde" (wine from Minho region in Portugal) or Douro red wine. You can quite easily find it in most of the traditional restaurants in our beloved city. It's seen as simple and fast to make, but I'll let you decide after you read the recipe (serves 4).
Ingredients
500 grams of dried salted cod
500 grams of boiled potatoes with skin
1.5 decilitre of olive oil
1 clove of garlic
2 onions
black olives
parsley
5 decilitres of milk
salt and pepper to taste
optional: 2 eggs
Steps
Soak the cod, place in a pan and add boiling water to cover it
Place the lid on the pan and let it sit for 20 minutes
Drain the water, remove the skin and bones and flake into large strips
Place the cod strips in a deep pan
Bring the milk to a boil and pour over the cod
Let it stand for 1.5 to 3 hours
Meanwhile, prepare the garnish by chopping parsley and boiling one or two eggs
Heat the olive oil on a large pan, slice the onions and garlic and sauté until lightly browned
Peel and slice the cooked potatoes and add them to the olive oil, onions and garlic mix
Drain the cod and add it on top of the potatoes. Stir gently but do not allow to stew
Season with salt and pepper
Move everything to an earthen baking dish and bake in a hot oven for 10 minutes
Sprinkle the dish with chopped parsley and garnish with slices of boiled eggs and black olives
Serve very hot and enjoy it!
Bom apetite!
Taste Porto Team
Discover Porto's food secrets and have a wonderfully personal experience on our Food & Wine tasting tours
Book now
Don't forget to share this post