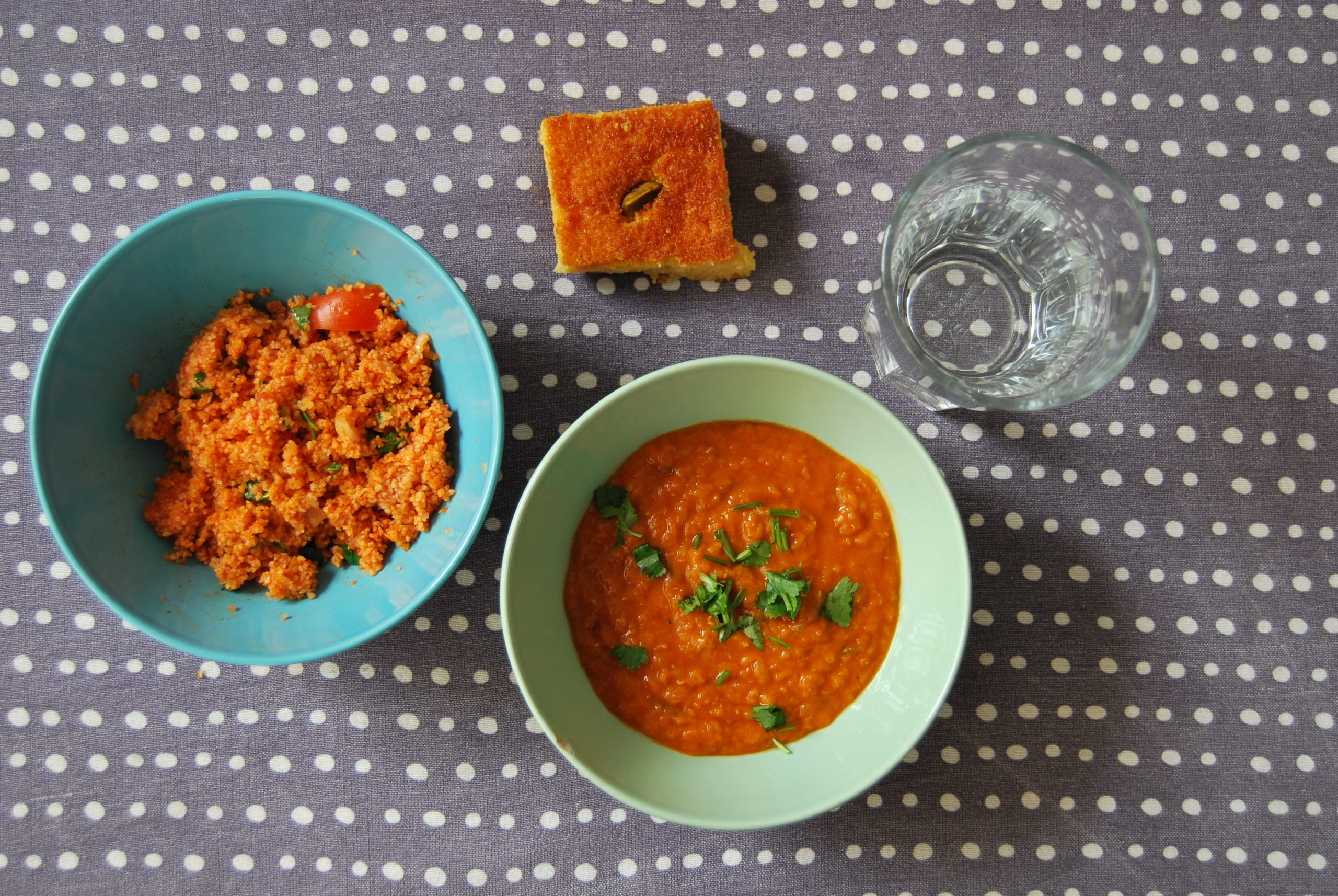 Posted on March 29, 2021
Looking for the best international food restaurants in Porto?
At Taste Porto, we are tripeiros (tripe-eaters, the nickname of the people of Porto and the name of an entire culture) of body and soul: we think we live in the best city in the World; that there is nothing like northern hospitality; and one of our guide's father goes to the point of asking her if she has her passport with her, every time his daughter needs to go to Lisbon. Despite all this, when it comes to food, our taste is national – in Portugal, one eats WELL, period!
All our regions are incredibly rich, from Bragança to the Algarve, from Castelo Branco to the islands. No one said it best than our beloved Maria de Lourdes Modesto (the Mother of traditional Portuguese cuisine), in her quintessential compendium:
"Cournonsky, the prince of French gastronomy, described regional French culinary in only 325 recipes. From where I stand, I must confess that the eight-hundred chosen recipes are not enough to fully comprise all the versions in the ever-so-rich Portuguese repertoire." (MODESTO, 2018; 5).
Looking for the best international food restaurants in Porto? Continue reading to find out our top choices!
At Taste Porto, we defend tooth and nail our gastronomy (literally), come what may! Is that why the gastronomical diversity in Porto is a fairly recent phenomenon and tends to be met with some initial resistance? Due, perhaps, to this almost- fanatical protectionism of our peculiar tripeiro culture? To our people's very characteristic love of simple and familiar food? Or, qui ça, due to the lack of cosmopolitanism that seems to always be diverted to the capital? The truth is that once the initial barriers are overcome, Porto reveals its curiosity for all of the different cuisines – because, in fact, what we love is to eat, and to eat well!
The first Chinese restaurant in Porto
The proof is in the first Chinese restaurant to open in Porto, back in 1966: the "Restaurante Chinês" (or Chinese Restaurant – a simple and clear name, since there was no other!) It's been known as "o chinês da ponte" (the Chinese by the bridge) for a long time now since it's located by the entrance of the upper part of the Luiz I Bridge. Upon its opening, whether be locals or outsiders, there were more people gathering in front of the façade to gaze at all that exoticness, than actual customers going in. All fears were put aside though, once the locals started to see the chef at Bolhão Market going about his shopping; and then they finally ventured into this portal into the East.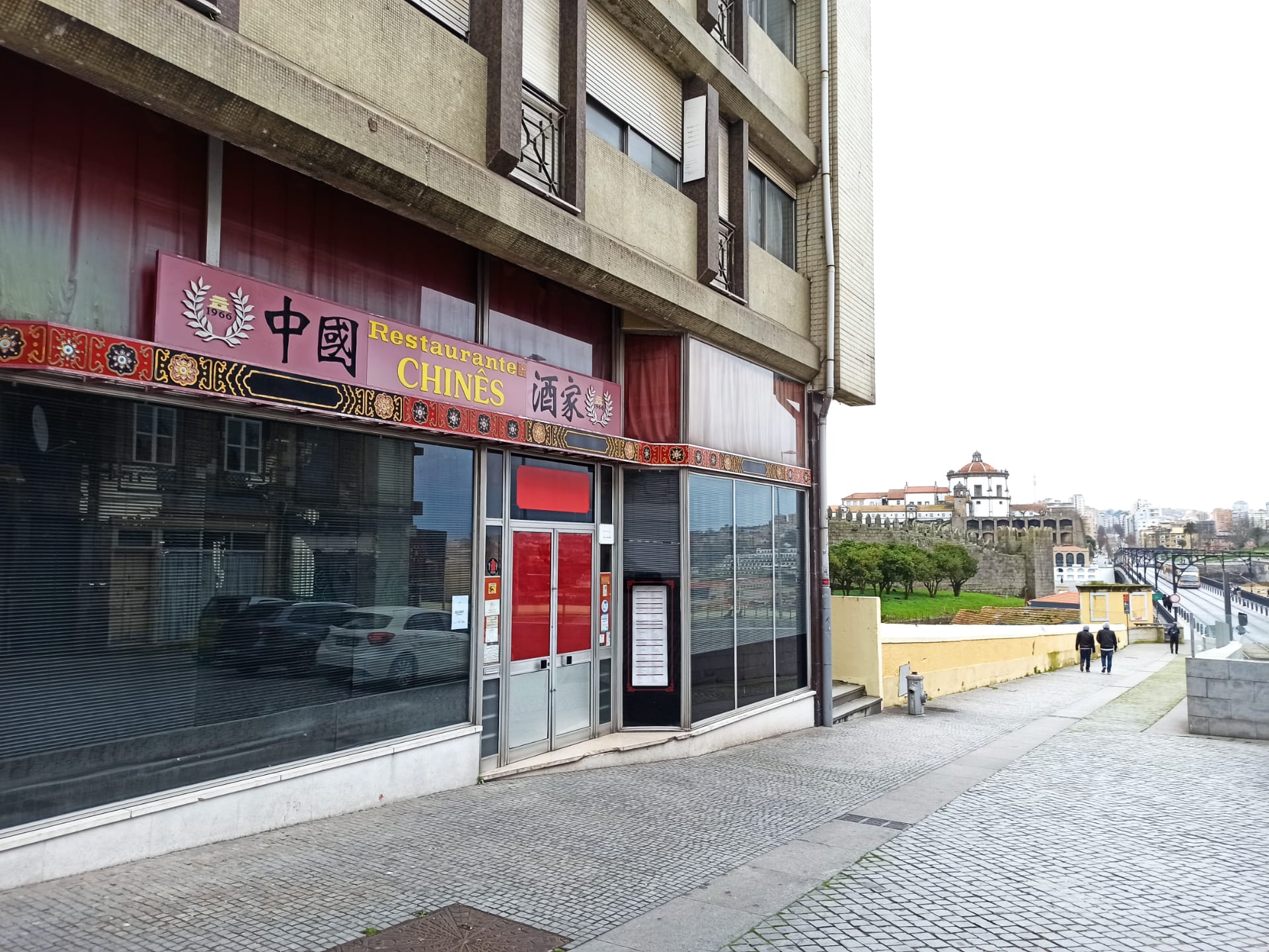 The round tables with the lazy Susans (circular rotating trays) dazzled everyone; the fact that there was a plate called "xau-xau" (bye-bye!) rice caused giggles and laughter; while the swallow's nest soup intrigued everyone by the worse reasons ("how can one make soup out of chewed-up mud??" – no one knew it was a different type of swallow, the sea kind, which builds its nests in a very different way than ours, the European swallow). And lychees! "My God, what the hell is a lychee?!" A completely unknown flavor, totally different to the Porto palate which, however, gained so many fans! Still run by the same family who opened it back then, the "Restaurante Chinês" is loyal to traditional Chinese cooking, in particular the Cantonese cuisine, and relies on a huge legion of faithful patrons, entire families to whom the week is not complete without going to "the Chinese by the bridge".
One may actually say that this is one of the restaurants responsible for Porto opening up to foreign gastronomies, being itself a testimony to this city's appreciation for good food, where ever it comes from, especially when it's genuine and "from the heart". And no matter how much Porto loves its own food, everyone has those days when we feel like having something different.
At this moment, maybe more than ever, since this pandemic monotony has settled in and, among many other things, has prevented us from traveling. Sometimes, the ideal escape is precisely the flavors from somewhere other than our little corner. Here you have a few choices from the Taste Porto team, for now… Here are our top favorite international food restaurants in Porto.
International food restaurants in Porto (our top picks)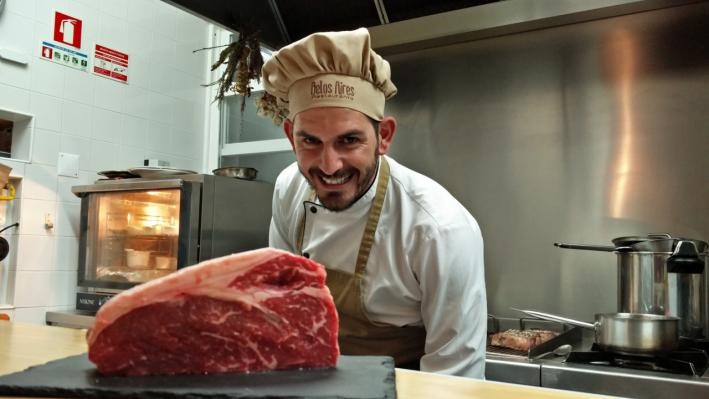 Six years ago there was a restaurant-opening frenzy in Porto. Almost every week there was a new place to eat in town. Back then, one caught my attention: a restaurant mixing Argentinean and Portuguese gastronomy called Belos Aires. Hmmm, sounded interesting to my ears and especially to my palate. So there I went, to give it a try… And ever since I've been there countless times!
I became an instant fan (and a friend) of Mauricio (the chef) and Elisabete's (Mauricio's wife and PR of the restaurant), surrendering to their amazing food, comfort and simplicity. I feel it is far more than just a restaurant. "Why?" – might you ask. Well, let me share a little bit of the background story of this place. Mauricio met Elisabete on a summer vacation, they fell in love, came back to Portugal, got married and, a few years later, they opened Belos Aires. Simple! Love got them together and now they want to share their love story. Going after a lifelong dream, they opened Belos Aires right in the heart of downtown Porto, quite close to Ribeira.
Everyone is greeted with a gentle smile, making you feel at home, as if we were at a friend's dining room, enjoying a meal. Mauricio brought in his Argentinean heritage, adding in the freshness of the ingredients found at Bolhão market, in order to create a menu of simple, delicious, comfort food. As soon as you sit down, and while you choose what to eat, Mauricio will invite you to try a couvert made with ingredients bought that morning at the market, therefore changing frequently depending on what's available and in season. And I should highlight that the entire menu is seasonal, adapting to the ingredients in season, aiming for freshness and intensity of flavors. Since I'm a cheese fan, one of my favorite appetizers is the melted "Provoleta", an Argentinean cheese similar to the Italian Provolone, sprinkled with some herbs. Simple, flavorful and delicious! You can find it as part of "La picada", an appetizer board that pairs the cheese with some grilled chorizos (criollos, chinchulines and morcela).
Also traditional from Argentina and delicious are the "Empanadas", which are baked in the oven and stuffed with meat, cheese and/or vegetables. Both look good and taste even better! By now, your taste buds should be wide awake and ready for the next step. If you feel like going for something light, try one of the salad options. My favorite is the grilled vegetables salad with burrata and arugula. Simple, delicious, flavorful, and prepared with a lot of care. If fish is your choice, I highly recommend the grilled codfish with chickpeas and coriander purée (if available), or the seabass risotto. As simple and as delicious as it gets. (I'm drooling over the keyboard at this point!)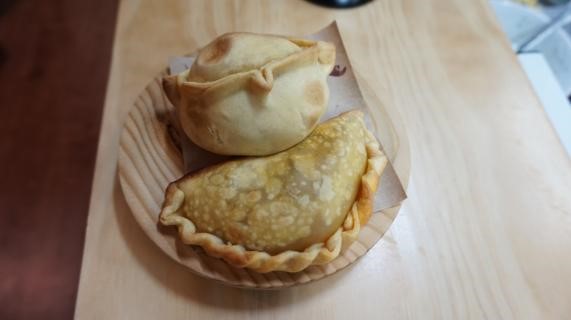 I believe you might be wondering "when will the World famous Argentinean meat show up?" Soon, soon… It's just that the menu has a few other meat options other than steak that I HAVE to mention, like the ossobuco with fresh tagliatelle that makes me drool just thinking about! These dishes are what I call comfort food. (Mouth watering keeps taking place on this side of the screen. I might need a new laptop!)
Obviously, the Argentinean steaks have a special place on the menu. A well-deserved place, I might add, since they are amazingly flavorful, succulent and delicious. You can choose from four different cuts: "ojo de bife", "bife de chorizo", "lomo" or "colita de cuadril".
Mauricio's enthusiasm and passion for Argentinian meat is contagious and one can feel it in the palate. Grilled with nothing but salt; paired with polenta puree or with some roasted potatoes and a salad; a striking simplicity that will please your palate from the first bite. No picture or word that I can post here will make justice to the quality of these steaks. You WILL have to go there to and try them out. If you still have that extra room for dessert, you can indulge yourself with a chocolate brownie with "dulce de leche" (caramelized condensed milk) topped with merengue. Delicious to say the least!
It's your turn now to fall in love with Belos Aires. Trust us. Let the love story and their passion for food delight you in this cozy restaurant, tucked away in the old part of Porto.
2. Joana at the international food restaurant in Porto called Paladares de Goa
My choice has to be Paladares de Goa, in Maia, 20 minutes away from downtown Porto, by car. My best friend from childhood took me there many years ago and I immediately fell in love with everything: with the simplicity and authenticity; with the scents that came from the kitchen and could even be felt outside on the street; with Mr. Roberto's shyness that is quickly replaced by huge enthusiasm when asked about anything; and, of course, with the food.
I didn't know anything about Goan gastronomy; I didn't know that the Goan people eat all types of meat due to Portuguese influence;
I didn't know there was a dish influenced by the vinha d'alhos from Minho region (Goan Pork Vindaloo) or by the sarapatel from the Alentejo region (Sarapatel);
I didn't know that Goan food was so different from all other Indian cuisines and, in my opinion, that it was the best one!
Very quickly, all my family got to know Paladares de Goa and Mr. Roberto who, in some magical way, makes 1600 samosas by hand, per month – the best in the World! – and is getting ready to launch his own line of spices (for which I cannot wait!).
The best way to experience Paladares de Goa is to follow Mr. Roberto's advice and try a little bit of everything; the portions are precisely designed for that effect. My favorite mélange starts with "Meat Samosas" and "Bojés" (chickpea paste fritters) with cilantro chutney, as appetizers. As main courses, duly accompanied by the fluffiest rice ever, I choose the strong flavors of the "Sarapatel", the coconut texture in the "Shrimp Curry" and the unavoidable "Butter Chicken" (which is, in fact, a Southern Indian dish that Mr. Roberto decided to temporarily introduce to the menu, but that is so highly demanded that he was forced to keep it, under the threat of an uprising). And if there's still room for dessert, I'll chose between a "Penda" (a sinful cookie made of condensed milk and pistachio) and a slice of "Bebinca", a delicious cake made up of seven layers that takes several days to make. All for sharing, of course – that is the spirit of this gastronomy.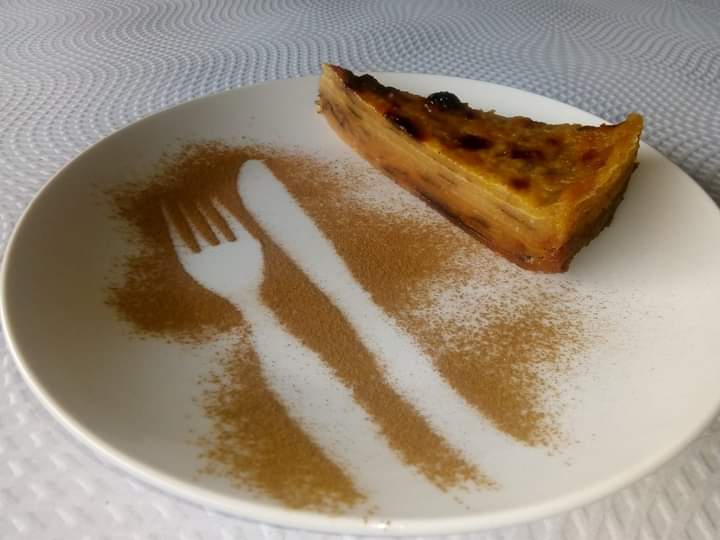 Mr. Roberto recommends beer to go along with his food (and it does make perfect sense because a fizzy drink really helps) or his fabulous ginger lemonade. Knowing that we, the Portuguese, are not accustomed to the same level of spicy-hotness as the Goan, Paladares de Goa has its menu perfectly adapted to that. However, the most fearless can always ask for the "volume to be turned up" and Mr. Roberto will not disappoint. Actually, Mr. Roberto never disappoints.
I've heard him say so many times "I love my job!" while on his day off, taking special orders for the weekend. His hospitality is totally sincere. His pride on the path that led him to own his restaurant for 12 years now (inspired by his father) is huge. And his will to share his culture is inspiring. I've also seen him furious because the spices he had ordered had arrived dry and lacking punch! All of this is reflected in the care with which he prepares and serves his food, on the time he takes with each customer to explain the dishes and on the timid smile with which he says farewell to each one, always with this immense gratitude. It's really the other way around! We are the ones grateful to know Mr. Roberto and his family.
I always learn something new when I go there and I leave always wanting to go back. In my family, to go to Paladares de Goa and be with Mr. Roberto is something that truly excites us and it's a place where we already feel at home.
3. Maria at the international food restaurant in Porto called Sabores do Sebouh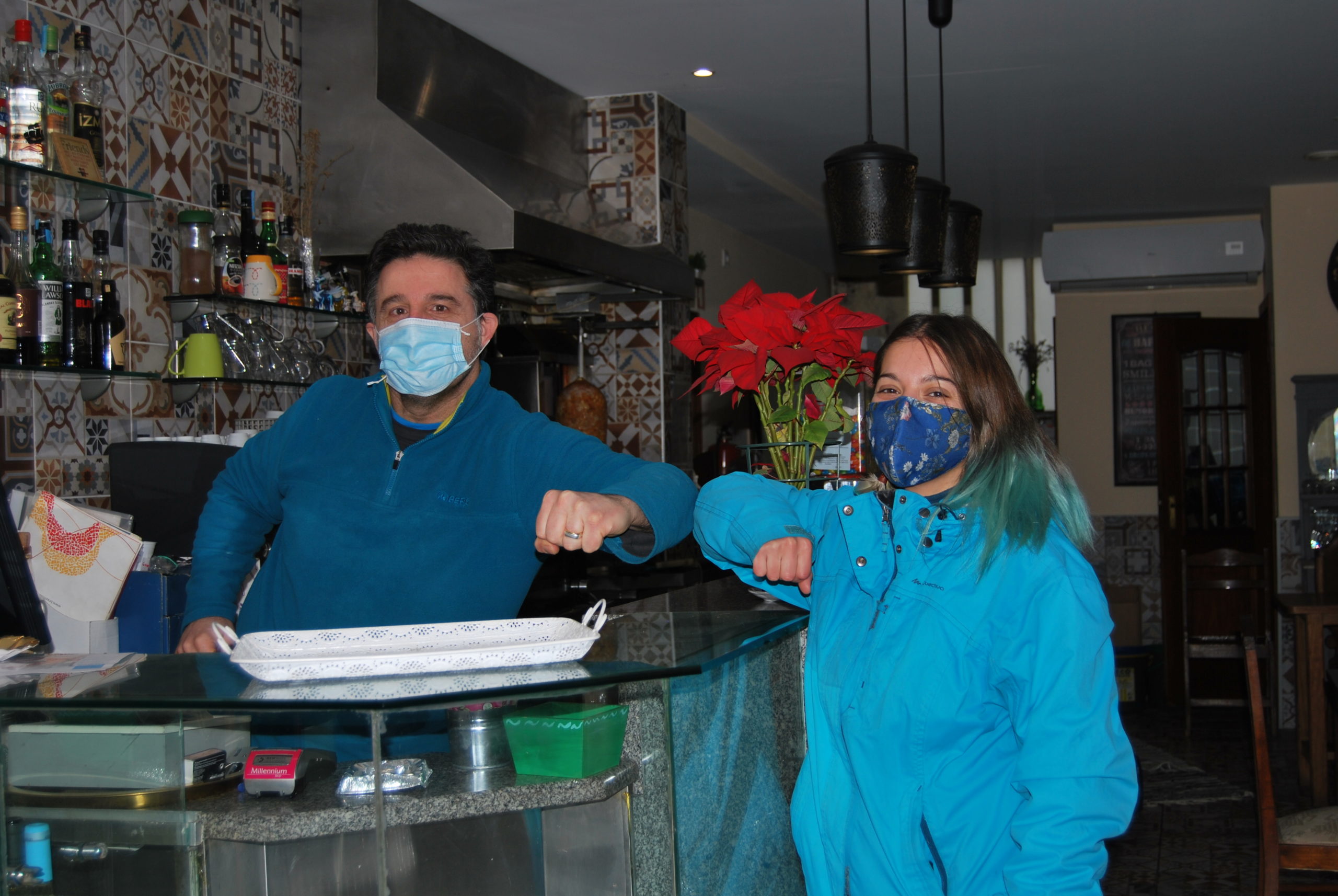 I walk inside Sebouh's kitchen, a place that's so familiar to me, and I immediately start talking to him about the news he is watching on Sky News Arabia. He's already cooking my longtime favorite dish, "Kilis Ichi". To come to eat at Sebouh is always so pleasurable and exciting. Not only for the wonderful food but also for the ambiance, that just makes me feel at home.
A few years ago, the clay-colored walls were decorated with photos of various monuments and cities of the Middle East. I remember this one time when I was with my friend Marta (my friend from my teens who introduced me to this restaurant, eight years ago) and two of her friends from Egypt: it was an experience I won't forget, listening to them talking to Sebouh in different variants of Arabic and all of them laughing about how the language changed so much from one country to another.
Sebouh Soghomonian was born in Aleppo, Syria, though his family is originally from Armenia. He arrived in Porto 18 years ago and married his current wife, Célia, in 2003. Both have been devoted to the restaurant for 10 years now, and they make a point to welcome everyone there with a loving and caring smile.
Located in downtown Porto, right in the Arts District, this is the ideal place for lunch and a stroll afterward. It's probably the restaurant I know best in Porto, when it comes to the available options. After an extensive and thorough study of the menu (aka indulging myself in every dish), I recommend three specialties:
The "Falafel" is considered the best in Porto – and I fully agree! It's not your typical round falafel but a more funneled one, and with a hint of fresh, home-grown ingredients, that just makes it addictive. It's served both on the plate or as a Pita or a Durum – myself, I prefer the latter.


The "Muhammara" is a paste made of walnuts, massa de pimentão (a red pepper, garlic and salt paste), lemon and olive oil, that always sends my taste buds to heaven and back with a snap. I also love the other appetizers, like the classic "Hummus" and the "Baba Ganoush" (eggplant paste), and in those days when one might be feeling a bit more "spacious", one can order an assortment of all three.


Finally, my favorite dish is, and always will be, "Kilis Ichi". It's a typical Armenian dish although it's found throughout all the Middle Eats, made with bulgur, fresh tomatoes, tomato puree, massa de pimentão and a generous amount of fresh herbs. Sebouh can obtain such a particular flavor from these simple ingredients, and it just comforts me so to savor this dish. I've recently learned the secret – it's all in the way you cook the different ingredients – but that secret will remain with the Gods.


A special mention must be made for the "Lentil Soup" which is seasonal. Because it's one of the comfiest dishes but it's not always available, for me it's such a joy when it's in season (Autumn-Winter). The culinary influences are then Armenian, Syrian but also Greek, since Sebouh lived in Greece for some years. Here, he always works with fresh ingredients and all is done at the moment of the order so service may be a little slow. But that's something that has never bothered me, especially because there's always beer while you wait for the experience that is to come to Sebouh. You can find Portuguese beer (Sebouh's favorite is Nortada Lager – local craft beer) and sometimes you can also get Greek beer, Mythos.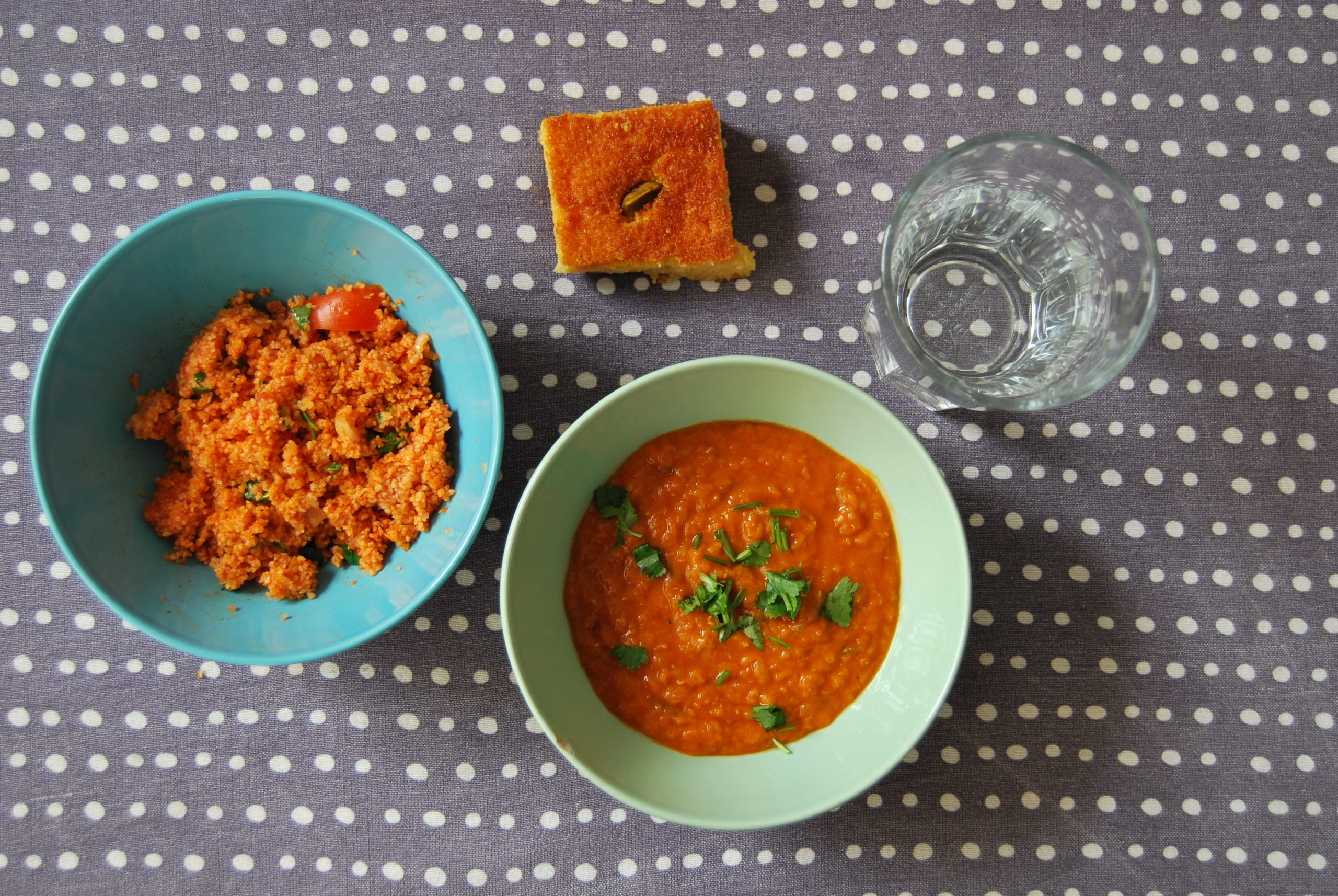 For those who visit him for the first time, the host recommends the "Pita Kebab" with a side of the delicious "Janett Potatoes", his mother's recipe. These potatoes are fried with pepper, onion, paprika, tomato and spices in abbondanza. It's just one of those dishes that you eat and eat and, then, without even noticing, there's only one left on the plate – the "shameful potato" as the Portuguese would say, but we all know it won't survive long.
As a last piece of solace (as if anyone could possibly be feeling disappointed or hungry, at this point) there are always some choices for dessert. My favorite, and it's not always available either, it's the classic "Baklava". As the pistachio lover that I am, this is truly a finger-licking wonder. There's also the iconic Syrian dessert, "Semolina Cake", light and moist, and with a hint of orange tree blossom – it's perfect to end a meal.
At this moment, Sebouh is collaborating with a very interesting social project called "Sopas para Todos" ("Soup for Everyone"). Anyone can come into the restaurant and pay for a soup (2€) as a donation, for a person in need to later come to pick up.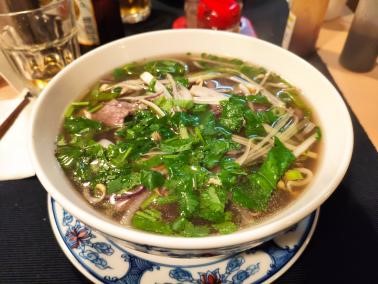 I love traveling. I am addicted to getting to know new places, distant cultures and listening to people talk in languages I don't know. The smile in my heart lightens up when I sit down at some corner tavern in a city I've just arrived at, sipping in the aromas that percolate through the air, feeling the energy pulse of passersby in their bustling of everyday life, listening to the soundtrack that the city generates. All of this while I delight myself with something chosen randomly from the menu. All the senses are wide awake to ensure that the picture captures all those details of that precise moment. That's what happened to us in Ninh Binh.
After a short train ride, our thirst to discover and experience the city impelled us to walk without course. We felt our energy levels rise with every step we took through the city, a good tingling feeling that pushed us to see one more block, to walk just a little bit further… until we decided to stop to open the window of gastronomy. The place was perfect: an esplanade on the side of the road, so we could watch the people passing by and profit from front-row seats to the city's buzzing sounds.
While we drank a beer to cool down from the blazing heat, we chose from a list of dishes – of which I knew none – guided by the suggestions of the owner. And this choice led to the discovery of what, since then, has become one of my favorite dishes: Pho! A broth with rice noodles, meat (beef or chicken), chili pepper, spices and herbs… simple, very tasty and absolutely delicious.
As the true native Portuguese that I am, on the way back to Porto, I started to become afflicted with "saudades" of that moment and those unique flavors. Fortunately, I discovered the restaurant Olá Vietnam, conveniently located close to the Boavista area, where Nguyen Van Phuc and his family bring us the flavors and aromas of Vietnam.
Yes, the Pho is delicious and each spoonful is filled with the elegance of the broth and the subtleness of the spices and herbs, opening up a portal that takes me right back to Ninh Binh. But at Olá Vietnam there is so much more for those who want to try or remember the flavors of Vietnam: you can start with "Bun Nem" (spring rolls with pork meat and fish sauce), followed by a classic Hanoi dish, the "Bun Cha" (rice noodles, pork meatballs and spices in a delicious broth). As for desserts, I do know they have them and they are all very typical of Vietnam, but those who know me know I'm not into sweets, so do try them out and let me know which ones you liked best.
Flavors of the World in Porto: Part I
As the name of the article states, this will only be the first time that we will address the internationalization of the gastronomical scene of Porto, or, better yet, of the Metropolitan Area of Porto, which is vast. There's still so much territory to cover – this job is such a sacrifice!
And why not appeal to our readers, fans and guests to tell us about places they might know in this region? We will always take it as a challenge, an invitation for dinner (all in the name of scientific research, of course) because what we want is to get to know all that is different, genuine and good.
A final note, especially during this strange time we live in, all restaurants that we've mentioned are working with take away, but each one uses different systems and platforms so we invite you to visit their websites, to call or send an email, to find out how you can experience their services.
Belos Aires: www.belosaires.com
Paladares de Goa: www.facebook.com/paladaresdegoa
Sabores do Sebouh: saboresdosebouh.eatbu.com
Ola Vietnam: olavietnamrestaurante.wordpress.com
Also, restaurants and cafes will be able to open to the public on April 19th – until 10 pm on working days and until 1 pm on weekends and public holidays. Hooray!
We're listening! Have something to say about this article?
Discover Porto's food secrets and have a wonderfully personal experience on our Food & Wine tasting tours
Book now
Don't forget to share this post