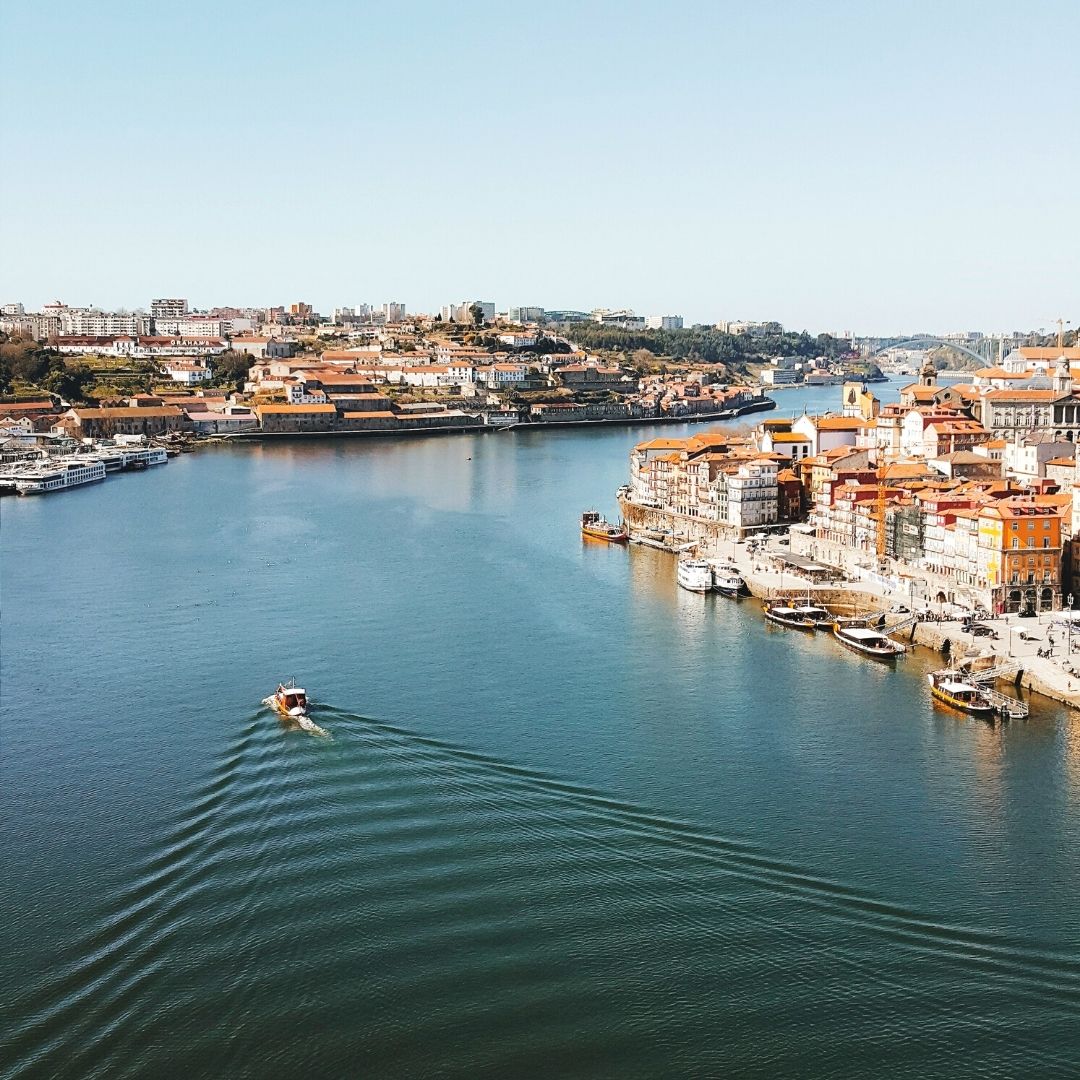 Posted on October 15, 2021
Ah, the enchanting voyage down the Douro River! If you find yourself on a delightful river cruise through the ancient Douro Valley, one of the world's oldest wine regions, consider yourself fortunate. This picturesque river flows from Spain, meandering through the scenic landscapes of northern Portugal until it reaches the captivating coastal city of Porto on the Atlantic shores.
Douro River Cruises
Many companies offer multi-night cruises up the river, all the way to the Spanish border. This makes it such an easy way to explore various Portuguese cities along the river – Porto included.
Days on a cruise slip by as easily as drinking a port wine… but then your stomach starts growling and you realize: it's time to eat! Most river cruise lines offer various meals a day. You can gather at linen-covered tables and toast with amazing Portuguese wines. There's always a friendly crew available to offer the leisure of lunch onboard and, in between courses, you can enjoy the beauty of the cities from the deck.
But eating in the same dining room can grow tiresome, right? That's why we suggest you ​step off the riverboat to sample local foods and drinks and mingle with locals at Porto restaurants and local wine bars.
Dock and dine in Porto: Where do River Cruise Ships Dock in town?
So, where should you dock and dine in Porto, you ask? Well, it depends. The river cruise boats are stationed on either side of the Douro River:
Porto's historic center on one side;
Gaia on the other.
Depending on where your riverboat docks, Porto's historic center or Gaia, we've selected four outstanding dining options within walking distance or a quick Uber ride. Join us as we embark on this culinary adventure!
If your ship docks on Gaia's quay, prepare to be wowed by these two extraordinary options:
The Yeatman
Ricardo Costa, the Chef, has no fewer than 2 Michelin stars under his belt. Many define his cuisine as "sophisticated Portuguese cuisine". If you want to know more about him, we invite you to read this conversation between Taste Porto and Ricardo Costa.
Besides food and wine, The Yeatman is a luxury wine hotel and spa; and a landmark in the world of luxury hotels. At the Yeatman restaurant, wines are also sold by the glass – this means that you can create your own pairings if you'd prefer not to go with what your sommelier recommends. And now, look at these extraordinary views of Porto!
The Blini
A warm and cozy place in Vila Nova de Gaia, with a stunning view overlooking Porto city on the opposite side of the Douro River. Pescatarians will be in their element as it's all about the fish here. Don't leave without sampling the crab mousse appetizer and the seafood platter.
If your ship docks on Porto's quay, fear not, for we have two delectable recommendations just for you:
Antiqvvm
Right at the heart of the city, Antiqvvm is an icon of fine dining with a breathtaking view. The menu is a bold reinterpretation of traditional portuguese flavors and it is definitely worth a stop. Chef Vítor Matos knows what he is doing! Don't leave without sampling the red mullet with cauliflower and sea urchin sauce. Reservation is highly recommended.
Intrigo
It is quite a climb to get to this restaurant, but believe us when we say that is totally worth it. Stunning views over the Douro river, impeccable service, food beautifully cooked and presented. Intrigo is a food lover's dream come true! Moreover, you can't leave the restaurant without sampling their homemade bread – to die for!
There you have it, fellow foodies – a curated selection of four remarkable spots to dock and dine in Porto, each offering a unique culinary adventure that will undoubtedly tantalize your taste buds and leave you craving more Portuguese flavors.
Are your taste buds craving more Portuguese flavors, fellow foodie?
Are you ready to discover and taste other lesser-known local traditional dishes & wines while in Porto? You might think of joining our Downtown & Bolhão Market Food Tour. Guided by our passionate local host, you will experience the Porto that tourists rarely see, taste important elements of our cuisine, and learn about the history, architecture, and culture while walking the streets of our beloved city. Book your spot today!
Cheers!
Taste Porto Foodie Team
Discover Porto's food secrets and have a wonderfully personal experience on our Food & Wine tasting tours
Book now
Don't forget to share this post