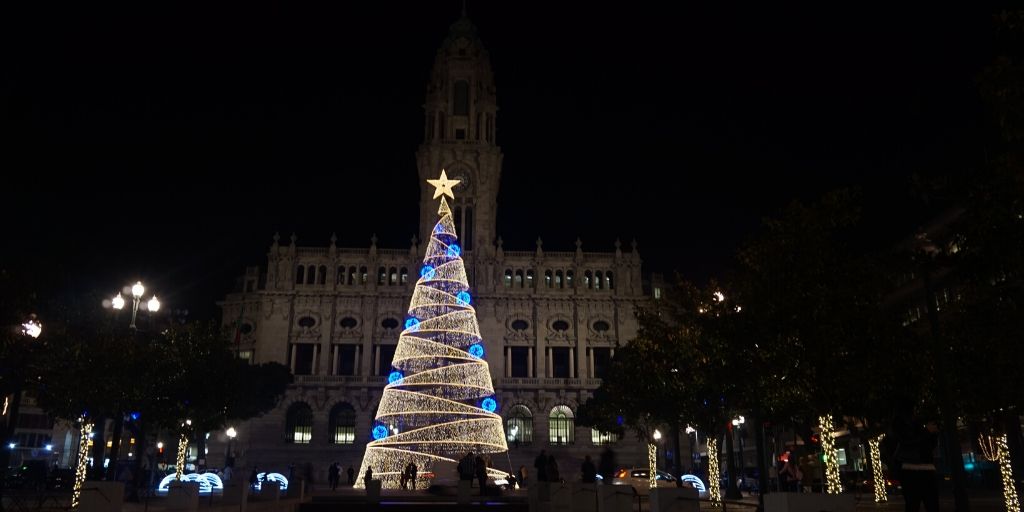 Posted on June 17, 2020
Our favorite time of the year is coming, the Christmas holidays in Porto!
This is a wonderful time, which brings together family and friends and includes an endless array of parties. The whole holiday season offers us dozens of reasons to open a good bottle of wine and make a toast!
Portugal, being a country where nature and skill blend beautifully together, has an impressive gastronomy. And it is most on display on a Portuguese Christmas table. I now invite you to follow me on a short tour of my favorite Portuguese wines and delicacies for this special season.
The holiday season in Portugal involves lots of visits to the home of your friends and family. Sometimes these visits are short notice or totally unexpected. Fear not. Portuguese sausages and cheeses are the perfect ready-to-go meal for these unexpected, yet dear guests.
It is easy to prepare a charcuterie board, with a delicious selection of thin slices of salpicão, chouriço, ham and, my favorite, alheira, a smoked sausage made with pork (or game, boar, poultry), bread, olive oil, salt, garlic and paprika, usually grilled.
Equally simple to put together is a cheese board. Select an exquisite Terrincho sheep cheese and a Serrana hard goat cheese, both from Trás-os-Montes, a melting cheese from Serra da Estrela and a spicy S. Jorge, from Azores for a perfect combination. With strong aromas, these cheeses may be accompanied with rye bread. These intense flavors must be paired with a nice wine. An "Arcossó" Colheita red from the amazing region of Trás-os-Montes, is one of my options. This wine is austere, robust and full-bodied, with beautiful spicy notes that enhance the flavors of the smoked food. The "Arcossó" Colheita white is round yet crispy, to go along with the cheeses.
In Portugal, we take Christmas Eve dinner seriously and the tables are carefully dressed for a celebration… and then filled with traditional dishes, which include octopus and codfish and all the trimmings: potatoes, carrots, radishes, carrots, kale and eggs. Simply boiled is the main method of preparation, but always generously sprinkled with extra virgin olive oil.
And what is the perfect wine pairing for this special dinner?
A few years ago I would have said that the answer is obvious and would have recommended a full-bodied red wine, soft and tannic to combine with the salt and butter flavors of the dish. But Portugal has begun producing exquisite white wines and these are certainly a beautiful pairing option. One can try a mouth-filling white wine, slightly oaky and unctuous, like the "Aneto" Reserva White from Douro. Or a Vinho Verde "Quinta de Carapeços" Alvarinho Reserva, which is rich and complex with hints of sweet wood, citrus, and tropical fruits.
Also at the top of my list is "Caminhos Cruzados", from Dão, my favorite Portuguese white variety. However, this one is reserved for Christmas lunch, to match a delicious farrapo velho, made from the leftovers of Christmas Eve dinner.
These are some of my options, which I know my family will applaud, but I still have one more secret: "Arcossó" Bago a Bago 2009. I would probably leave it to pair with a succulent turkey, which we normally prepare on the 26th of December.
And what would Christmas be without desserts and sweet wines to match?
I personally enjoy savory more than sweet foods, however, there is a special place in my heart for two of the many desserts that adorn our Christmas table: Bolo Rei and Rabanadas (french toast with cinnamon and sugar), freshly made just before dinner and still hot when they come to the table.
But the cherry on top is the Douro "Aneto" Colheita Tardia, one of the most distinct late harvest wines I know, made with terrantez (also known as Semillon). Any equally enjoyable wine is the "Quinta do Javali" 20 years old tawny Port, with notes of fig jam, dried fruits, exotic wood and lovely hints of orange. Ideally served slightly chilled, all these flavors will blend perfectly in your mouth.
These delicious things are even better when shared with loved ones around Christmas!
Merry Christmas and a Happy New Year from Taste Porto Food Tours!
Discover Porto's food secrets and have a wonderfully personal experience on our Food & Wine tasting tours
Book now
Don't forget to share this post