Posted on May 22, 2020
Easter is the most important holiday for my family. At 1 p.m. sharp we all sit at the table surrounded by delicious food, however one is special for us: the sweet regueifa doce that my grandma prepares during the week to give to friends and family.
Easter is gone now, but I have to share with you this delicious regueifa doce recipe that has been passed on from generation to generation with a special main ingredient: love.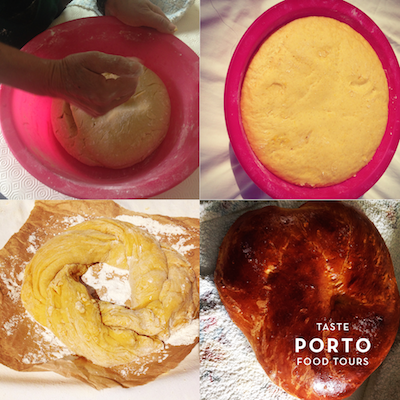 Ingredient list
1 kg of wheat flour
7 eggs (of approximately 60 g each)
300 g of sugar
150 g of butter
50 g baker's yeast
3 tbsp of hot water
1 tsp spoon of refined salt
Regueifa doce recipe
Mix the salt with the hot water and then dissolve the baker's yeast into that mixture.
Put 800 g of wheat flour in a bowl, make a hole in the middle and add the sugar, 6 previously whisked eggs and the dissolved baker's yeast. Mix everything.
Add the rest of the wheat flour and mix it until the dough doesn't stick to the bowl nor your hands. Cover the bowl with a warm kitchen cloth until the mix doubles its size – this can take 7h to 24h.
Sprinkle a kitchen cloth with wheat flour, put the dough over it and knead it. Split it into two rolls and roll them into one braid. Put the dough braid over a sheet of greaseproof paper previously sprinkled with wheat flour and cover it with a warm kitchen cloth until it triples its size.
Preheat the oven at 180º Celsius. Whisk the remaining egg and brush the dough with it. Put it into the oven for 20 minutes and then it's ready.
Enjoy!
Taste Porto Foodie Team
Discover Porto's food secrets and have a wonderfully personal experience on our Food & Wine tasting tours
Book now
Don't forget to share this post