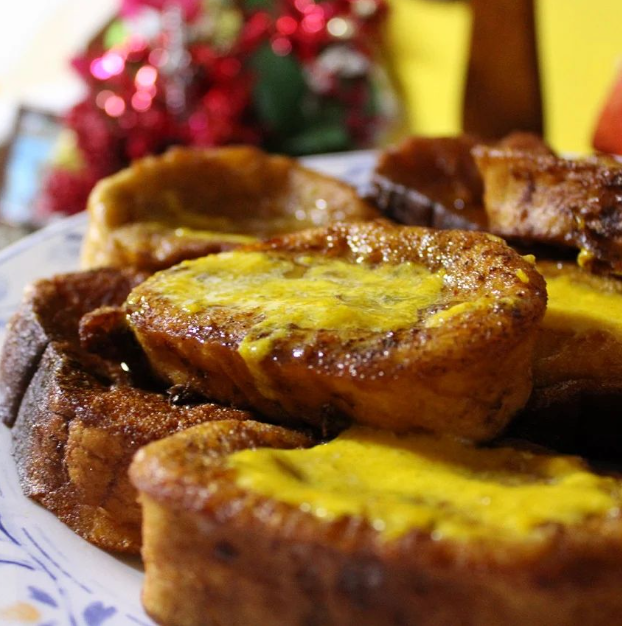 Posted on December 9, 2020
Like we cannot imagine Christmas without Bacalhau, we also cannot imagine it without various desserts served during the holiday season. One of the most typical deserts is Rabanadas.
Portuguese style French toast, Rabanadas, is a great breakfast choice and a wonderful dessert option as well (with a glass of port wine). In the winter months, it also becomes available at many Cafes, just ask the staff for one Rabanada. It actually is so easy to make, that here is a quick recipe on how you can make Rabanadas at home.

Try it out, take a photo, and share your "making rabanadas" experience with us on Instagram @portofoodtours. Enjoy this piece of Porto in your home!
Rabanadas recipe
Ingredients
2 loaves of sturdy bread, sliced up in 1/2 inch thick pieces
12 eggs
3 liters of milk
12 tablespoons of sugar
additional 500g of sugar for coating
the peels of 4 lemons
4 cinnamon sticks
additional 200g of powdered cinnamon
2 liters of oil for frying
How to make Rabanadas (step by step)
Let the bread sit out for 2 days before until it is hard – this helps to ensure it doesn't fall apart during the soaking and cooking
In a pot, warm the milk with the sugar, lemon peels, and cinnamon sticks on the stovetop over low heat
Scramble the eggs in a bowl
Warm the oil in a deep pan
Mix the additional sugar and ground cinnamon together in a bowl
With tongs, place the bread into the milk mix, allowing the bread to coat and soak a bit
With tongs, pick up the bread, allowing the extra to run off before placing it into the eggs
Again, let the extra runoff before placing the bread into the oil
Allowing the bread to fry until golden brown on each side, flipping just once
Using other tongs, remove the bread and place it in the sugar and cinnamon mix
Coat well with the mix before placing in a deep pot with a lid for storing
Enjoy right away or, even better, the next day when all the juices have had the chance to soak and create a delicious syrup. It is even good for up to three days.
Expert tip: Don't do this alone! Gather your friends and family for an assembly line approach and you will be truly embracing the Portuguese way!
Warm Foodie Regards,
Taste Porto Team
Discover Porto's food secrets and have a wonderfully personal experience on our Food & Wine tasting tours
Book now
Don't forget to share this post