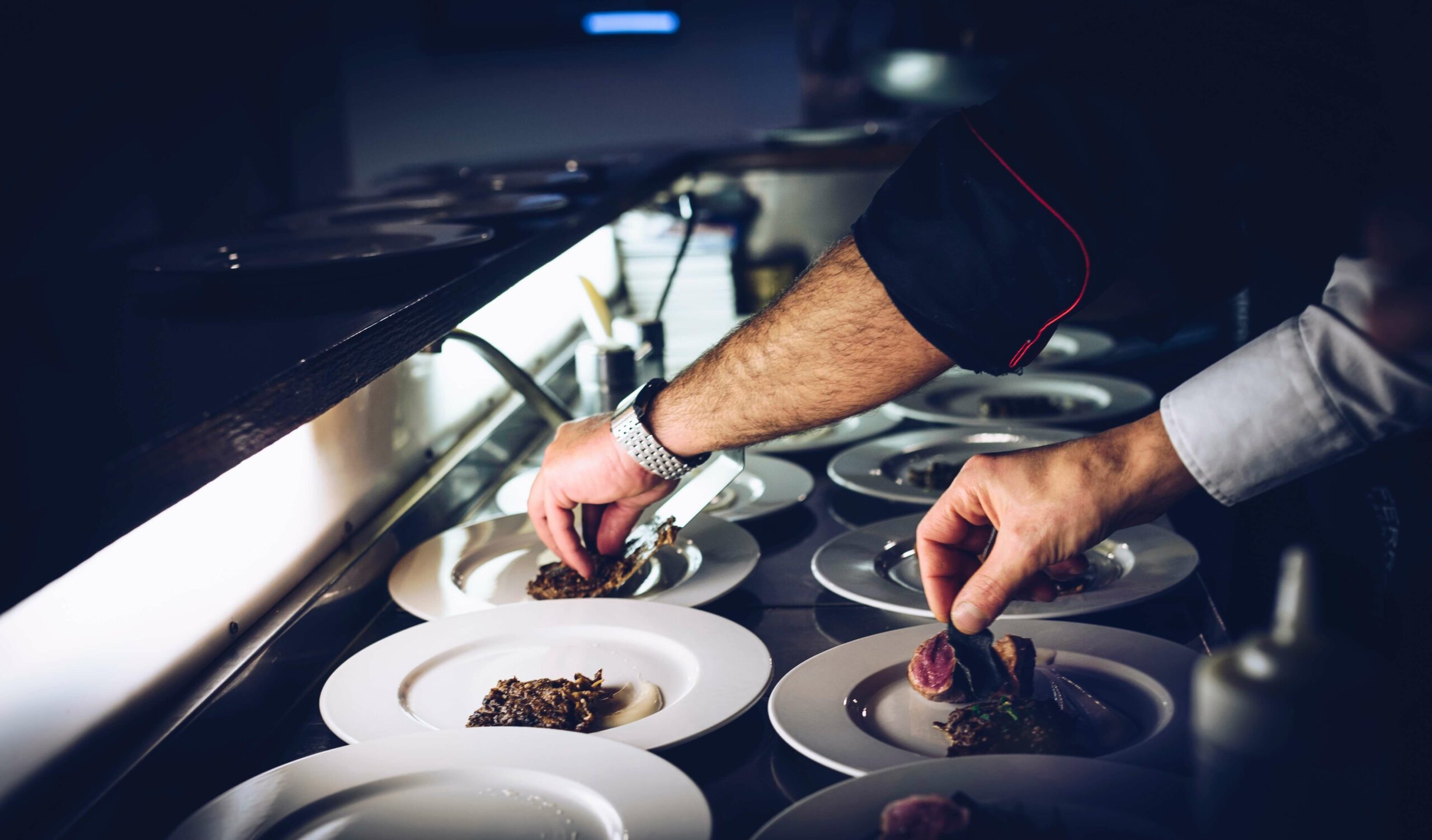 Posted on July 20, 2021
Looking for the list of Michelin-starred restaurants in Porto? Read on for the list of our favorite Michelin-starred restaurants in town and see where they are. If you're feeling adventurous, we've included some Michelin-starred recipes for you to try at home. For a more immersive experience, consider joining one of our Porto Food Tours to delve even deeper into the rich tapestry of Portuguese cuisine.
5 Michelin-starred restaurants in Porto
Porto is home to world-class chefs and Michelin-star restaurants. It is often regarded as Portugal's food capital, so there are plenty of mouth-watering options to choose from.
1. CASA DE CHÁ DA BOA NOVA (MICHELIN 2-STARS RESTAURANT)
Two Michelin Stars. Built on the rocks, hand in hand with the sea, there is Casa de Chá da Boa Nova, a tea house designed by Pritzer-award winner Siza Vieira. Haute de cuisine, focusing solely on seafood and vegetarian dishes. It is one of our favorite places to eat – not only because of the wonderful food but also the spectacular views over the Atlantic Ocean. If available, do not miss the opportunity to try "The Channel Squid" – extraordinary".
We've talked with the Chef who leads the kitchen: Chef Rui Paula. In this interview, he revealed some of his thoughts and feelings about food. We have a feeling that foodies will love this interview with Chef Rui Paula.
Address: Rua da Boa Nova, 4450-705 Leça da Palmeira
Reserve your table: +351 932 499 444
2. ANTIQVVM (MICHELIN 1-STAR RESTAURANT)
One Michelin Star. Right at the heart of the city, Antiqvvm is an icon of fine dining with a breathtaking view – particularly beautiful when sunny. The menu is a bold reinterpretation of traditional Portuguese flavors from interior Portugal and also seafood. Chef Vítor Matos knows what he is doing! Don't leave without sampling the Coral dish with red mullet and sea urchin.
At this Michelin-starred restaurant, you'll also find Portuguese wines from every region (including unique Port Wines) – wisely chosen by the expert hand of sommelier António Lopes.
There is no guarantee that they'll accept people who show up at the door. Reservation is highly recommended!
Address: Rua de Entre-Quintas 220, 4050-240 Porto
Reserve your table: +351 226 000 445
3. THE YEATMAN (MICHELIN 2-STAR RESTAURANT)
Ricardo Costa, the Chef, has no fewer than 2 Michelin stars under his belt. Many define his cuisine as "sophisticated Portuguese cuisine". If you want to know more about him, we invite you to read this conversation between Taste Porto and Chef Ricardo Costa.
Besides food and wine, The Yeatman is a luxury wine hotel and spa with magnificent views over the Douro river, overlooking the UNESCO part of Porto. Just for the view alone, it's worth it! Yeatman is one of those "one in a lifetime" places, so go big and chose the "Gastronomic Experience Menu" – you will never forget it! At "The Orangerie", the hotel's second restaurant, you can order à la carte."
Address: Rua do Choupelo, 4400-088 Vila Nova de Gaia
4. PEDRO LEMOS (MICHELIN 1-STAR RESTAURANT)
Pedro Lemos is the first restaurant in Porto to get a Michelin star. The room itself is very cozy, romantic and British in a sense, with wallpaper and big chairs. The chef's philosophy (who was previously a civil engineer) is very clean-cut, no big fuss, no overly complicated elements, and very straightforward. This Michelin-star restaurant is located in the Foz region, right at the mouth of the Douro river. In addition to the dining room, the restaurant has a wine cellar where group dinners can be held and a terrace for warmer days. Don't leave without sampling the duck foie gras!
Address: R. do Padre Luís Cabral 974, 4150-464 Porto
5. LARGO DO PAÇO AT CASA DA CALÇADA (MICHELIN 1-STAR RESTAURANT)
Between Porto and the Douro Valley, there is a city, Amarante, where this Michelin-starred restaurant is located. The restaurant Largo do Paço shares its address with Casa da Calçada. Set in a 16th-century manor, this Michelin-starred restaurant offers amazing views over the Tâmega River. Chef Tiago Bonito leads the kitchen and creates a gastronomic experience that mixes tradition and indulgence in equal doses. The service is cozy, informal, and sophisticated. Reserve a table today and don't miss the Bluefin tuna!
Address: Largo do Paço 6, 4600-017 Amarante
Michelin-starred recipes
Calling all seafood lovers! Here you can find seasonable and sustainable seafood recipes created by 9 Master Chefs, including Chef Rui Paula whom we mentioned earlier. You can thank us later!
Was this helpful?
Discover Porto's food secrets and have a wonderfully personal experience on our Food & Wine tasting tours
Book now
Don't forget to share this post