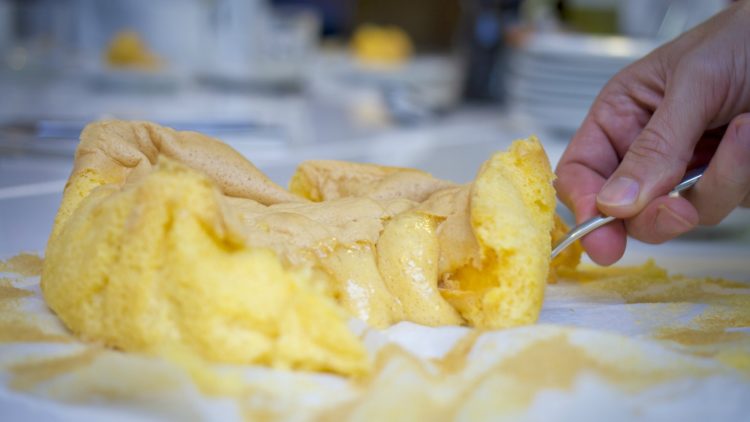 Posted on June 3, 2020
What is Pão de Ló?
The Portuguese Pão de Ló is our twist on a sponge cake. It has been around in Portuguese cuisine since at least the 1700s. Its recipe is simple, in the sense that it only has 3 ingredients: eggs, sugar, and flour. Yet, it is a completely versatile cake that can be eaten as is, or can be used as a basis for other more elaborate desserts – try it with whipped cream and your favorite fruit, I dare you!

The recipe itself has an array of variations that will allow you to create all the different sponge cakes that we have in Portugal: Pão de Ló de Ovar, Pão de Ló de Alfeizerão, Pão de Ló de Margaride, etc. The only differences are in the number of ingredients and the time it stays in the oven! Now, if you search for recipes in English, very often you will find extra ingredients added to it, like baking soda, lemon zest, salt, and others. This does not mean it is not Sponge Cake, of course, just not the traditional version!
Remember that this recipe can be used as a basis for something more complex. If you want to make it "the old way" though, here you go:
Ingredients
5 egg yolks at room temperature
5 eggs at room temperature
150 grams or 2/3 cup granulated sugar
70 grams or 1/2 cup and 2 tablespoons all-purpose flour
How to prepare it?
Preheat the oven to 220ºC / 420°F. Using a pound cake pan or bunt cake pan or another cake form that you have that has a hole in the center, grease and line the pan with parchment paper. Beat the eggs and sugar until light and fluffy, by hand this will take about 15 to 20 minutes, but don't be scared to use your mixer. No matter which way you choose, the fluffier and lighter the better. Then add the flour slowly, making sure everything is blended together well and there are no lumps.

Pour the batter into the pan and then decide how moist do you want it to be! The traditional recipe of Pão de Ló de Ovar, for instance, has a center that is a bit runny and gooey. For this recipe, we leave the cake in the oven for 10 to 15 minutes, or until a toothpick comes out clean.

If you prefer a little less runny version you should cook the cake at 200ºC / 350ºF for 25 to 35 minutes depending on the firmness of the cake that you desire.

Finally, remove the pan from the oven and let it cool.

And don't worry, it is supposed to deflate 🙂 It is delicious warm, but also enjoyable at room temperature.
Suggestion
Try it out, take a photo, and share your experience with us on Instagram @portofoodtours

Bom Apetite!
Taste Porto Foodie Team
Discover Porto's food secrets and have a wonderfully personal experience on our Food & Wine tasting tours
Book now
Don't forget to share this post