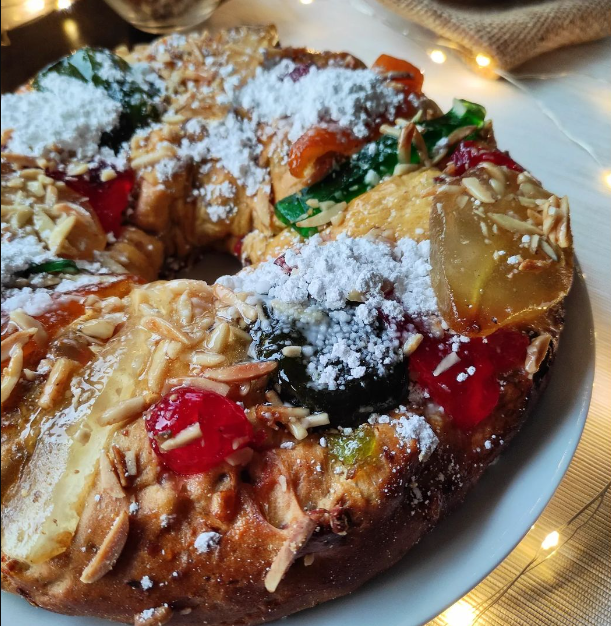 Posted on June 17, 2020
What to do during Christmas Holidays in Porto?
The Christmas holiday season is around the corner, and if you are planning a visit to Porto during the holidays, keep reading! We gathered 9 foodie tips to help you catch the Christmas spirit while staying in our beloved city.

Like most of Portugal, in Porto and the north, the Christmas holidays are dedicated to our families and loved ones. It all starts on Christmas Eve with a 'Consoada' aka Christmas Dinner, where all the family gathers around a carefully dressed Christmas table and enjoys and easy three to four-hour dining experience. What do we put on our Christmas dinner tables? To have an idea, join our join our Portuguese Christmas Food Tour in Porto.

Christmas in Portugal is definitely about families and food, yet it is also about so much more, like creating long-lasting memories, caring and sharing time with loved ones. Below you will find our foodie recommendations for Christmas in Porto.
1. Participate in or organize a Consoada – Christmas Dinner
If you happen to be invited for a Consoada, a traditional Portuguese Christmas dinner at someone's home – go! If not, do not worry, as on the night of December 24th there will still be some restaurants open to gather your friends and travel buddies to organize your own dinner. You can expect the restaurants to have a special Christmas menu for you to enjoy our traditional food. Many hotels will also offer special Christmas dinner activities, so check with yours too!

2. Eat Bacalhau
Our Christmas is not imaginable without eating at least one dish with codfish, aka bacalhau. When here, you will see that we love it a lot! Not only do we have more than 100 ways of cooking it, but some of us could also eat it every single day. Traditionally on Christmas tables for dinner or next-day lunch, you will see bolinhos de bacalhau, bacalhau à brás or bacalhau com natas. Try it and let us know which of the bacalhau dishes was your favorite.
View this post on Instagram
3. Visit the Christmas markets, sample local foods and wines
Starting as early as by end of November many Christmas markets will open their doors, some taking place the whole month of December while others happening on certain weekends. Different events will liven up the streets, squares, and other spaces of our beloved Porto. These markets are not only a great place to find special gifts for your loved ones but also to enjoy performances and taste our regional food and wine, usually coming from small local producers. When you arrive in Porto, also check at the closest tourist information center and you'll get a list of the Christmas markets taking place at that particular moment.
4. Enjoy the Christmas lights
Like many other European cities, Porto is no exception in decorating its streets. Starting already at the beginning of December the streets will proudly carry the Christmas lights till the first week of January. Be sure to go for a nighty walk before or after dinner to see what the city has to offer. Some of the neighborhoods to visit are Praça Batalha, Avenida Dom Afonso Henriques, and the streets of Bolhão, Alegria, Damião de Góis, Oliveira Monteiro and Loureiro. You might also end up your walk at the Galerias area for a glass of wine, cocktail or some Port.
5. Enjoy Roasted Chestnuts
Starting from the beginning of October the streets of Porto get filled with smoke and smell of roasted chestnuts. You can easily come across sellers on many corners of the city. Traditionally, the celebration of Sao Martinho – a weekend of sun in November – is unimaginable without eating chestnuts. We love them so much, that we keep eating them until Christmas. So don't pass by the vendors of chestnuts, but stop by and taste some! It is perfect as an afternoon snack.
6. Taste or Make Rabanadas
Like we cannot imagine Christmas without Bacalhau, we also cannot imagine it without various desserts served during the holiday season. One of the most typical deserts, that can be easily eaten also during breakfast is Rabanada. In the winter months, it also becomes available at many Cafés, just ask the staff for one Rabanada. It actually is so easy to make, that here is a quick recipe on how you can master our traditional dish.

Ingredients
2 loaves of sturdy bread, sliced up in 1/2 inch thick pieces
12 eggs
3 litres of milk
12 tablespoons of sugar
Additional 500g of sugar for coating
the peels of 4 lemons
4 cinnamon sticks
Additional 200g of powdered cinnamon
2 litres of oil for frying
The steps
Let the bread sit out for 2 days before until it is hard – this helps to ensure it doesn't fall apart during the soaking and cooking
In a pot, warm the milk with the sugar, lemon peels and cinnamon sticks on the stovetop over low heat
Scramble the eggs in a bowl
Warm the oil in a deep pan
Mix the additional sugar and ground cinnamon together in a bowl
With tongs, place the bread into the milk mix, allowing the bread to coat and soak a bit
With tongs, pick up the bread, allowing the extra to run off before placing it into the eggs
Again, let the extra run off before placing the bread into the oil
Allowing the bread to fry until golden brown on each side, flipping just once
Using other tongs, remove the bread and place it in the sugar and cinnamon mix
Coat well with the mix before placing in a deep pot with a lid for storing
Enjoy right away or, even better, the next day when all the juices have had the chance to soak and create a delicious syrup. It is even good up to three days.
Expert tip: Don't do this alone! Gather your friends and family for an assembly line approach and you will be truly embracing the Portuguese way!
7. Receive, Give or Taste Licor Beirão
While Porto is definitely known for its Port wines, there are other traditional drinks, that one should try at least once, like Licor Beirão. We would drink it as an apéritif or also after a dessert. What else is so special about this drink, last year for the Christmas season Licor Beirão surprised everyone with their social-good campaign. They encouraged people to exchange Christmas presents for a bottle of the well-known Beirão. All the presents were donated to organizations in need, making the Christmas special for so many in need.
8. Try Bolo Rei (King Cake)
A cake that is made in the shape of a crown, filled and decorated with dry and crystallized fruits. Traditionally we eat it on Christmas and also on King's Day, the 6th of January. Older traditions dictate that the chef hides inside the cake a broad bean. The lucky one who ends up with the slice containing the broad bean is the one who should provide the next cake. So eat your slice carefully!


9. Come join us on a Food & Wine Tour
Last but not least, the perfect start to your Christmas holidays is joining one of our Porto Food Tours. Led by a passionate local guide you will discover what locals eat, visit off-the-beaten-path eateries, try our traditional food, and that is not all! You will also learn about the history, culture and architecture of our beloved Porto. After the tour, our guide will also be happy to help with other recommendations for you to enjoy the Christmas holidays. Are you in?

Merry Christmas & Enjoy the Holiday season!
Taste Porto Foodie Team
Discover Porto's food secrets and have a wonderfully personal experience on our Food & Wine tasting tours
Book now
Don't forget to share this post