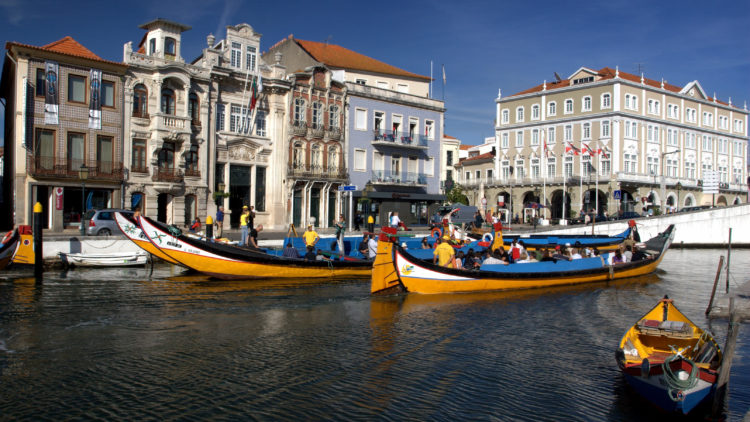 Posted on June 21, 2020
Following our article about the best day trips from Porto where we presented the best nearby destinations, we concluded that there is so much more to talk about in each one of these cities that they deserve their very own articles. Here we strive to tell you everything you need to know for a wonderful day trip to Aveiro!
A young and trendy fishermen's village
As we already told you, Aveiro was a little fishermen's village surrounded by the sea and occupied by Ria, a shallow coastal lagoon. The city has for centuries been growing and developing around its many canals, which gave birth to the nickname, "Portuguese Venice", but also underlining this deep connection to the sea life and the surrounding nature. Aveiro is surrounded by salt-flats, amazing beaches and small lagoons that still preserve the fauna, the flora, and the traditions of the city.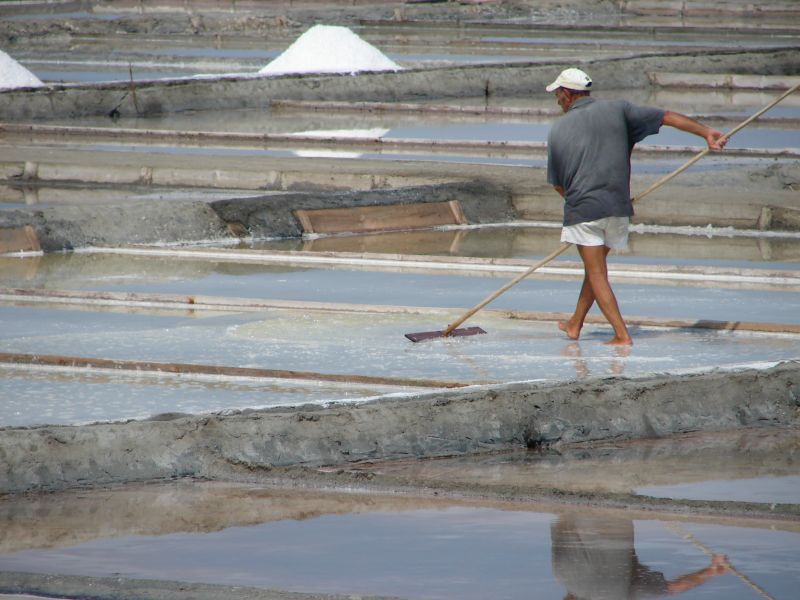 In the old quarter, it is still possible to see the original facades of the quaint colorful houses of the old fishermen. Not even a 10 minutes walk from the city center you will arrive at the Eco-museum and receive a closer look at the salt production or even dig your feet in the salt flats. But not only the sea rules Aveiro traditions: amazing examples of art nouveau buildings are hiding around every corner. We challenge you to find them all! For a city tour with a different perspective, there is nothing better than hopping on a traditional boat, "Moliceiro", and exploring the Central Canal. An elegant and perfectly designed boat, painted with vivid colors and humorous decorations. Or grab a "BUGA", bicycles made freely available by the City Council, for a bit of exercise with your exploration. Even though Aveiro started as a small village, it once was a big seaport and is currently one of the trendiest cities in the north of Portugal. Lively, young and bicycle-friendly, it is home to one of the most well-known universities in Portugal and the dream of any student, with a friendly and lively campus.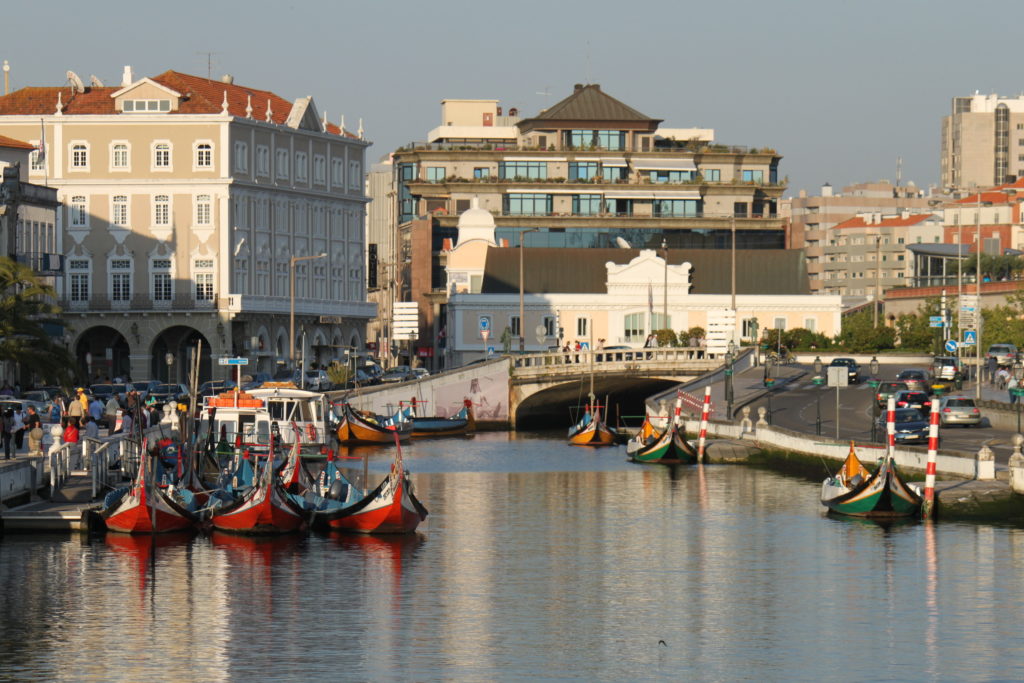 How To Get There
Aveiro is located approximately 70km south from Porto and the train is the easiest and fastest way to get there. You can catch the train in one of Porto's railway stations, São Bento or Campanhã, and it will only take you 1 hour to get there. Plus, Aveiro's Train Station is located right at the beginning of the main avenue, Avenida Lourenço Peixinho. Before you start walking towards the city center, make sure you notice the building of the old train station with a marvelous blue azulejos (tile) exterior, which tells a story of life in traditional Portugal.
What to See & What to Do
If you compare it with Porto, Aveiro is a small city. But we can assure you, it will be a full day because there is plenty to see… and try! Here's a list of things you can include in your day trip from Porto to Aveiro.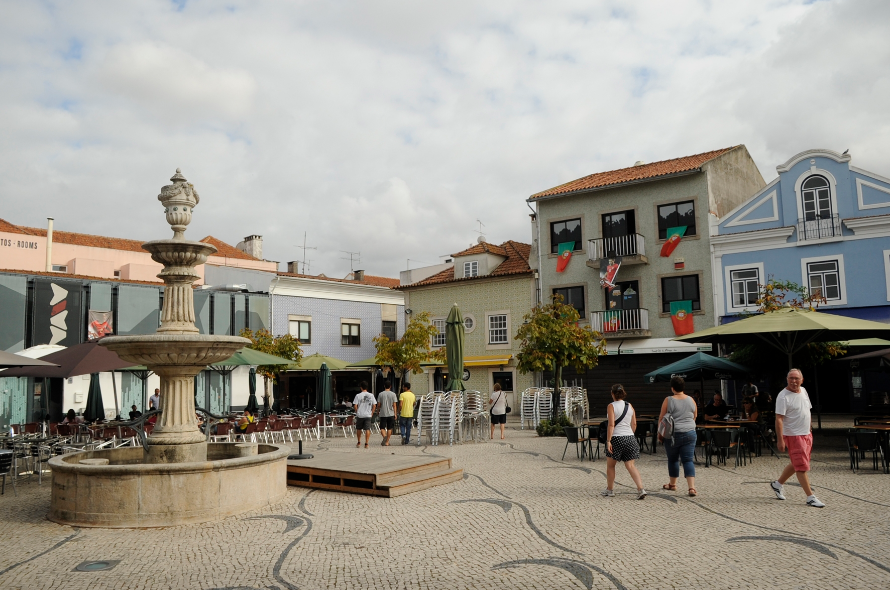 1. Praça do Peixe (Fish Market)
Aveiro is a foodie's paradise with lots of cuisine options, from fish to meat dishes. Even though, having such connection to the water, you probably already guessed that fish is a delicacy around here. But we will get there in a minute! For now, this recommendation invites you to explore the fish market, a place that shows the essence of Aveiro's people. Go there early in the morning and watch the auctions of live fish caught during the night! Plus, it is the center of the historic centre, so you can stroll around among the beautiful streets still full of the typical sidewalks, "calçada portuguesa". This is also the best nightlife spot in Aveiro, so you will find it full of nice coffees, bars and restaurants.
2. Aveiro Museum
Located on Santa Joana Avenue, the Museum of Aveiro (or Museu Santa Joana, as it is known) is housed in a 15th Century Convent, with baroque influence. Visitors can enjoy not only pieces of art, but also learn about the origins of the city and the lovely history of the Princess Saint Joana, daughter of the first king of Portugal. Her tomb is on the ground floor, along with the crafted chapel and cloisters. The museum is open from 10 am to 6 pm, from Tuesday to Sunday. Plus, since the museum is near the Sé Cathedral, it is worthwhile to at least take a look at its Gothic architecture before heading to the close by city park!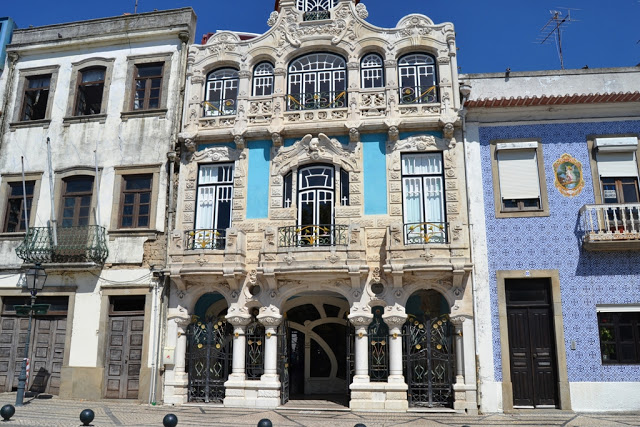 3. Art Noveau Museum
The Art Nouveau Museum (Museu De Arte Nova) is a perfect example of an art nouveau building, amazingly decorated with tiles, imposing carvings, and iron-crafted gates. It is worth just to pass by and take a look at the outside. Inside, the museum explores in detail the origins of the Art Nouveau lifestyle and its connection to Aveiro. This museum is open daily from 9:30 am to 12:30 pm and 2 pm – 6 pm (on weekends, only during the afternoons).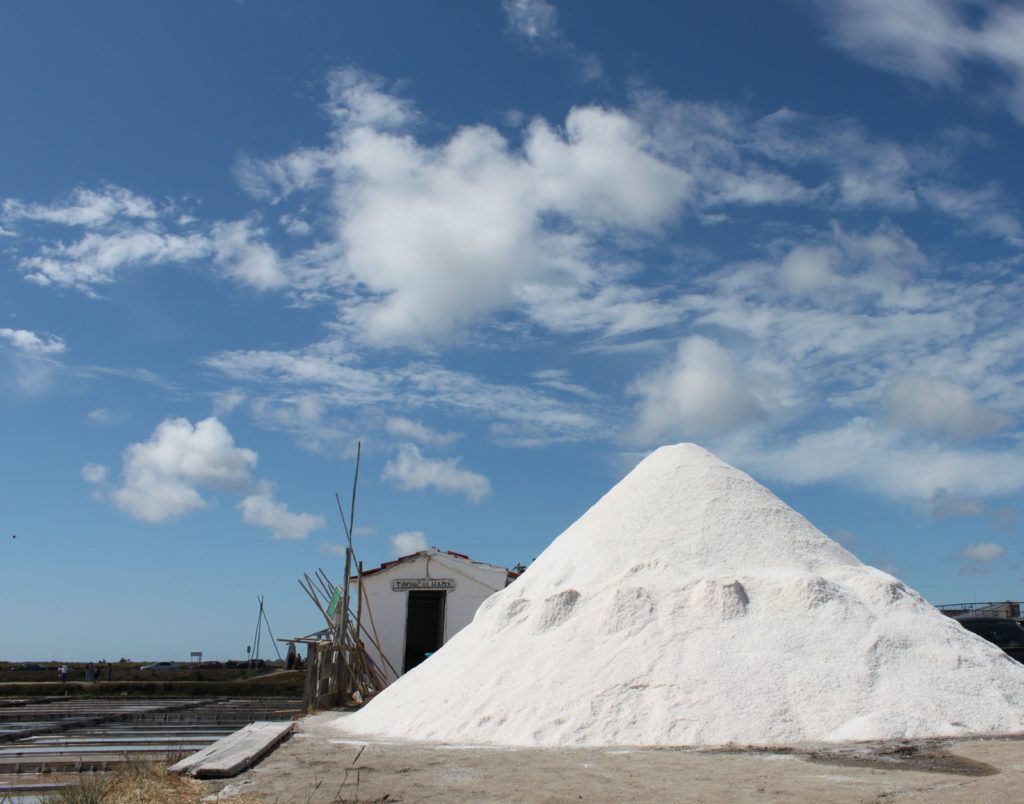 4. Eco-museum
The Troncalhada Eco-museum is near the Troncalhada Marine and it is a true nature museum: there are no walls and you can even touch the salt or wiggle your feet in the salt flats if you so choose. The museum shows the history of salt production, explains how the salt is formed and handled and includes the renowned salt hills of Aveiro.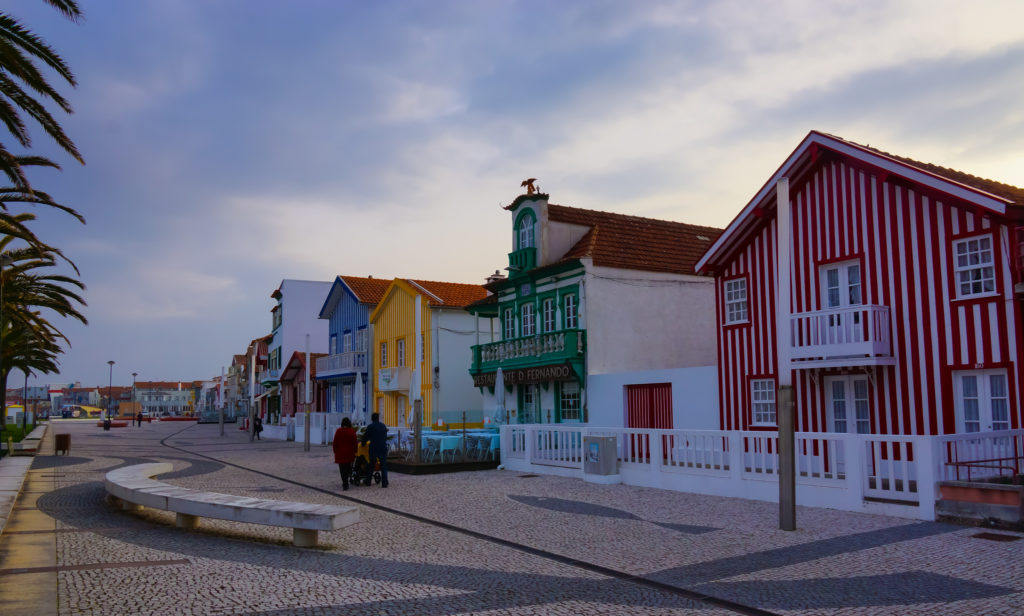 5. Costa Nova beach
Costa Nova is one of the most beautiful beaches in the country. It started as a small fishermen's area and later it became sought by prominent persons of Portuguese high society, that wanted to have a nice palheiro between the lagoon and the sea. Palheiros are little wooden houses painted with red, green, or blue stripes that made Costa Nova famous worldwide. Don't miss it!
6. Natural Reserve of Dunas de São Jacinto
With an area of nearly 960 hectares and protected since 1979, this natural reserve is an immense dunar area, fundamental to the preservation of the local ecosystem. First, it protects the dunes and the biodiversity from the progress of the sea. Then, it helps to protect the marine birds which use this area to nest, hunt, and stay during the winter. The most common species on this reserve are the egret, the tit, ducks, seagulls, and many others. An amazing suggestion for people who love to do long, peaceful hiking or for the ornithologists in the group.

Where and What To Eat
1. All the seafood!
Caldeirada, Bacalhau, Enguias, Espetadas de Lulas… Aveiro is known by its historical marine agricultural heritage and this close connection to the water has strongly influenced the style of cooking in the region. Therefore, you can find good fish in almost every restaurant and an immense diversity of recipes.
Eel based dishes are one of the most popular among locals: they can be fried, grilled, with "escabeche" sauce or casserole, a stew really worth trying called "Caldeirada de Enguias". You can and should try them in one of the restaurants within the Fish Market Square. "O Telheiro" or "O Moliceiro" are very good options, even to try other dishes.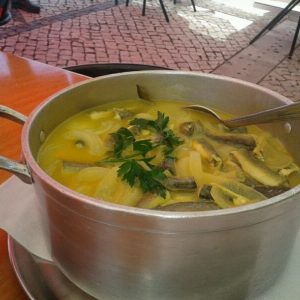 If you're an octopus fan, you have to visit "O Barril" and try the octopus in the roof tile. Yes, that's it… and it's amazing! If you prefer with codfish, they also have it and do it very well! A very good option for a nice, affordable lunch. For a fancier dining experience try Salpoente, a restaurant that serves delicious seafood dishes (specialized in codfish) with a presentation, opened by the award-winning chef, Duarte Eira. The prices are a bit higher, but every meal is an experience. Salpoente is also a cultural destination that frequently holds art exhibitions, live music, or drama performances.
2. Prego at O Augusto
One of the most traditional places in town. For 50 years it has been serving the best "Prego" or "Wall Nail", in English, in town. A famous simple dish that includes french fries, a juicy steak, and fried egg and that can be eaten on the plate or as a sandwich. Have it with an ice-cold fino after a nice home soup and you're good to go! Hum? Still some space in your stomach? No problem! You can always order some lupins, shrimps, or shellfish and enjoy them in the sun!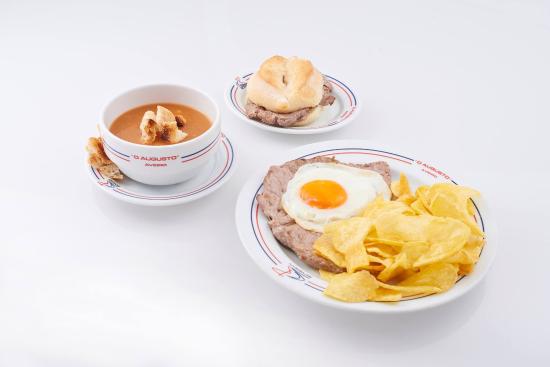 3. Ovos Moles at Confeitaria Peixinho
Besides the fish, Aveiro is well known for its famous ovos moles, a local delicacy made with eggs yolks and sugar that literally mean soft eggs. They are sold in wooden barrels or wrapped in a crusty wafer with different shapes. You must not leave town without trying one of these! We recommend the ones at Confeitaria Peixinho, one of the best pastry shops in town, but the truth is that you can find them almost everywhere in the city center.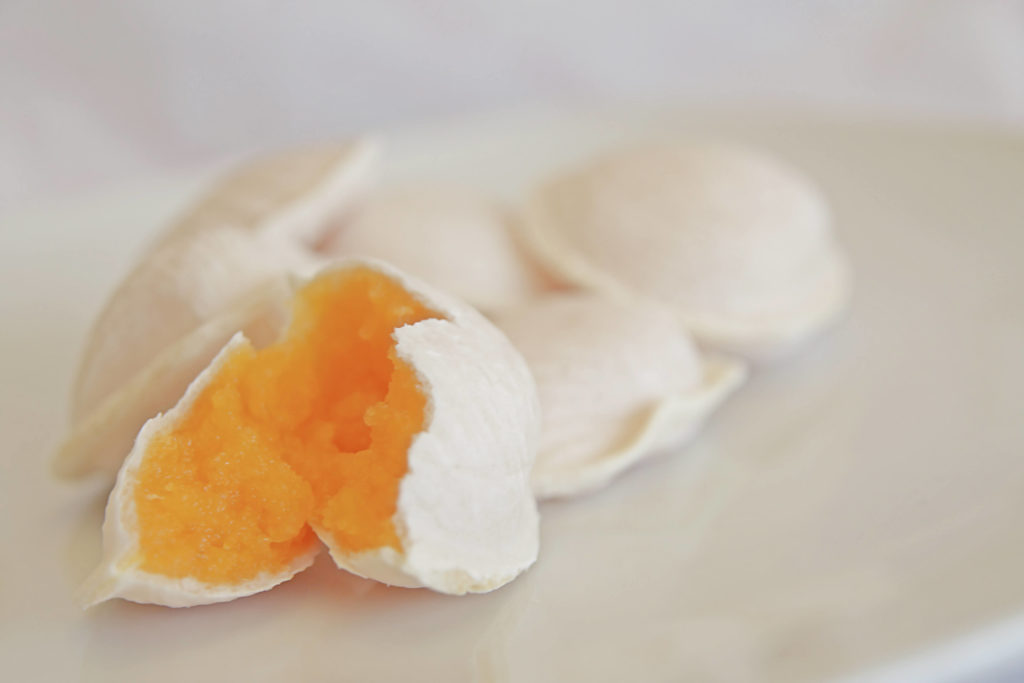 Last but not least, remember: these are only some of the immense reasons why you should visit Aveiro! Start planning your day trip from Porto to Aveiro and enjoy yourself!
Craving for more?
Here are some ideas for other amazing one-day trips from Porto that will allow you to know a bit more about Portugal and our traditions.
Visit one of the oldest and most religious cities in Portugal with a Day Trip to Braga
Day Trip to Guimarães: Discover the birthplace of Portugal, one of the most beautiful fascinating cities in the country.
Day Trip to Douro: Discover one of the most beautiful and oldest wine regions in the world.
Enjoy!
Taste Porto Foodie Team
Discover Porto's food secrets and have a wonderfully personal experience on our Food & Wine tasting tours
Book now
Don't forget to share this post