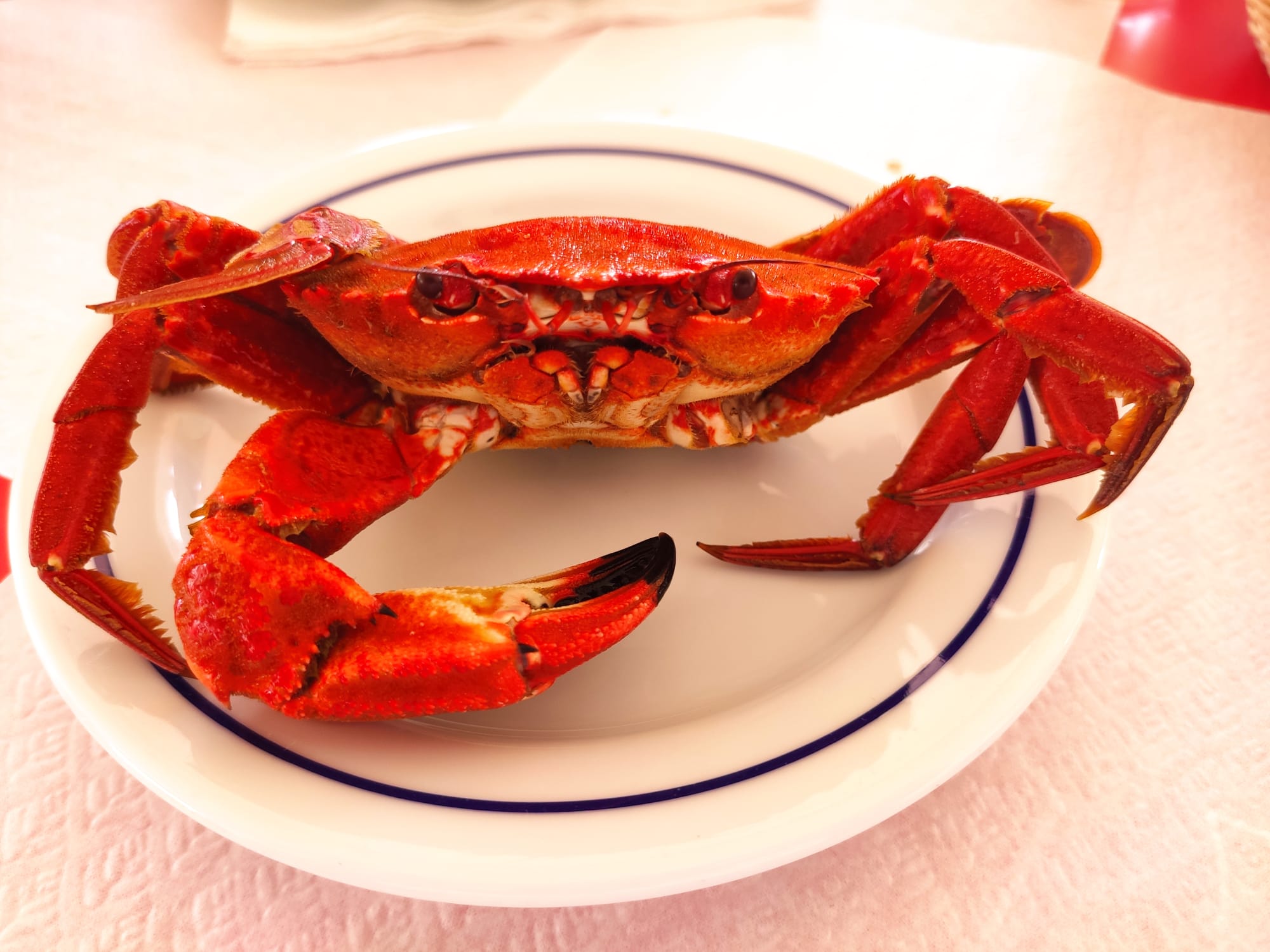 Posted on October 1, 2021
Craving seafood, oysters, mussels, shrimps, clams? Welcome to this seafood paradise called Portugal!
Portugal has a unique geographical advantage: we have the Atlantic ocean and a lot of rivers (and natural reservoirs as well) where we can catch the best fish and seafood.
If you are looking for the best seafood restaurants in Porto, just stay with us. We're about to share with you the best of the best in the city of the 6 bridges with our Porto seafood guide.
Seafood restaurants in Porto
One can't simply go to Porto without sampling its freshly caught seafood perfectly paired with delicious Portuguese white wines. Are you ready to delve into the world of local seafood? Here are our favorite seafood restaurants in Porto.
1. Marisqueira Antiga
This is the place we took Anthony Bourdain to for a shellfish frenzy. Ask for "carabineiros" (langoustines), "amêijoas à Bolhão pato" (stewed clams in a wine and garlic sauce), "gambas" (steamed prawns), and a portion of shellfish rice stew if you are still hungry. And don't miss on the "sapateira recheada" – rock crab pate… unreal delicious.
Address: Rua Roberto Ivens 628, 4450-248 Matosinhos
Website: www.esplanadamarisqueira.com
2. Gaveto
Gaveto is an old-school restaurant with an excellent wine list. If you don't know what to order, worry not: the friendly waiter will help you navigate the menu and make a selection. Seek it out if you're not too worried about the budget.
Address: Rua Roberto Ivens 824, 4450-279 Matosinhos
Website: restaurante.ogaveto.com
3. Marisqueira dos Pobres
If the locals are there, chances are that you want to be there, too. And where should you start? From the mussels and clams to the fresh shrimps and whelks, there's so much to choose from at Marisqueira dos Pobres. These guys know what they are doing!
Address: Avenida Serpa Pinto 39, 4450-246 Matosinhos
Website: facebook.com/marisqueiradospobres/
4. Adega São Nicolau
Tucked into a narrow alleyway just out of the way of most of the tourist traffic, you will find Adega São Nicolau – a tinny but very cozy restaurant right at the heart of Ribeira District. Food is fantastic: big portions and a taste that reminds us of Grandma's cooking. Be sure to make a reservation to prevent long waiting times at the restaurant.
Address: Rua de São Nicolau 1, 4050-561 Porto
Website: facebook.com/AdegaSNicolau
5. Ostras & Coisas
At this restaurant, you will find a menu focused on making the best local products shine. Ask for Zamburina à la Plancha (small grilled scallops), grilled red prawns, and don't miss the clams in white wine & the crab mix platter. All washed down with a great Portuguese Rose wine. Outstanding!
Address: Rua da Fábrica nº73, 4050-247 Porto
Website: ostrasecoisas.pt
Are your taste buds craving more Portuguese flavors, fellow foodie?
Are you ready to discover and taste other lesser-known local traditional dishes & wines while in Porto? You might think of joining our Downtown Food Tour. Guided by our passionate local host, you will experience the Porto that tourists rarely see, taste important elements of our cuisine, and learn about the history, architecture, and culture while walking the streets of our beloved city. Book your spot today!

Cheers!
Taste Porto Foodie Team
Discover Porto's food secrets and have a wonderfully personal experience on our Food & Wine tasting tours
Book now
Don't forget to share this post